The SeaGrill at Changi 2022 update review - the best food on Changi Beach by far
My little man Jude Jude calls this one out today as our choice of lunch location. It's a family favourite as you'll see from our multiple reviews below.
Sadly, due to Covid-19, it's not been a location at the forefront of thought because of all the beach closures. But we're all nicely open again now in Singapore, well nearly, so time for a beach visit.
Our first in many months. We go back to this wonderful place The SeaGrill @ Changi and this time we have wonderful family fun on the beach and on go-karts. This really is the best food on Changi Beach in our reckoning.
Let's have some quick ISLIFEARECIPE-dia about the SeaGrill @ Changi
The Seagrill Address & Telephone
Address

:

 
260 Nicoll Dr, Singapore 498991
Shall we hear from them? Their own perception of themselves...
Now to the food. Some of the things we dined on this day
The very best family-sharing platters
We also got stuck into the Meat Platter which is the Signature Platter on steroids making it a 3-4 PAX size. Perfectly BBQ'd chicken marinated in a wicked rub, smoky sausages to die for, lamb chops, and a sirloin steak in there somewhere. Topped off with two fried eggs and served with a killer gravy. Yeah, this is top-notch family platter grazing right here.
@ $54
This is another major family favourite dish and we pretty much order this every time we visit here. This is the Seafood Platter. Easily enough for 2-3 Pax here. This easily passed the Wifey test as she is well picky with seafood. Check this beauty out. Packed with prawns, scallops, clams, salmon croquettes, and Barramundi. Brilliant!!!
@ $55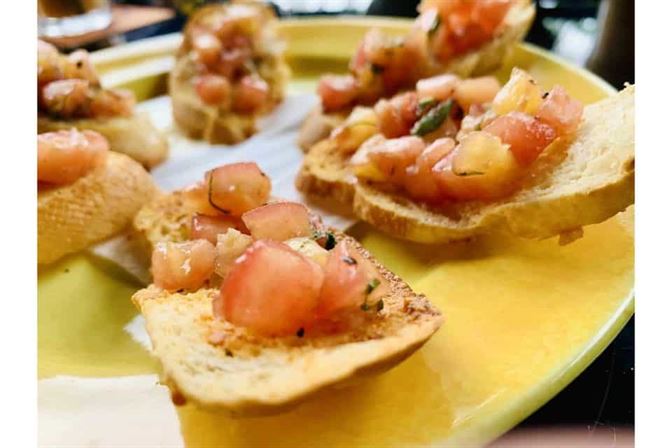 We had three of these, yep THREE. We could not stop ordering them. It's just Bruschetta, right? Nope, this is SeaGrill Bruschetta. Something secret for this one and I do believe it is because the super-crispy bread has a little toasted parmesan on it. This makes this bruschetta so unique and special. Beautifully fresh ingredients on top of a delightfully crunchy super-thin bread slice. I even had a plate of this as a dessert replacement, because it is s delicious.
Another favourite is the Wild Mushroom Soup now called Forst Mushroom Soup. You just look at it and know that this ain't no packet soup.
This is going to punch with flavour and it does indeed. A beautiful soup.
@ $8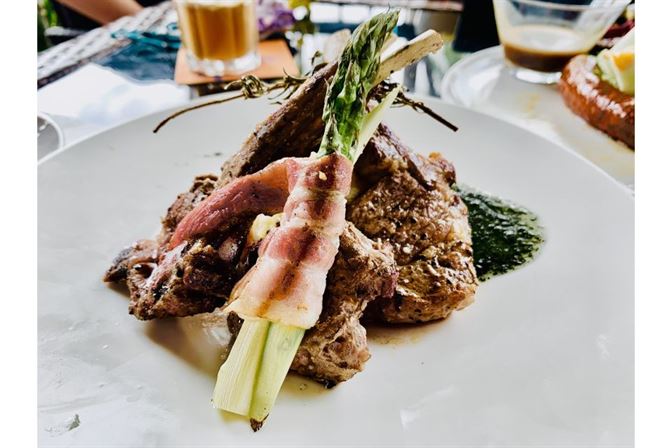 Us being us, we also ordered the Lamb Rack 'w' Mint Sauce. Only one moan for me today was that the lamb was way over-done, but funnily enough, that is exactly how Wifey and Strawberry Blonde wanted it, so suck it up Beardy. Happy family = happy Daddy. Lovely plating it has to be said. Superb little addition of bacon-wrapped asparagus.
@ $36
#1 then orders the homemade Burnt Cheesecake. We ended up having two of these as Wifey came back from the playground and wanted one too. It's a tad sweet for my tastebuds (I'm not a dessert guy) so I literally ordered another Bruschetta haha… Well, tomato is a fruit!!!
@ $16
The SeaGrill @ Changi by Cheval Group 2022 Menu
Family fun @ The Seagrill
It's just so beautiful here, it really is. Sea breezes wafting up. Views of Pulau Ubin to your left. Ships sailing back and forth. People playing, swimming, meandering too – it's people-watching heaven. Sea Eagles soar in the thermals above your head. Grab an icy cold beer and that awesome food, and sit back and ENJOY!!!
This cheeky little monkey is planning something I can tell. Where there's one Pokemon there is usually… Holy moly, see what I mean. I am surprised we haven't got a gang of people standing around us all holding ten handphones trying to battle and capture this lot…
Others come here for a lovely relaxation at the beach and a Pims. Strawberry Blonde came and got a Pimple.
Cool dude Jude Jude; "Just chilling Dad, just chilling…"
Family fun on Changi Beach
A quick pop outside and it's Monster Truck driving time. So much open space here to just go crazy. Loving this beautiful dry summer's day in Red Dot.
Then someone decided that this would be a good idea. This thing is seriously heavy, especially with three or four Pax on it and no one but me can reach the pedals so only Daddy is providing the drive-power for this. Holy moly. I lasted an up and down in this heat and had to stop for sustenance.
You can rent bikes and go-karts right next door to The SeaGrill. Let the kids go crazy and leave Mum & Dad to some cold refreshments alone.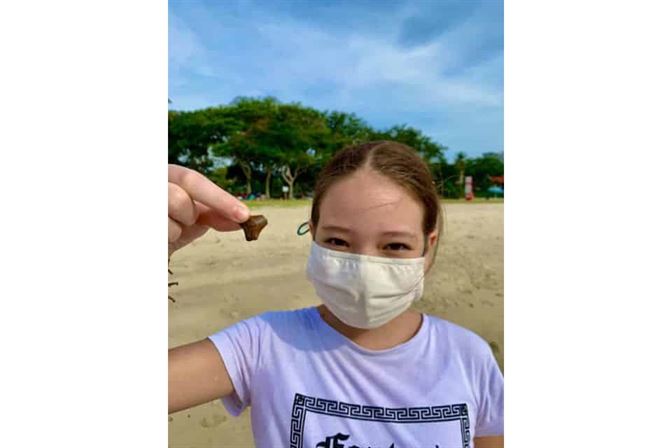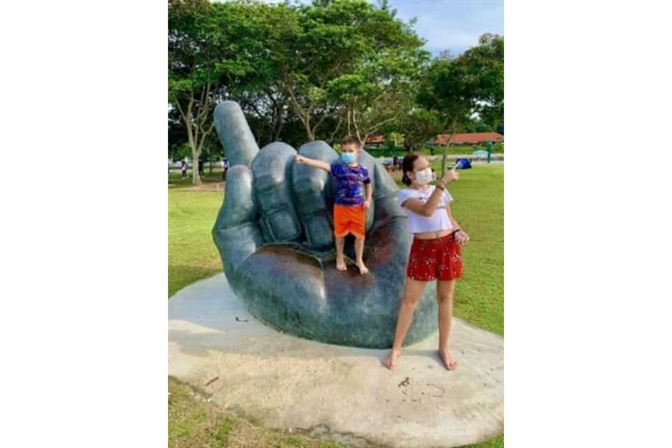 This blew me away. I used to collect/find these in the UK, on Folkstone beachfront which is quite renowned in certain areas as a fossil hot-spot because of the sediment lay-down. But, I would never ever have had Singapore as a place for fossils. But, bugger me if Strawberry Blonde does not go and find a fossilized shark tooth on the beach at Changi. What an incredible find. WOW!!! She was, and rightly so, very proud of herself.
I then asked the co-pilots which way it was to The SeaGrill and got this response.
No kids, I did not ask you how Mum is going to be steering on the way home…
Our conclusions of The SeaGrill review @ Changi by Cheval Group, and why we keep on coming back...
Of course the food. It's extremely affordable and has wonderful variety in a Western bistro style, and it is pure quality. It is THE Changi Bistro and has one of the very best grilled seafood platter Singapore;
The staff is excellent. From the front of house who are predominantly Filipino and just lovely, chatty, and supportive, to the Head Chef who is Swiss and we know him from when he had a restaurant in Katong (top bloke);
The view is incredible. You don't see many oil tankers and cargo ships here, it's more sailing boats and a couple of the off-lying islands of Singapore like Pulau Ubin. It really is beautiful down here over-looking Changi Beach, with Sea Eagles soaring above in the crystal blue skies;
It's the full-on family focus. It's always packed to the rafters with family all munching and chatting away;
It's airy, because you get this incredible sea-breeze wafting you as you sit and soak in the world going on around you; and
There is so much to do in a short distance from go-kart and bike-hire, beaches, swimming, playgrounds, fishing, and more. It's one big playground and we love it here.
Do you want seaside BBQ Singapore? Do you want the very best grilled seafood platter Singapore? Then look no further. Come and see the crew at SeaGrill Changi. 
Throw back to 2009, my first time to visit here when I used to work at Changi Business Park... A LONG TIME AGO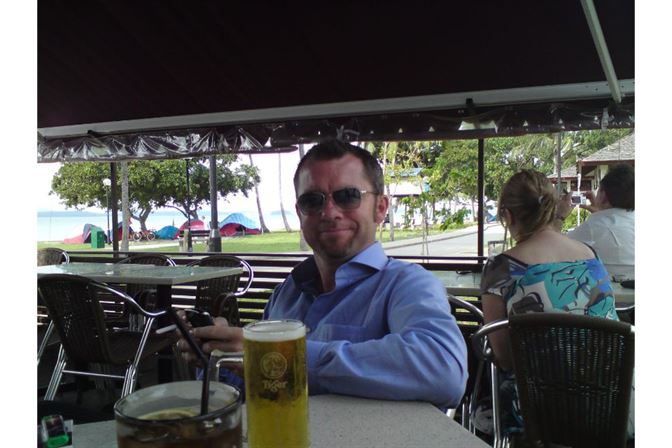 And here is that flash-back to July 2009. That s some time ago now, right? Sat opposite me was my colleague JSF.
They have changed decor and even surrounding fence now, but this was the very same place…
Small worlds indeed!!! I told you we keep coming back here.
And that was that. We had such a wonderful long lunch with incredible food from our mates, fun on the beach and at playgrounds, and even that hard slog you'll see on the go-kart. This is a must-visit. It really is quality. Such a wonderful family place. Be proud The SeaGrill, because you are brilliant, we'll be back again and again.
This is our review, The SeaGrill @ Changi Review with family fun on the beach & go-karts…
Please make sure you book, especially at the weekends. It is a jaunt to get there and you don't want to arrive and be disappointed.
ENJOY!!!
Read our other reviews of The SeaGrill @ Changi below
And if you like dining by the sea in Singapore, check out these restaurants with a view...
The Coachman Inn

– integrated as part of the Changi Beach Club is this cracker offering Western and Chinese style cuisine with amazing views

Coastal Settlement

– it's on the coast and not far to the sea, but it's quirky in the decor front and also with some interesting options on the menu 

Pan Americana

– one of the very best on the island with a Head Chef who is also a mate. Fantastic food and views of the South China Sea. It's a belter.