The SeaGrill @ Changi & family fun on beach & go-karts…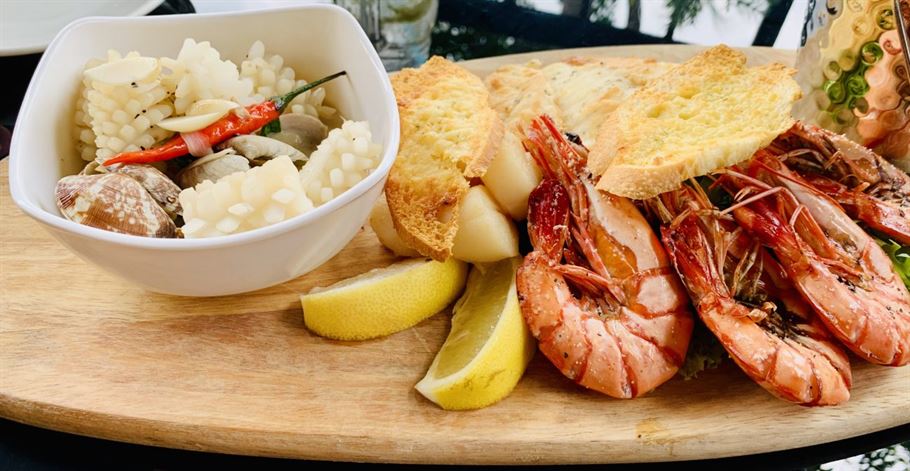 The SeaGrill @ Changi & family fun on beach & go-karts…
Our little man Jude Jude calls this one out today as our choice of lunch location. It's a family favourite, and we have #1 home too so the full accompaniment of five in the family. Sadly it's not been a location at the forefront of thought because of location and beach closures and all that with closure. But we're all nicely open in Singapore, well nearly, so time for a beach visit. Our first in many months. We go back to this wonderful place The SeaGrill @ Changi & family fun on beach & go-karts…
What we love about here are a number of things;
Of course, it's the food – it is really up there. Co-ordinated by a superb Malay Chef we found out today.
Location, location, location… it's like being overseas, on a beach, with beautiful views, and people watching. Very important to have that feeling right now!
The staff. Even this day, despite being jam-packed, the manager/owner comes running over to say thank you for us coming back and it was great to see us.
Another location thing, in that from your table, you can step 5 steps and have access to beaches, playgrounds, bike rentals, & the sea.
It's airy, it's sea breezy, it's just fantastic. I absolutely recommend you book though if you are planning to go, folks. We booked lunch this day and saw people in their droves turned away or resort to takeaway because it was rammed here and fully-booked into the evening sitting as well. If we had babysitters I'd be down here at night in a flash with Wifey for a lovely romantic meal and beverage or two looking over the sea and twinkly lights. Shit yes!!! It's got everything going for it and we love it here because of that. Be proud guys, yet another QUALITY lunch thank you.
The SeaGrill @ Changi & family fun on beach & go-karts…
So give them a call or FB message or Chope reservation;
#Supportourrestaurants
And that was that. We had such a wonderful long-lunch with incredible food from our mates, fun on the beach and at playgrounds and even that hard slog you'll see on the go-kart. This is a must-visit. It really is quality. Such a wonderful family place. Be proud The SeaGrill – brilliant, we'll be back again and again. Funny as well as I sat there and had a memory flashback moment and realised I had had a beer there some 11 years prior with my mate and colleague John Slater-Foley, way before it was The SeaGrill though. The SeaGrill @ Changi & family fun on beach & go-karts… is an absolute die-die-must-try, but please book. It is a jaunt to get there and you don't want to arrive and be disappointed – ENJOY!!!
(Visited 375 times, 1 visits today)