ChillaxBBQ Stay@Home Recipes #13: Grilled Saganaki Cheese and Bacon Recipe
Grilled Saganaki Cheese Recipe: Again, I am following the pattern with super-simple make-@-home recipes for our little lock-down spell. This is another #BillWallaceFriendly recipe. as it all came from the fridge with no special order being made. This was a sharing platter for Jude Jude and Strawberry Blonde.
A great way to get the kids eating whatever you put on the plate but the way, make it. sharing and it will create a little 'competition' for the last piece type thing. I put this on the table and 5 minutes later it was all gone. This was ChillaxBBQ Stay@Home Recipes.
I had some Saganaki Cheese in the fridge. This stuff lasts and lasts as it is in a sort of brine in the packet. So. that was being used today, with some streaky bacon and some of those leftover breadsticks. Those breadsticks have been invaluable as a Carb 'stuffer' of so many dishes since Stay@Home. I'll be getting more of them. for sure.
They are still super fresh and crispy after a couple of weeks. Altogether, this became Bacon 'w' Grilled Saganaki Cheese. So easy. An amazing taste combination together, BFF's in fact, and how good do they look?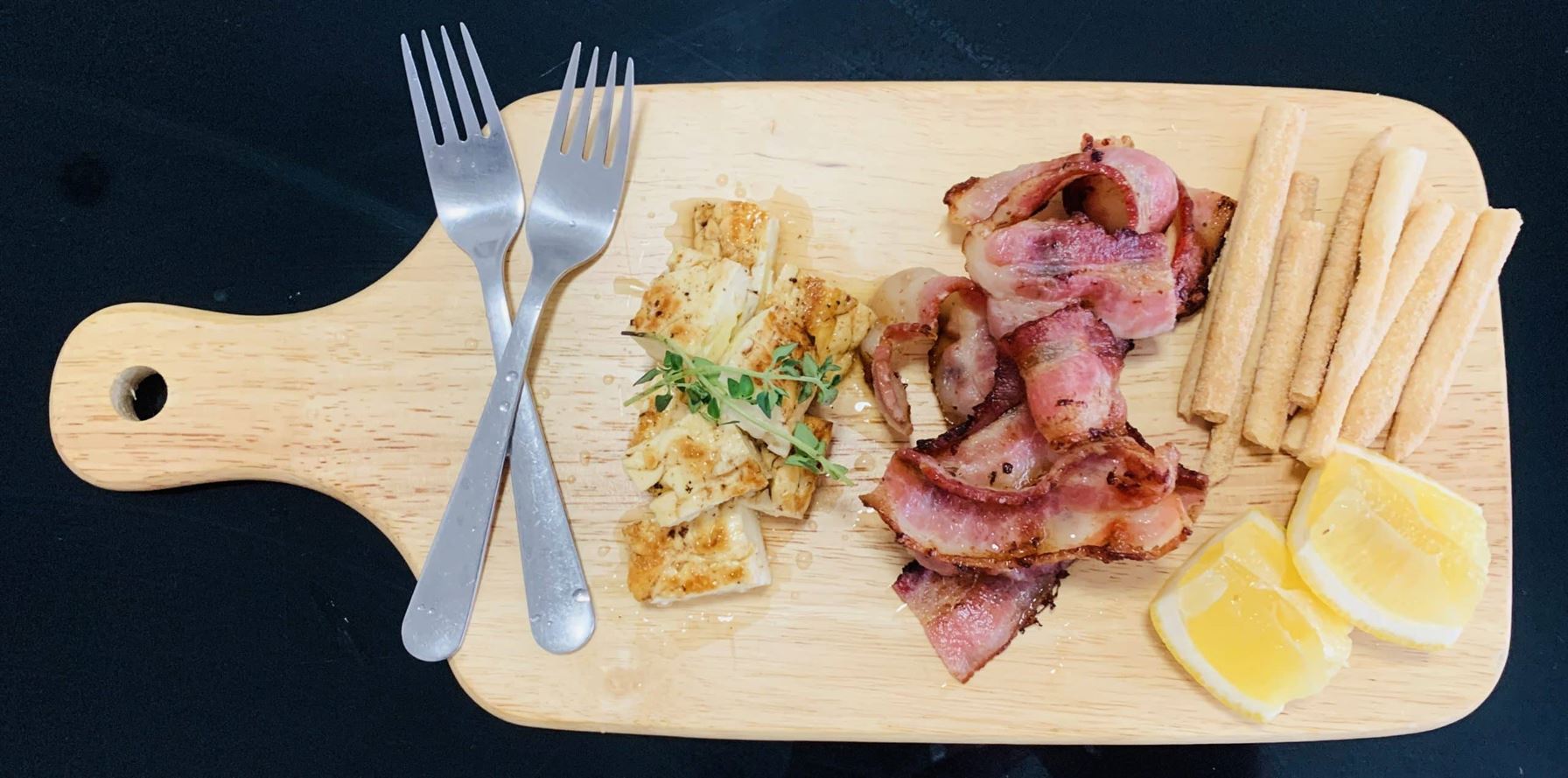 Of course, my darling SCANPAN came out. Onto the hob and get it nice and hot. Dry-fry (no oil) 3-4 rashers of Streaky bacon. That will leak out fat everywhere anyway. Crisp it a little (Strawberry Blonde likes it soft still, Jude Jude likes it crispy) to a hybrid soft/crisp like in the picture.
Remove the bacon and put on some kitchen towel to drain off most of the fat. In the pan, though you now have bacon fat. One of the very best flavourful things for cooking with, in my humble experience. So I fried off the Saganaki Cheese on both sides in the bacon fat until nicely golden brown as you can see in the picture. Holy shit this is going to be good.
That's it, folks. I told you Bacon 'w' Grilled Saganaki Cheese was an easy dish. Take a little plank and pile up the bacon. Cut the Saganaki Cheese into cubes and pile that too. Give a squeeze of some fresh lemon juice over the Cheese.
Super-savoury, smoky and salty bacon, with Sour Cheese. One cuts through the other. Just bloody brilliant. Pop some green shit on the cheese to make it look Chef-like, add the breadsticks and a couple of fresh lemon wedges for colour and additional sour-whizz. Serve away.
I love this one today. ChillaxBBQ Stay@Home Recipes #13 really is super-easy, but looks super-pro Chef-like when you pop this on the platter and serve. Go on someone have a go and send me some pictures from your own Stay@Home attempt. We'd love to see it. In fact, we'd love to see any of your attempts of the previous recipes too – there's a thought.
Let's have some friendly competition of #foodphotos. It has to be your creation. It has to be as near as damn it to the recipe. Go on have a go: Grilled Saganaki Cheese. Now it is my turn to – ENJOY!!!
Saganaki Cheese: So what is it actually?
Saganaki cheese is a popular Greek dish that involves frying various types of cheese until it becomes crispy on the outside and melty on the inside. The cheese used for saganaki can include graviera, kefalograviera, halloumi (my favourite), kasseri, kefalotyri, or sheep's milk feta cheese, depending on regional variations. The dish can be flambéed with brandy for added flavor and spectacle.
Traditionally made with semi-hard, dry Greek cheeses like those made from sheep's milk, saganaki can also be made using alternative cheeses like Monterey Jack, provolone, and young Pecorino. It's often served as an appetizer and is enjoyed for its contrasting textures and rich flavour.
The term "saganaki" essentially refers to the frying process, resulting in a crispy and gooey delight that's perfect for starting a meal or as a snack.
Another Grilled Saganaki Cheese Recipe
Ingredients:
200g Greek cheese (such as Graviera, Kefalograviera, or Halloumi)
Olive oil
Fresh lemon wedges
Dried oregano (optional)
Freshly ground black pepper (optional)
Instructions:
Preheat your grill to medium-high heat.
Slice the Greek cheese into about 1/2-inch thick pieces. You can adjust the size based on your preference.
Lightly brush both sides of each cheese slice with olive oil. This will help prevent sticking and add flavor.
Place the cheese slices on the grill grates. Grill for about 1-2 minutes on each side, or until you see grill marks and the cheese starts to soften.
Using a spatula, carefully flip the cheese slices to grill the other side.
Once both sides are grilled to your liking, use the spatula to transfer the grilled cheese to a serving plate.
Squeeze fresh lemon juice over the grilled cheese slices. You can adjust the amount of lemon juice based on your taste preference.
If desired, sprinkle a pinch of dried oregano and freshly ground black pepper over the cheese for added flavor.
Serve the grilled Saganaki cheese immediately while it's still warm and gooey.