Scallops, Prawns, Snow Peas, and Tobbiko
This recipe features in ISLIFEARECIPE.net's Ultimate NINETEEN Prawn Recipes​
Scallops, Prawns, Snow Peas, and Tobbiko: See what happens when you treat your kids to good food. Yes, I have to cook Scallops, Prawns, Snow Peas, and Tobbiko for my Amy. This looks all restaurant-like, and her feedback was that it was amazing, just like the restaurant – works for me!!!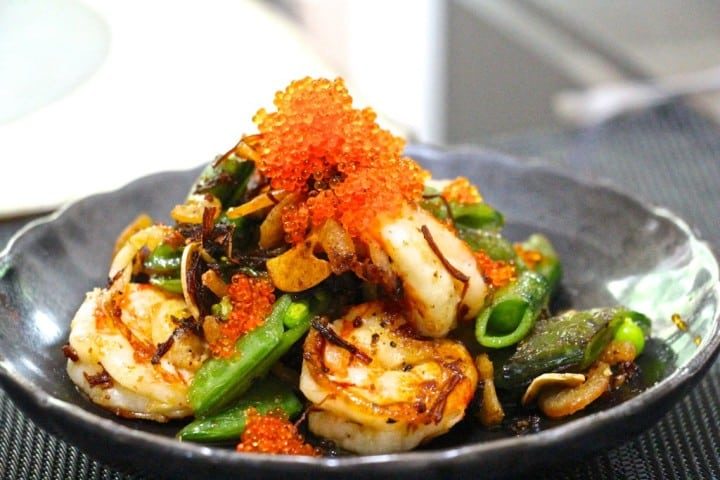 I asked Amy this day what would she like for lunch, as I was disappearing to Kallang for the weekly shop and to get ingredients for what she decided upon.
"Daddy I would like the prawns with the little prawns and scallops that we had at Pan Pacific please…" Says Amy.
"HUH!!!" Says I. "Er OK babe, I'll see what I can do."
Here is that lunch for Amy, so a single portion. Multiply by the number of people for whom you have. This is my created version of that Pan Pacific experience, my Scallops, prawns, snow peas & Tobbiko;
2 fresh scallops;

5 fresh prawns, shelled, de-veined (removing the black vein from the back by slicing a small incision all the way down the back of the prawn and pulling the black vein out – this also makes the prawns 'butterfly' when cooked);
5-6 snow peas cut into 1/2″ pieces on the diagonal so they look nice;
1 finely chopped garlic clove;
1/4 handful of dried shrimp or prawns (you get these in a packet in the supermarket);
2 tablespoons of XO sauce;
Sea salt & cracked black pepper; and
For serving I used a couple of teaspoons of Tobbiko – Japanese caviar that they use in sushi.
Here we go – how to prepare and cook my Scallops, prawns, snow peas & Tobbiko;
In a mixing bowl throw in the scallops, and prawns;

Drizzle with some oil and a pinch of salt and pepper;

Mix it up;

Take a griddle pan and oil it a little. Throw in the scallops and prawns and cook until nicely pink (the prawns) and starting to brown slightly – same for the scallops. This will take literally 2-5 minutes maximum;

Set these aside off the heat as they will overcook if you leave them in the pan;

In another pan get the garlic in some oil, on to the heat, and soften that a little;
Then in with the snow peas and cook a little while – do not overcook as you want a crunch still to the peas, not soft goo;
Add in the XO sauce, and then the prawns and scallops and stir-fry through for a couple of minutes;
Quickly get the dried prawns in there to warm through and soak up some juices, and you are finished.
Plate this up in a wee pile, and then spoon some of the Tobbiko (or similar) on top. See the pearls of orange, that be them. That's it – Scallops, prawns, snow peas & Tobbiko.
Amy really enjoyed this dish, and she was 5 at the time. I think you will too. Maybe not Pan Pacific grade, but I tell you not far from it. I think it looks pretty damn good, and to have a 5-year-old confirming the taste was the same as the look is enough for me. Give it a go folks, I know you are gonna like this one Scallop, prawns, snow peas & Tobbiko – ENJOY!!!