Beef with baby kai lan, ginger, garlic, soy and oyster sauce
Beef with baby kai lan, ginger, garlic, soy and oyster sauce
, was a new recipe I created this day. A three-in-one if you will. This was supposed to be a quick lunch for the family before Jude's 1st birthday party. I grabbed a couple of bits from the fridge and few more from the supermarket and I was set. This is all vibrant in colour, as you'll see, and very complementary to each other in the taste department. It looks good, but it tastes better! This is a cracker.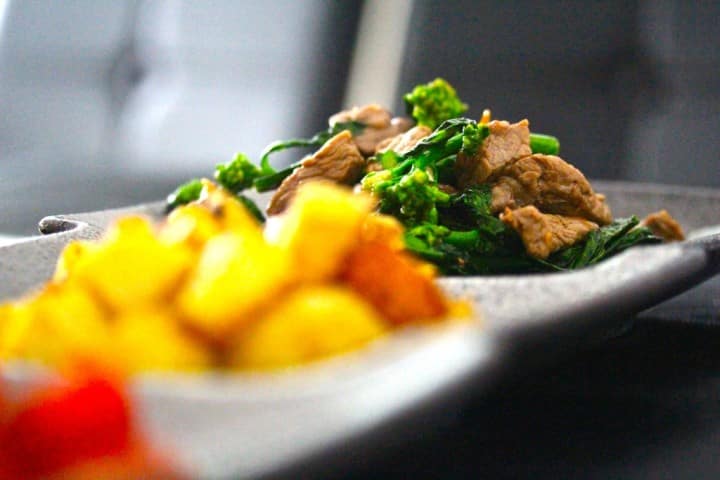 There's enough beef with baby kai lan, ginger, garlic, soy and oyster sauce to easily feed 5. You will need;
2 rib eye steaks. I trimmed off the fat, bashed the steaks with a tenderising hammer, and then cut them in to small cubes;
1 tablespoon of each of the following;

Finely chopped garlic;
Pickled ginger – the type you get at Japanese restaurants (easy to find at most supermarkets now);

1 packet of baby kai lan – which I simply trimmed, to take off the tough stalk parts;
2 tablespoons of each of the following

Soy sauce; and
Oyster sauce.
Get the wok out and on the heat, and then drizzle in some Olive oil;
Fry off the ginger and garlic;
When it is sweated down add in the beef cubes and stir fry through until browned and cooked to medium rare;
Add in the soy and oyster sauce and stir that through until the meat is nicely coated;
In go the greens, and stir fry until they are a wilted. Not for too long though as you want an element of crunch not soggy.
Here we go with the roast spuds. This is easy peasy so there is no need for me to list anything, just follow as below.
Cut about 4 cleaned potatoes (I left skins on) in to small cubes;
Add to boiling salted water and boil for about 15 minutes until you can just get a fork in without them falling apart;
Drain and put on a roasting tray, drizzle with a little olive oil, sprinkle with sea salt and cracked black pepper;
Bash them in the oven at 250 for about 15 minutes, occasionally giving them a little move around so they don't stick;
When they get crispy and brown serve them up with a little sprinkle of sea salt on top.
Even easier to cook are the tomatoes.
5-6 vine plum tomatoes. Cut them in half;
Put them on to baking tray as well;
Drizzle with olive oil, and sprinkle a little sea salt and cracked black pepper on top;
In the oven again at 250 for about 20 minutes until browned and soft.
You have finished. Serve on three separate plates. Look at those colours. Smell the aroma.
And there you have it beef with baby kai lan, ginger, garlic, soy and oyster sauce. A 3-course lunch for the Kennett's. Asian in style with the beef, kai lan, soy and oyster sauce, but then a little off-the-Asia-piste with the savoury starchy roast spuds, and sweet but salty tomatoes. Hell yes, this is a belter – ENJOY!!!
Is Life a Recipe YouTube Channel