Rich's ChillaxBBQ Birthday for GFF Ann Lee
A wee trip to the bottom end of the city for this one. I love this. Rich posted on his FaceBook, asking for recommendations for cooks for a BBQ. And yes we got recommended and even seconded. Wow. That means the world to us at ChillaxBBQ. So now here comes Rich's GFF ChillaxBBQ Birthday for Ann Lee. Here is the final menu;
– Fresh Herb & Citrus Black Cod – BBQ'd in banana leaf;
– Scallops in shell with Yuzu, Soy & Spring Onion;
– Prawn with Manuka honey and Paprika;
– BBQ hot salami with honey and lemon juice;
– Whole Alaskan King Crab with lemon;
– 6 hour slow roast Singaporean style pork belly with Dijon mustard and Hollondaise sauce, and Balsamic Reduction;
– Peri Peri chicken;
– Supreme sausages in buns;
– 2x Tomas – Truffle salt/pepper, and sea salt/Kampot pepper;
– Humus and Baba with toasted pita;
– Mexican dipping salsa – with corn chips;
– Tex-Mex 3-cheese fondue with toasted bread;
– Ice cream with maple syrup & BBQ'd pineapple.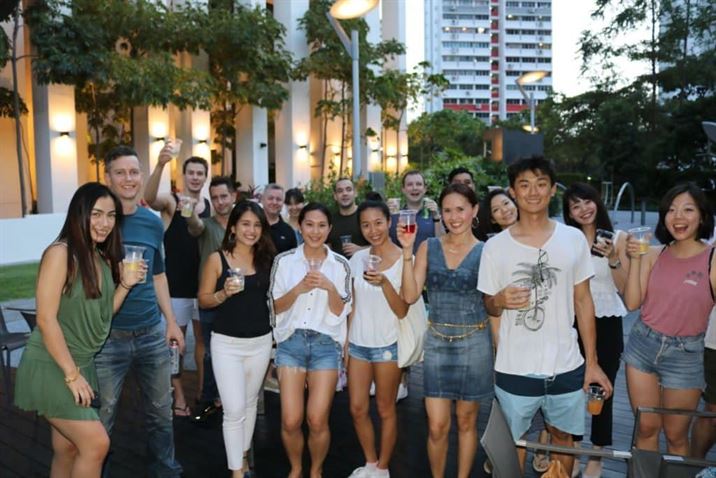 Few call outs to finish off Rich's ChillaxBBQ Birthday for GFF Ann Lee. Of course firstly to our hosts, Rich and Ann Lee. Thanks to the ChillaxBBQ crew – we rocked guys – Flash, BigFoot, Ollie, Soph & Beard. Thanks to Procurement, BigBird, for making supply chain all happen, despite being in Texas. The Alaska Guys – fish, prawns and crab were exquisite. So so fresh. It makes our job or marinades, prep and cooking a joy. The Cheese Shop @ Joo Chiat. Chris mate – just amazing. The TexMex style we made up for the cheese mix is insanely good, and now we have the Fondue Burner too – weeeee!!!
And that was that. Rich's ChillaxBBQ Birthday for GFF Ann Lee. Next… Oh yeah that would one 16th February. Another new one for us. We are cooking for a birthday party on the beach. Ever tried a Glamping ChillaxBBQ? Check our blog after 16th Feb, and if you like why not give us a call. We're pretty confident you will – ENJOY!!!
Is Life a Recipe YouTube Channel
(Visited 40 times, 1 visits today)