Yeap it's Sunday again – driving home from a rather eventful day at River Safari, and planning as I am driving for what to cook the family.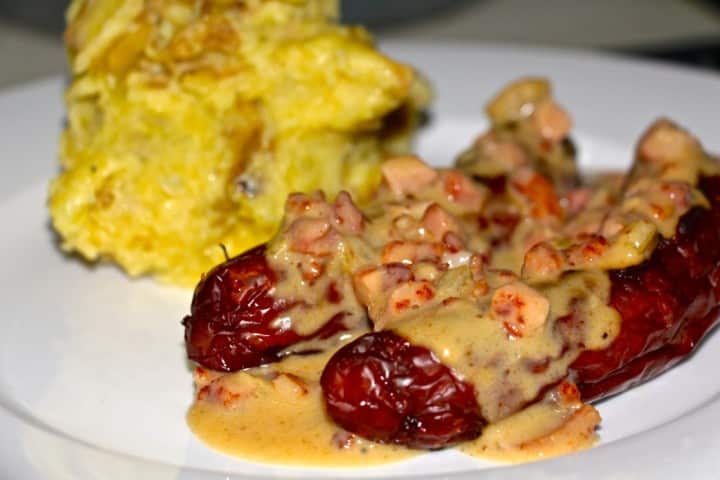 I had in my head sausage and mash – but then though if making it more Americano style.
So sausages with jacket potatoes and gravy – that was the plan, but of course with my spin.
Enough here to easily fill up four;
8 English bangers – or any other sausage favourite of yours
1 pun-net of new potatoes or similar – skins left on and cut in to quarters
1 tin celery soup concentrate
1 cup chicken stock
1 chicken stock cubes
salt and pepper
1 packet of bacon bits
knob of salted butter
3 tablespoons of double cream
Phase I – the gravy;
Have you been to the USA? You get these gravies that they spoon on anything and everything – biscuits & gravy, pancakes & gravy, gravy & gravy type thing. It is great though and I wanted to create something in a similar context, but mine.
In a pan add in the soup concentrate, the chicken stock, the two chicken stock cubes and a pinch of salt and pepper. Bring that to the boil and then turn off the heat.
In a separate pan cook the bacon bits (no oil needed) until browning and crisping. Then pour on the liquid you made in the other pan and stand aside. It's done and will just need another heat through.
Phase II – the spuds;
Rather than do jacket potatoes, and rather than do mashed I came up with the idea of combining them. So roast potatoes/mashed potatoes.
Pot of salted water to the boil and have the potatoes quarters in there for about 10-20. When you try to push in a fork they should still 'resist' a little. Off the heat, drain the water and save the pan for mashing later.
Take a baking tray and cover with some foil (saves the washing up), pour on the potatoes and give a good drizzle of olive oil and a good sprinkling of salt and pepper. Stick them in a pre-heated oven for about 30 minutes on 250.
Once done place them back in that pan, add the cream, the butter and another good pinch of salt and pepper and get a mashing. It will be tough because the skins are still on but that is where all the flavour is, believe me.
That is your mashed, roast potatoes. Liked these a lot!!!
Phase III – the sausages;
At the same time as putting the potatoes in the oven to roast, I had the sausages going in as well. Again 30 minutes or so with one turn, on 250.
Same process. Baking tray with silver foil. No need to drizzle anything this time though, but just give the sausages a little stabbing all over with a sharp knife to stop them exploding.
I was baking the sausages as I find the flavour is better and the skin goes real nice and crispy – so good with this gravy.
Phase IV – plating;
So as your sausages are browned and crisping nicely and you are also finishing off the potato mashing quickly re-heat your gravy mix, now including the bacon bits. You are now completely finished.
I just placed a nice dollop of mash, laid the sausages 2 per person and spooned some gravy over the sausages.
This did indeed get a rave review from 5 year old, 12 year old, 36 year old and absolutely from this 45 year old.
Spanking my friends!!!