Steamed King Crab 'w' Citrus & Garlic
A very lucky wifey today. I'd ordered these King Crab legs and got them out the freezer to cook, but wtf cook them with and how? Well, at least they are going to be #BillWallaceFriendly as they were from the freezer. But no Wagyu on the platter so certainly not #KnibbsyKiddleWagyuFriendly. The dish ended up being served as below. Check out that beauty of a serving platter from my mates at #ScanPan, made from bamboo so eco-friendly too. I am rather impressed with myself to knock this up during a quick lunch-break today. Even if I say so myself – it looks farking delish!!!
Steamed King Crab 'w' Citrus & Garlic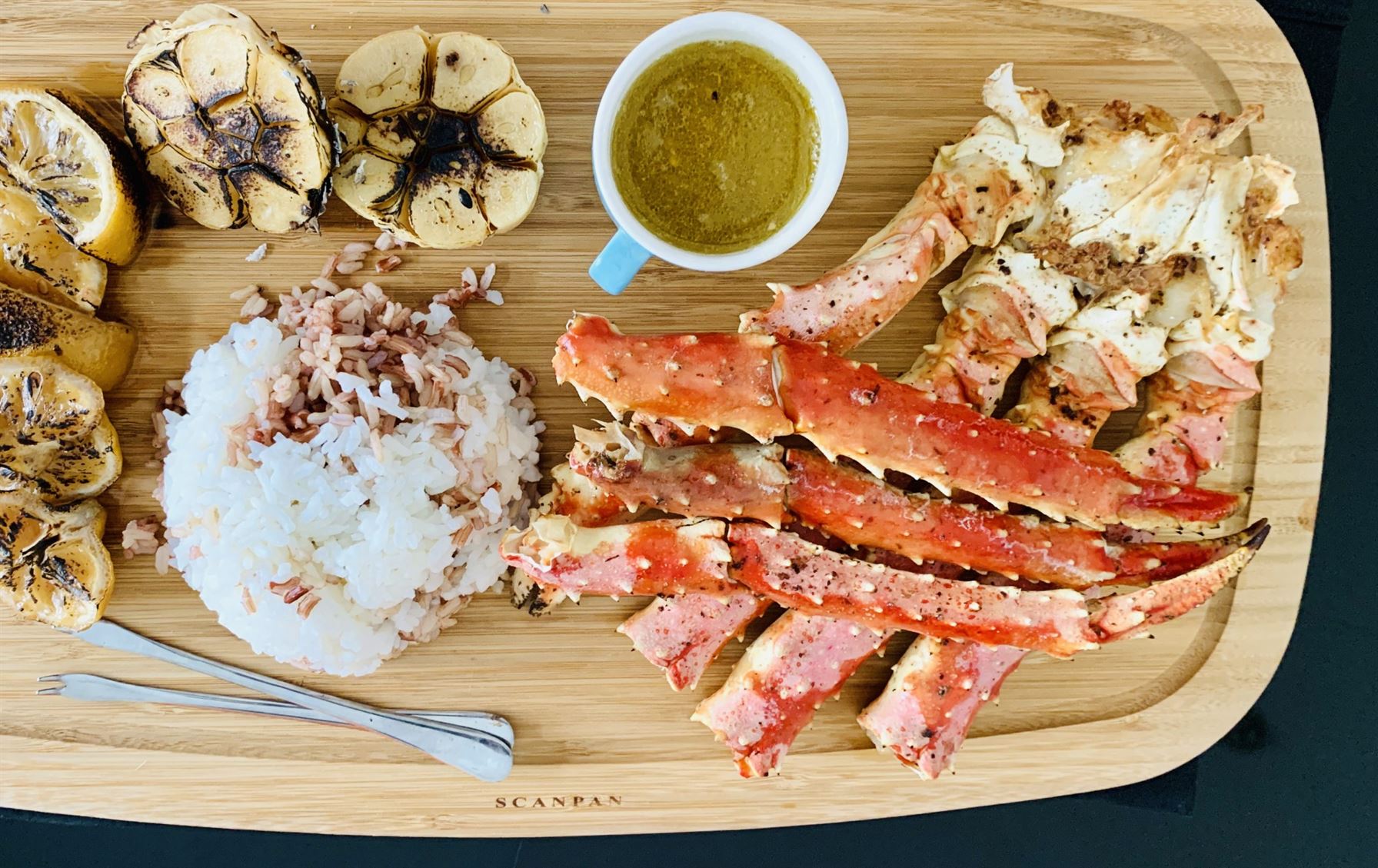 It really was quite simple to do though. I wanted to get flavour into the meat, but with that shell how to manage that? I came up with a low and slow idea. Well, why not? If it works with steaks, why not with crab? And believe me, it surely did!!! No need for a recipe for this one – just follow the 1, 2, 3…
Place the crab legs into a roasting tin;
Drizzle with Olive Oil & lime juice;
Sprinkle with sea salt & cracked black pepper;
Cut a bulb of garlic in half and lay the two halves on top of the legs;
Cut a fresh lemon up into pieces and place around the crab legs;
Cover with silver foil and in the oven at 90 degrees for 6 hours – yep SIX hours;
Low and slow baby, low and slow,
Out they come and plate them up like above;
Pour the liquor in the pan into a small frypan, add another Tbsp of lemon juice, some fried garlic and a Tsp of chicken stock powder;
Bring to the boil, reduce to simmer whilst constantly stirring – that is your crab dipping sauce;
Serve this up with some rice and the dipping sauce in a wee cup like the photo.
BOOM!!! How bloody good is that? #1 said; "Winner, winner…" and Wifey said; "Just delicious!" The low and slow technique and silver foil covering literally steam this bad boy and the steam is flavoured with citrus and garlic which is how it gets into the meat. A bloody brilliant idea that was. Such a lucky couple to have this for lunch. I love working from home and I think they do too. This was Steamed King Crab 'w' Citrus & Garlic – ENJOY!!!
(Visited 98 times, 1 visits today)