ChillaxBBQ Cheese Fondu
Am I seriously giving this one away? It's turned in to a favourite. Maybe you won't need us any more. But can you be arsed to prepare and cook, I doubt it my friends. So as a tease, and an incentive because I am not naming Chris' cheeses here is ChillaxBBQ Cheese Fondu
.
Firstly to name some names – you have to by your cheese from Chris at The Cheese Shop, 267 Joo Chiat Road. If you don't this will just be a same same style dish. Also you have to hire ChillaxBBQ or you won't get our secret three cheese recipe purchased from Chris. But give it a go with anything else, and then taste the original – you'll be back! This is ChillaxBBQ Cheese Fondu.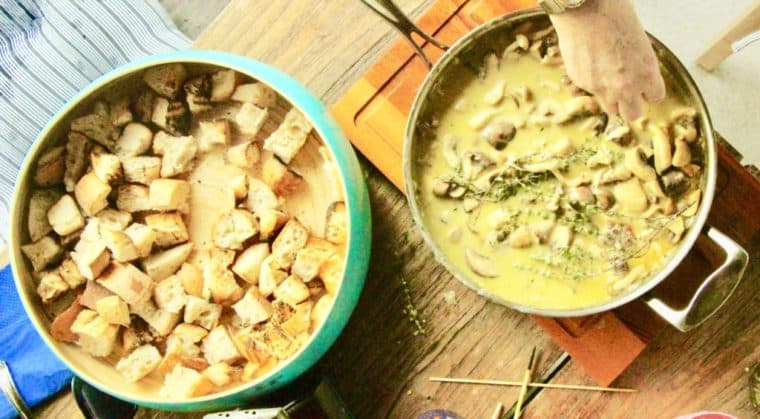 OK I need to make this so so complex you will never try to copy ChillaxBBQ Cheese Fondu. Or shall I just be nice? Hmmmm!
Here we go.
Cut a French Stick in to thin slices, cut those in to quarters, and get them on the coals for a light toasting. Just brown them until crispy, as you can see in the picture. There is your dipping utensils – yes this is a sharing platter, it's rustic-like.
To the fondu. I use my big copper bottom pan to cook, and serve as you can see. In to that follow these instructions for a huge pan of ChillaxBBQ Cheese Fondu, but also one you can keep topping up again, and again;
On the heat, as in the BBQ coals, goes the pan;
Melt a big lump of Ghee;
Fry off a good tablespoon of finely chopped garlic with two finely chopped chili padi;
Get about 4 different types of wild mushrooms in the pan, chopped to bite sized pieces;
Add in;

5-6 sprigs of fresh Thyme;
a good pinch of sea salt and cracked black pepper;
about 2 Kg of three different types of cheese (here is our secret – you choose which ones you want – make sure you have a blue, and a melty one);

Let that melt down until it is liquid, so you can have your punters dipping with the toasted bread;
Serve from the pan with the toasty bread in a bowl, as per the picture.
And there you have it folks; ChillaxBBQ Cheese Fondu. A must is that you buy your cheese from Chris @ The Cheese Shop, 267 Joo Chiat Road. If you want the best that is! We sure do every time. http://www.cheeseshop.sg/ This dish is an absolute belter, and has so far got RAVE REVIEWS, so give it a go, or call ChillaxBBQ and we'll do it for you. I guarantee you will – ENJOY!!!
Is Life a Recipe YouTube Channel