ChillaxBBQ 4 Rich, Dian & Joshua
A lovely Saturday afternoon, apart from The Perfect Storm that hit us. Luckily for us, I had literally just finished the final plating as the rain started. It was close, but I timed the cooking finish to perfection. Dessert was consumed upstairs as we all got dried off. What a wonderful afternoon we had. Joshua and Jude became new BFFs and we had the very special opportunity to meet the lovely Dian. A cracking afternoon of friendly banter, cold ones and I am hoping delicious food. A mini-ChillaxBBQ for our mates and even a short visit from Wifey which was the icing on the cake for us all.
ChillaxBBQ 4 Rich, Dian & Joshua
Today's cooking was NOT #BillWallaceFriendly but was indeed #KnibbsyKiddleWagyuFriendly… as you will see.
The produce came from Bootle's for those Monkfish Cheeks and toma from ButcherBox. Brilliant produce guys. So good!!!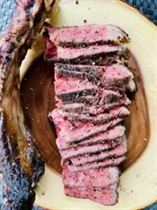 And that was that. ChillaxBBQ 4 Rich, Dian & Josh was over. We had beautiful weather. We dined, drank, chatted, swam, laughed. We got soaking wet. We got dry. We had fun. It was a cracking day. Thank you to Rich, Dian and Joshua for coming to visit. A brilliant afternoon and we were so happy to have you as our guests. We must do this again soon. Because we really did – ENJOY!!!
Connect with Us on Social Media