Sunday Lunch @ Malthouse Siglap
It's fast approaching the end of my gardening leave and it's time to adorn a suit, socks and shoes. Damn!!! A mini-family lunch today as Ollie os working and BeBe is off with here mates. So it is Wifey, Strawberry Blonde and Jude Jude only. Wifey comes out with a light-bulb moment and says how about Sunday Lunch @ Malthouse Siglap
? I love my Wifey, she knows me so well. That was exactly what I wanted, it was just that my brain had not engaged and told me that yet. So we got the cosy sofa seats and we sat, grazed, chatted, shopped, played a little, had a nice drink, people watched, caught up on the EPL replays on the TV. A heavenly Sunday before I start work again on Monday.
And it was an absolute cracker of a Sunday Lunch @ Malthouse Siglap to boot. The food was TOP drawer. Literally just what I wanted. The roast spuds were to die for, the Yorkshire pud was perfect, the pork belly was absolutely amazing (I think we may have some competition in ChillaxBBQ with what these guys are serving up), and the gravy was #foodporn on steroids. Strawberry Blonde had fish and chips. Wifey and I shared roast pork belly and we also got some Poutine fries. Jude Jude had the roast beef Sunday lunch. Yeah, baby!!!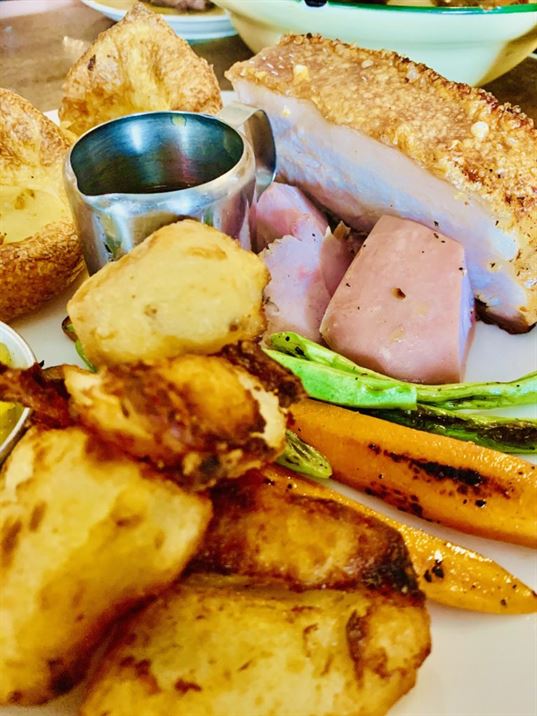 Sunday Lunch @ Malthouse Siglap was a bloody brilliant burst of Western fare. This is surely my 'look no further' destination when I need the Western hit. Memories flooding back of the cold UK. Jumpers on sat at my Mum's waiting for the Sunday roast to come out. Great memories. So thank you Malthouse for bringing them flooding back. We sat for ages just chatting and chewing. It was a lovely afternoon all centred around that bloody good lunch. If you need to reminisce or just desire to have a fantastic lunch, get over to Siglap and visit the guys here – ENJOY!!!