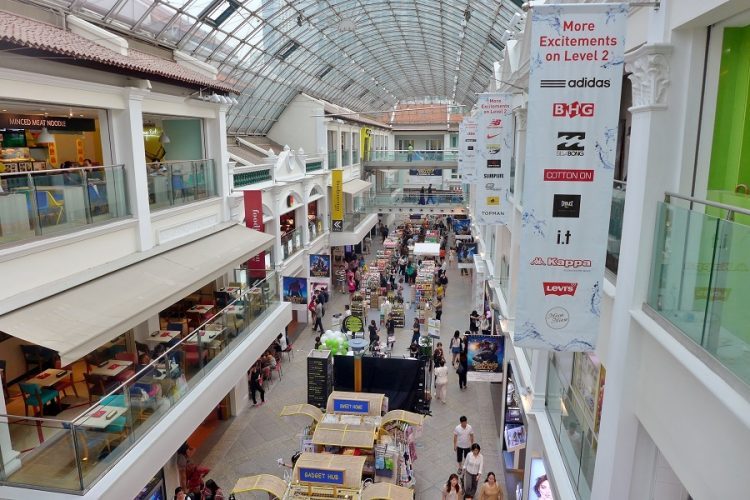 The Bugis precinct's dynamic lifestyle hub, Bugis Junction, is home to a wide range of dining, shopping, and entertainment options, all within walking distance of one another.
From its basement level, Bugis Junction is directly connected to the Bugis MRT Station and is well-served by major public bus routes in Singapore's Civic and Cultural District.
An additional feature of the Bugis Junction area is the city's first and only air-conditioned sky-lit retail lanes, which are bordered by attractive ancient shophouses. You'll enjoy the old-world charm of a little town in the middle of a big metropolis when you visit the intriguing retail area. Whether you're strolling in the sunshine or shopping under the moonlight, Bugis Junction invites you to discover and explore.
There is an overhead connection bridge linking Bugis Junction and Bugis+ together directly. By joining the two malls, a net lettable area of almost 600,000 sq ft of retail space has been created, further enhancing its allure to customers and not forgetting so many Bugis restaurants.
Looking for Bugis Food Discounts at Bugis Junction?

Bugis Junction Address & Telephone
Address: 200 Victoria St, Singapore 188021
Telephone: +65 6557 6557
Bugis Junction has a wide range of food choices to suit every appetite, from local cuisines, halal food like Crave to international food options like Waygumore. Popular restaurants in Bugis Junction include Nando's, Swensen's and Tan Yu. Nando's serves up delicious flame-grilled Peri-Peri chicken, while Swensen's offers a range of classic American dishes. Tan Yu is a popular grilled fish chain restaurant from Shenzhen, China, known for its variety of spicy soup bases and delicious fish dishes.
Whether you're looking for a quick bite or a full meal, there are many Bugis Food choices for everyone.
Ajisen Ramen Bugis Junction Ajisen Ramen has been operating since 1968 and is popular for its flavourful Tonkotsu (pork bone) broth. First launched in Kumanoto,
Bugis Junction Frequently Asked Questions, Answered...
What is Bugis Junction?
An integrated development in Singapore's Downtown Core, Bugis Junction was formerly known as Parco Bugis Junction. It is formed by the intersection of Victoria Street, Middle Road, and North Bridge Road. The complex is comprised of a shopping mall, an office tower, and the InterContinental Singapore Hotel.
What is Bugis Junction famous for?
In the Bugis neighbourhood of Singapore is where you'll find the shopping mall and office complex known as Bugis Junction. It is well-known for the extensive array of shopping opportunities that it provides, including fashion, cosmetics, and technology retailers, in addition to its food court and movie theatre. In addition to this, Bugis Junction is well-known for its one-of-a-kind architectural design, which fuses together aspects of both traditional and contemporary architectural styles.
This contemporary shopping centre feels like a hybrid of the indoor department store that is part of the Bugis Strip Market and the open-air shopping street that is part of the Bugis+ mall, both of which are located directly across the street from one another.
How to get to Bugis Street Singapore?
There are several ways to get to Bugis Street in Singapore. Some options include: By MRT (Mass Rapid Transit): The nearest MRT station is Bugis Station, which is served by the East-West Line and Downtown Line. From there, you can take Exit A and walk to Bugis Street. By Bus: You can take bus numbers 2, 7, 12, 32, 33, 51, 61, 63, 80, 130, 133, 145, 175, 197, and NR7, and alight at Bugis Street bus stop. By Car: You can drive to Bugis Street, but you will need to find a parking space as parking is limited. By Walking: If you're staying nearby you can walk to Bugis Street. By Grab or Go-Jek: you can use one of the Grab or Go-Jek apps to book a ride from your location to Bugis Street.
Is Bugis Junction the same as Bugis?
There are two different places in Singapore called Bugis Junction and Bugis.
Bugis is a central Singapore neighbourhood known for its street markets, street food, and traditional shophouses. It is also where the Bugis Street market is located, which is a popular place to shop and eat street food.
On the other hand, Bugis Junction is a shopping mall and office complex in Singapore's Bugis neighbourhood. It is known for having a lot of different places to shop, like fashion, beauty, and electronics stores, as well as a food court and a movie theatre. It is also well-known for its unique architecture, which combines traditional and modern styles.
Even though they are both in the same neighbourhood and Bugis Street is close to Bugis Junction, they are different places with different things to do and see.
Which part of Singapore is Bugis located?
Bugis Street used to be in an area that was bounded by Victoria Street, North Bridge Road, Middle Road, and Rochor Road. This was in the Rochor area of the central region. It was famous for its nightlife and parades of transvestites, how about that.
Can you bargain at Bugis Street?
You are able to engage in bargaining on Bugis Street. It is a well-known shopping destination that is famous for its street markets and the merchants who sell a broad variety of things there, such as apparel, accessories, and mementos. To obtain a better deal, it is usual practice to engage in price haggling or bargaining with the various merchants because many of them are willing to negotiate their rates. My Mum is the master at this.
What's fun at Bugis?
A district in Singapore known as Bugis offers a wide variety of exciting activities to its residents. Shopping at the Bugis Street market, going to the Bugis Junction mall, and exploring the cultural and historical landmarks in the area such as Sri Krishnan Temple and the Malay Heritage Centre are some popular things to do in the area. Other options include dining at one of the many restaurants in the area. In addition, there are many performances and activities related to the performing arts that can be found at the neighbouring Esplanade — Theatres on the Bay. Clarke Quay is home to a vibrant nightlife scene, Raffles Hotel and The Long Bar are a short walk away to get your Singapore Sling moment happening, and a walk to the bars and restaurant hub of Chimes is a great thing to do if you're stuck for ideas.
Which MRT line is Bugis?
Both the East-West Line (EW Line) and the Downtown Line (DT Line) of Singapore's Mass Rapid Transit (MRT) system provide service to the Bugis district of the city. The Bugis MRT Station can be reached via the EW Line. This station can be found at the crossroads of Victoria Street and North Bridge Road. This station is a significant interchange station that connects the EW Line with the DT Line. You can get to both lines from here. Both the Bugis+ Shopping Mall and the Bugis Junction Mall are easily accessible via the Downtown Line.
How do I get to Bugis by MRT?
Take Exit C to walk from Bugis Station to Bugis+. Exit C leads to a direct link to Basement 1 of Bugis Junction. You can then walk across the pedestrian-link bridge across the road right to Bugis+. Expect the walk from Bugis Station to Bugis+ to take only 4-5 minutes.
Why is it called Bugis?
The Bugis area, where Bugis Junction is located, is named after the Bugis, a sub-group with origins in South Sulawesi (Celebes) in Indonesia, and once well known for their seafaring and warring skills. The first Bugis merchants settled in Singapore at around the time it was founded in 1819. It is also used to refer to the people's language and culture. So the major assumption is that these guys set up markets and the like, that have remained until the modern era Singapore.
Is there toilet at Bugis MRT?
Public toilets are available at the Concourse level, near Exit E.