A Kembangan local that's so worth a visit: Birdie Num Num Gastrobar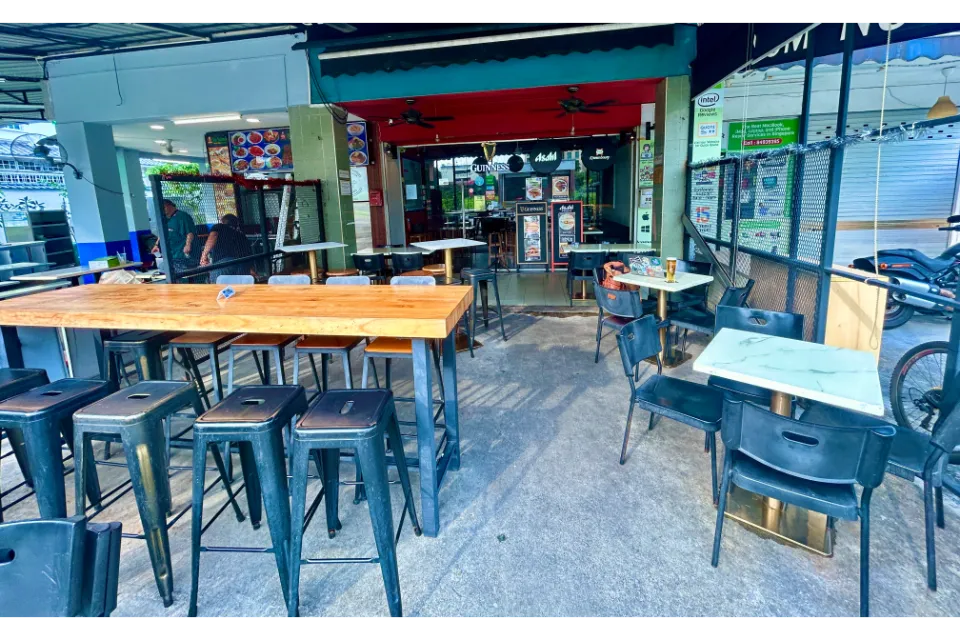 Birdie Num Num Gastrobar:
Table of Contents for Birdie Num Num Gastrobar
Do you want a gastronomic adventure filled with mouthwatering charcoal-grilled delights, loaded fries, and a cozy ambiance? Look no further than Birdie Num Num Gastrobar – a gem that's tucked away at 54 Jalan Kembangan, this cozy and intimate gastrobar has been serving up gastronomic delights since its inception in June 2015. It's right near the MRT, and promises to delight your taste buds and just give you a great fun time!
Welcome to Birdie Num Num Gastrobar – the local spot that food writers usually keep to themselves, but I just can't resist sharing this culinary treasure with you having visited two nights in a row! Nestled discreetly between a Muslim coffee shop and a nondescript laptop repair shop (that also repairs Apple Watch – much needed by me at the moment haha), Birdie's is the kind of place that creates memories and leaves you with a satisfied belly and a happy heart.
From the moment you step into this intimate joint, you'll be transported to a world of flavour and fun, with such a happy and attentive crew serving you. Picture this – mouthwatering plates of charcoal-grilled mains, tantalizing bites that go hand in hand with an ice-cold pint of beer, and an ambiance that instantly puts you at ease. Birdie Num Num has got it all.
The gastrobar offers a casual concept and features a menu with fresh handmade pizzas, French fusion mains, and delectable desserts. It has gained popularity as a creative gastropub, attracting both locals and visitors alike.
The name "Birdie Num Num" has its roots in the 1968 comedy film "The Party." In the movie, the character Hrundi V. Bakshi, played by Peter Sellers, is an Indian actor who struggles with pronouncing the English language. When he attempts to say "birdie" and "num num," it comes out as "birdie num num," leading to a humorous and iconic catchphrase.
Birdie Num Num Menu and Food Review:
Now, let me share a few secrets with you – Birdie's Sinful Fries are the stuff of legends! These seasoned hand-cut fries topped with bonito flakes, wasabi mayo, and glorious runny sous vide egg are simply divine. Trust me; I have this on good authority from my partner in crime, Spencer. A gloriously messy affair, these fries are an absolute must-try!
We did not indulge in the Sinful Fries but instead went for what they coin the big-daddy of fries. Sinful yet delicious! Yes please, I'll have a plate of these bad boys and an ambulance on standby to unclog my arteries. 
I'll give them this, these are some of the best I have ever eaten. Seasoned to perfection, a beautiful crunch and so much flavour because they also leave the skin on the potatoes. Stunners, and beer food on steroids. Must-try!!!
Birdie's Duck Fat Fries
Birdie Num Num Kushiyaki: A Skewered Sensation
Birdie's Kushiyaki (grilled meat and veggie skewers) is a recent addition to their menu, and they're a flavour explosion waiting to happen. I am seeing recommendations galore for the Pork Belly Wrapped Enoki Mushroom; the sticky sweet glaze, combined with the tender pork belly and crunchy enoki mushroom, will send your taste buds into a frenzy so it seems!
According to Birdie, some of their standout choices include the "Chicken Soft Bone," "Chicken Skin," "Pork Belly Wrapped Enoki Mushroom," and "Pork Belly Wrapped Asparagus." These delightful skewers are a perfect accompaniment to your chosen libation. I can't disagree with that, in any shape or form.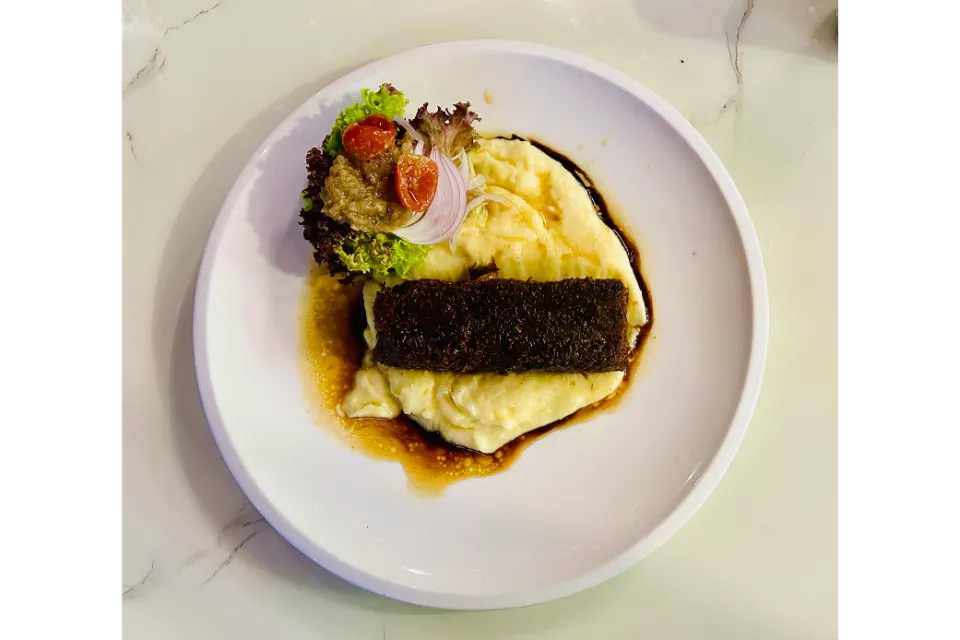 Fork-tender beef cheek, seared to perfection, and served with creamy handmade garlic mashed potatoes and a refreshing garden salad. The beef cheek practically melts in your mouth, and every bite is a moment of pure indulgence.
Now I would class this as Wagyu-grade. This is GENIUS, and I would order this again and again. It's literally melt-in-mouth beef, but then there is this crispy sear on the outside. So you get texture and flavour slapping you all over the place with this dish. And boy oh boy is that beef ever umami. She is a BELTER!!!
Birdie's Cheeky Cow
@ SGD $21.90++
Birdie Num Num Foie Gras
@ SGD $14.90++
Superb gastrobar food. Looks really nice plated, and cooked so very well. Maybe just a little more sear for me and Wifey though haha (that's being really picky). This was seriously nice, a beautifully seared lump of unctuous foie, atop and grilled apple, with some toasted sourdough and balsamic glaze. Can't go wrong with that!!! Nicely done Birdie!!!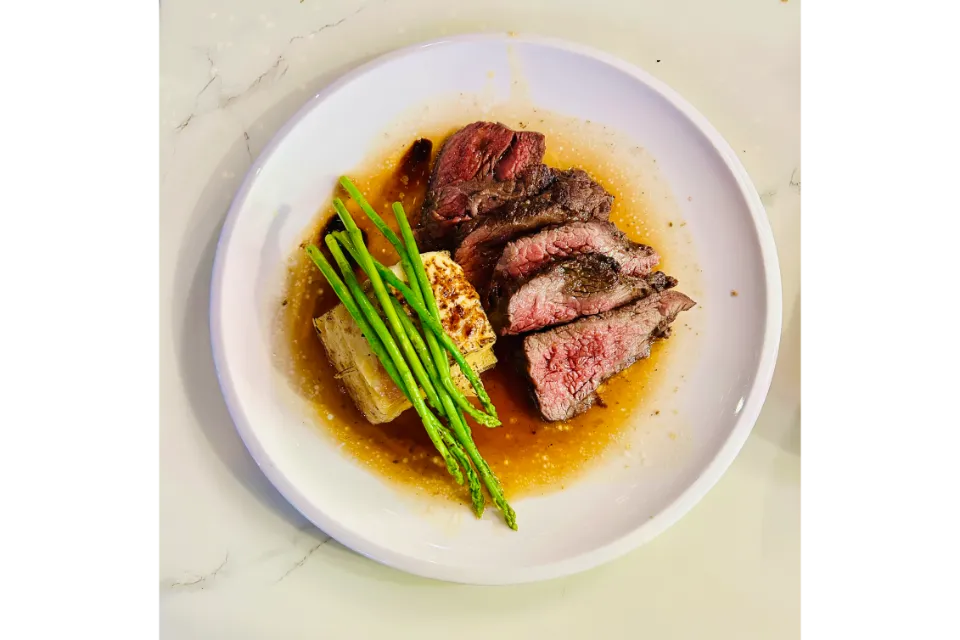 On the menu, it states: seared to perfection upon their charcoal barbecue grill, served with handmade potato gratin and asparagus. Sorry guys, this one you lost me on. I debate whether it was Wagyu (you don't share any Wagyu MB or A grading, or country of origin), and it was really quite chewy. Seasoning was also needed. However, the potato gratin was stellar. She does look nice plated up though, classic gastrobar food.
If I were you, up the steak quality, charge more, season it a little more (or just add a little pile of sea salt) – BOOMSKI!!!
BBQ Wagyu Rump Steak
Unveiling the Toffee Apple Cider
As a gastrobar that takes pride in its beverages, Birdie Num Num offers a unique Toffee Apple Cider that will leave your taste buds tingling with delight. Their carefully curated drinks menu includes classic favorites like Guinness, freshly tapped to perfection, Japanese beers, and a plethora of wines and spirits to boot.
Rave Reviews from Delighted Diners at Birdie Num Num
Birdie Num Num Gastrobar has garnered rave reviews from diners across various platforms. Visitors praise the restaurant's commitment to delivering high-quality, innovative dishes. Diners have marveled at the impeccable execution of their foie gras (I'll echo that), and the incredibly tender wagyu rump (yeap that one I'm not in harmony with).
The culinary prowess of their chefs shines through in pretty much every dish they serve, making Birdie Num Num a top destination for foodies and steak lovers alike on the East Coast. It's on my frequent-visit list from now on, that's for certain.
Our Conclusions of Birdie Num Num
If you're on the hunt for a place where great food, good drinks, and even better company come together in a hidden hideaway, Birdie Num Num Gastrobar is your answer! Make your way to this charming enclave just down from Kembangan MRT, and I promise you'll leave with a full belly, a satisfied heart, and a new favourite hangout spot.
Trust me; you won't be able to resist coming back for more! I came one night with my mate to discuss business with a new partner and booked the very next night to bring Wifey here for date night. It's such a great hang-out, with a great local vibe.
So, what are you waiting for? Let's indulge in the delectable world of Birdie Num Num Gastrobar together! Come on, join me at Birdie Num Num Gastrobar, likely I'll be there chomping down on crispy beef cheeks and duck fat fries, with an icy cold Asahi… ENJOY!!!
What's the Address and Contact Details of Birdie Num Num?
What are the opening hours of Birdie Num Num?
| | |
| --- | --- |
| Sunday | 12 pm–12 am |
| Monday | 3 pm–12 am |
| Tuesday | Closed |
| Wednesday | 3 pm–12 am |
| Thursday | 3 pm–12 am |
| Friday | 3 pm–12 am |
| Saturday | 12 pm–12 am |
People Also Asked About Birdie Num Num Gastrobar:
What are the must-try dishes at Birdie Num Num Gastrobar?
If you're visiting Birdie Num Num Gastrobar, make sure to indulge in their Sinful Fries and Cheeky Cow (see above) dishes! These delectable offerings are absolute must-tries that will leave you craving for more.
What's the ambiance like at Birdie Num Num Gastrobar
Birdie Num Num Gastrobar offers a friendly and laid-back vibe, providing the perfect atmosphere for winding down after a long day. The cozy ambiance, combined with good company and great food, makes it a favorite hangout spot for many. It immediately feels like your 'local'.
Does Birdie Num Num Gastrobar have vegetarian options?
Yes, Birdie Num Num Gastrobar offers vegetarian options on their menu. You can enjoy their delicious Handmade Mashed Potatoes, BBQ Japanese Squid, and other veggie delights.
Is Birdie Num Num Gastrobar suitable for private parties or events?
Absolutely! Birdie Num Num Gastrobar is a perfect venue for private parties and events. The warm and cozy setting, coupled with fantastic food and drinks, makes it an ideal choice to celebrate special occasions with friends and loved ones.
How can I get to Birdie Num Num Gastrobar via public transportation?
Birdie Num Num Gastrobar is conveniently located near Kembangan MRT station. Simply take the East-West Line MRT and alight at EW6 Kembangan MRT. From there, it's just a short walk to the gastrobar.
Does Birdie Num Num Gastrobar offer food delivery services?
Yes, Birdie Num Num Gastrobar provides food delivery services with a delivery fee under $25. You can place your order via phone or contact them directly to arrange for delivery.
Are there any signature cocktails or drinks to try at Birdie Num Num Gastrobar
Birdie Num Num Gastrobar offers a delightful selection of drinks to complement your dining experience. Be sure to try their refreshing signature cocktails or enjoy a classic ice-cold pint of beer to complete your meal.
What sets Birdie Num Num Gastrobar apart from other gastrobars in the area?
Birdie Num Num Gastrobar stands out for its charming and hidden location, offering a unique dining experience away from the bustling city. With its exceptional charcoal-grilled dishes, loaded fries, and friendly staff, it has become a beloved spot for both regulars and newcomers alike.
Does Birdie Num Num Gastrobar have any special promotions or events?
Birdie Num Num Gastrobar occasionally runs special promotions and events. Stay updated on their social media channels or website to catch the latest offers and exciting happenings at the gastrobar.
Is it advisable to make reservations before visiting Birdie Num Num Gastrobar
While reservations are not mandatory, it's always a good idea to make a booking, especially during peak hours or if you're visiting with a large group. This way, you can secure a table and ensure a smooth dining experience.