Asam Pedas Gravy with Bone Marrow
Remember Tioman Island blog.
Remember this dish below – the delicious Asam Pedas Oxtail dish.
Asam Pedas Recipe: A Flavorful Journey into Malaysian Cuisine
Embark on a culinary voyage with the tantalizing flavors of Asam Pedas, a spicy tamarind fish dish rooted in Malaysian culinary tradition. This iconic recipe showcases the perfect balance of sourness from tamarind, heat from chili, and a medley of aromatic herbs. Asam Pedas is a celebration of Southeast Asian cuisine, known for its bold and vibrant taste that awakens the palate.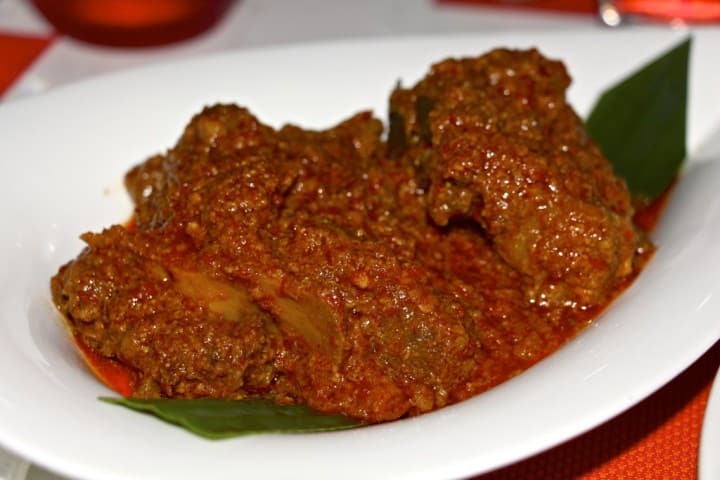 Mine clearly looks a lot different – bit more turmeric, no bones per se. So slight issue I have is getting access to bones in Singapore. The ones in Malaysia had like huge lumps of steak hanging from them, and bones marrow galore – here in Singapore I find the oxtail bones to be like those of a whippet dog – tiny. So improvise whilst still trying to keep a flavour something similar to the experience – why…
Because my poor Ollie didn't benefit from having this dish in Malaysia. Mary and I wolfed it down night No.1.
We talked and talked about how good it was, and on last night we all three ordered it – woo hop – woo NOT, they had run out. Ollie missed his chance.
As today was his birthday, as a special treat I tried to recreate the experience – and it turned out pretty damn close and pretty damn good.
Have a go yourself – a taste of the islands of Malaysia.
My version of Asam Pedas Gravy with Oxtail.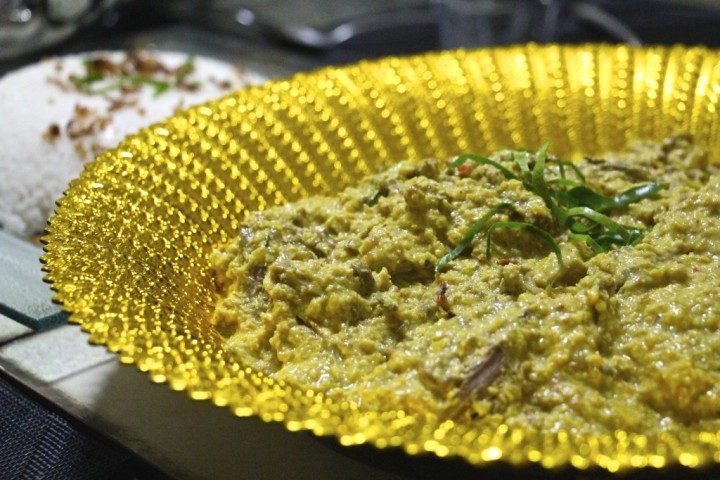 You will need to feed 4-6;
4 packs of oxtail's – look for the ones with the nice circle down the middle, meaning there is bone marrow in there
3 flank steaks
Take a big pot and load all these in, cover with water and add a good pinch of salt. Bring to the boil, lower to a simmer and leave those bad boys going for as long as possible. When I say as long as possible, try 4-5 hours. Keep topping the water as it will evaporate.
Whilst that is happening:
No1;
an inch of galangal roughly chopped
an inch of ginger roughly chopped
3 small red onions roughly chopped
1 tablespoon of turmeric
1 lemongrass stalk peeled and chopped roughly
Throw all of these into a blender and blitz to a paste. Set aside, but before you do just have a wee smell of that – hmmmmmm.
No2;
8 dried chilis – get those soaking in some cold water
Once they have soaked for 30 or so minutes, stick them in a blender with a little coconut cream and blitz to a paste – set aside
No3;
A carton of coconut cream
A packet of desiccated coconut that you need to brown in a dry hot pan – literally toasting it
Mix these together and set aside.
No4;
Knock up about 2 cups of tamarind juice – yep taking the paste and 'rinsing' with your hands to remove the seeds (discard) and leaves the sour paste
OK, you are now ready to go after the 4-5 hours of bone boiling, drain those and the flank steaks.
Push out the bone marrow from all the bones.
Break up the ever-so-soft flank steak into thin strips.
Out with your wok – and add in some Ghee or butter with some oil (please try to get Ghee though). Heat this up.
Add in No1 paste and fry off until you smell this amazing fragrance filling your kitchen.
Add in No2 paste and again fry off until you see the chilli is cooked.
Add in No3 paste and stir through until warmed.
Add in No4 paste and again stir through until warmed.
That is your Asam Pedas Gravy – Kennett style.
To this add all the flank steak and bone marrow – stir stir stir.
Add in 4 Kaffir Lime leaves at the end and again stir stir stir – you are done.
I served this up with some plain white rice – it was a knockout. Ollie had a lovely special Birthday dinner, and maybe even got to remember Tioman at the same time. I really think you'll like this one.
Yep agreed it is a little on the 'hard' side as not a packet sauce in site, but it is worth it in the end!
I tried to make it easy with the 4 stage process for the pastes – just follow that one at a time, and add in order one at a time – hey presto!
Please try – Please enjoy!!!