Ce La Vi: Sky High Hawker - dining in the sky
Ce La Vi: Back we go today for Sky High Hawker Part Deux @ Ce la Vi. This time it is just the ladies, with some of Singapore's best female Chefs displaying their food skills. How could we resist? We came here last time for Part I and it was brilliant, including fireworks for National Day. So it was a must for family Kennett to secure a table for lunch. And we are all so very glad we did.
We had the best weather of the day for our 3-hour slot.
We had cracking seats with amazing views and cool breezes wafting us.
We had a stunning array of a mixed variety of foods.
We had fun. We had absolute fun. And we extended the hour and a half allotment for eating, eat and went for a beer with a view too.
Sky High Hawker @ Ce la Vi: heavenly 
CÉ LA VI is a renowned rooftop dining and entertainment venue located on the 57th floor of Marina Bay Sands in Singapore. It offers a luxurious and iconic experience with breathtaking views of the city skyline. CÉ LA VI features a rooftop bar, restaurant, and club lounge, making it a popular destination for both locals and tourists.
The dress code varies within its different areas, with a casual chic dress code for the SkyBar & Restaurant and a dressy and smart casual dress code for the Club Lounge after 10 pm. This venue is known for its exquisite rooftop dining and nightlife experiences.
Want to dine, drink, and dance above the clouds with a stunning view of Singapore? Look no further than CÉ LA VI Marina Bay Sands.
Imagine dining on the edge of the sky, sipping cocktails while clouds drift beneath you, and then dancing the night away with the glittering city skyline as your backdrop. Sound like a scene from a Hollywood blockbuster? Well, it's not! It's CÉ LA VI Marina Bay Sands – where the extraordinary is just an evening's adventure away.
If you've ever wondered where Singapore's elite go for an unforgettable night out, it's here. CÉ LA VI isn't just a restaurant or a rooftop bar; it's a gravity-defying, taste-bud-tantalizing, and dance-floor-dazzling experience. Perched high above the glittering Marina Bay, this place isn't just about fine dining; it's about creating moments that become your stories.
Islifearecipe is about to unlock the secrets of this magical place. From dress codes that turn heads to cuisine that leaves you speechless, and nightlife that sets your spirit free – it's all here. Whether you're planning your first visit or just want to relive those unforgettable nights, let's take you on a journey to CÉ LA VI Marina Bay Sands.
Watch your calendars for October folks too as another Sky High Hawker is a-coming. This time it is coined Heritage (I think) with 3rd-generation Chefs coming to cook their hand-me-down recipes from their grand-parents type thing. We will absolutely be sitting in Ce La Vi in October. How could we miss that? We are very much looking forward to that!!!
But first, let's have a look at today, shall we?
What an amazing and interesting line-up. Bring it on ladies, let's be having those dishes… So excited. Sadly though we could not see any of you as you were all hidden somewhere – I assume because it might rain. Also, we were only allowed to sit for 1.5-hour grazing shifts as the next eating shift would be coming in.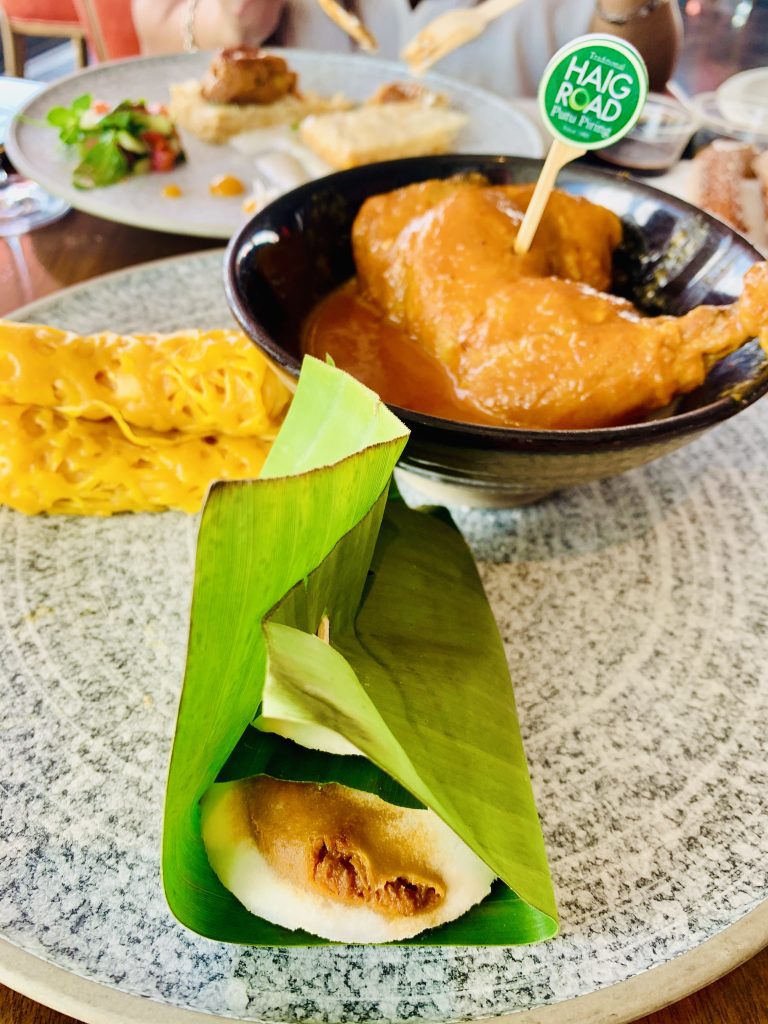 I had the very good fortune to meet one of the Chefs in person about 2 years earlier, just after she had appeared on StreetFood Asia on Netflix. The amazing food of Chef Aisha Hashim of Haig Road Putu Piring.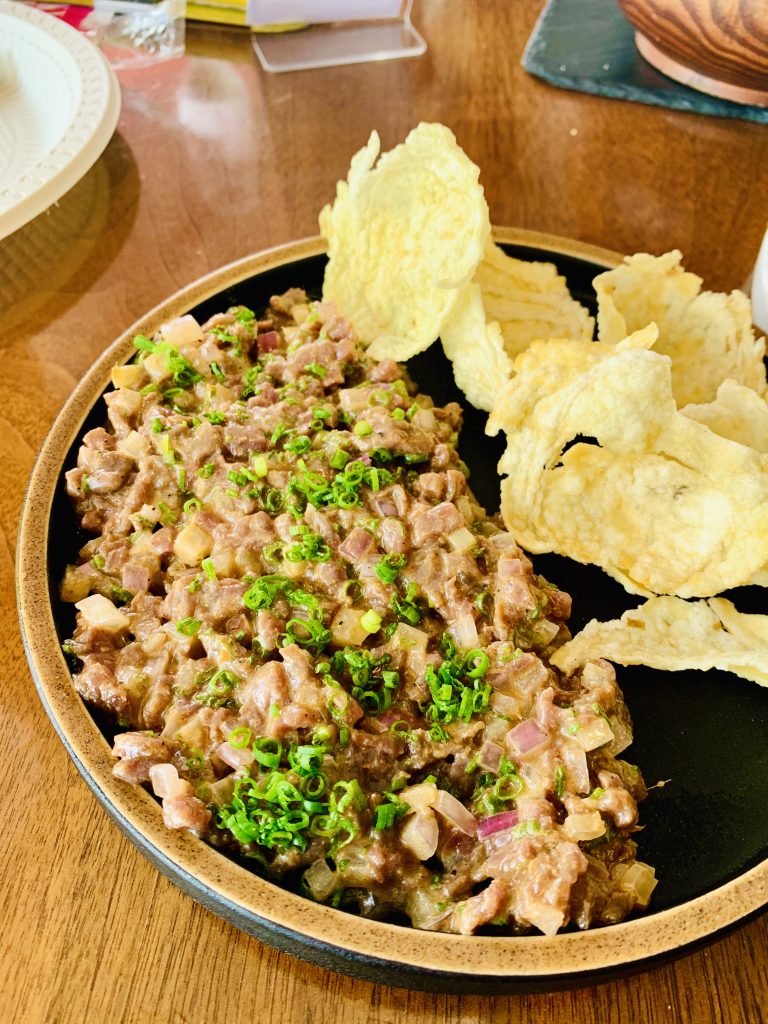 Chef Petrina Loh from Morsels then kicks in with this stunner. And I mean, STUNNER. Rendang Beef Tartare, Belinjo Cracker. This was a beautiful dish. Rendang spice overtones with super-tender beef but not so much heat, and then a kick from the onion almost like a pickled tartness. With the cracker you then had texture battles going on too. A bloody brilliant dish. Who else do you think loved this one apart from me…?
And here is the Truffle Wagyu Sukiyaki Bao. The juiciest burger you'll ever likely have…
Braised burgers, literally dripping with scrumptious goodness… Oh my these are going to be just so very good…
Hawker food on steroids. Seriously look at that plating, the funny thing is the cutlery with this was wooden.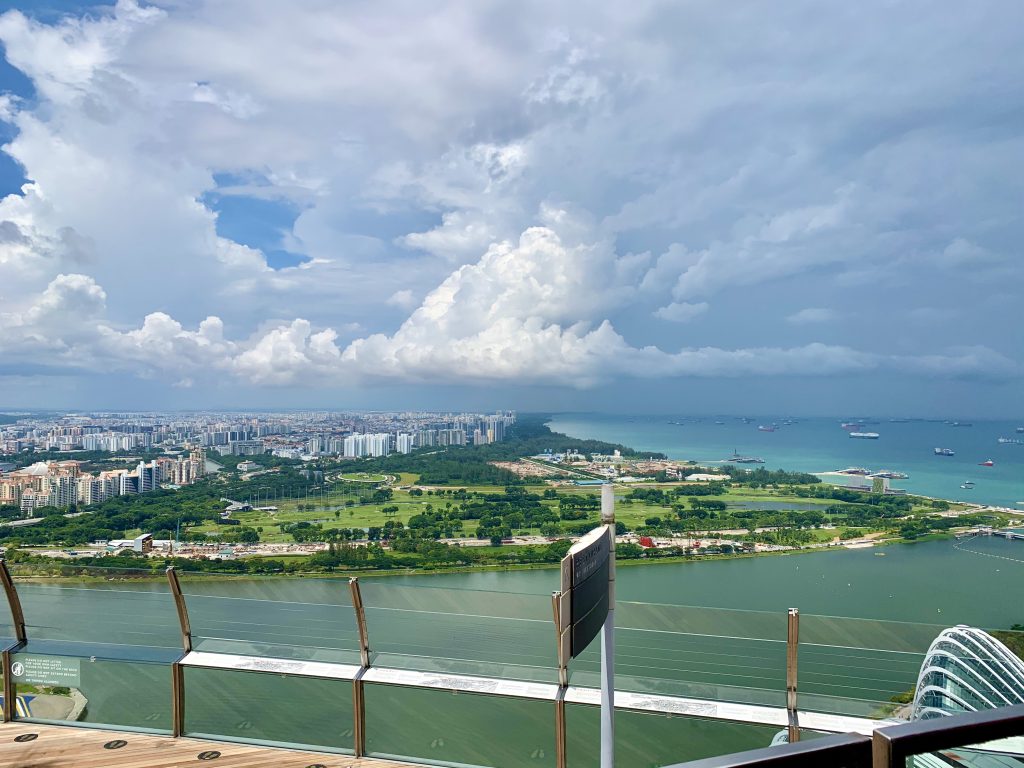 Jude gets his bashful on, or his I can't be bothered to smile… We're finished eating now. Rigidly set to 1.5 hours and out, which is not how we roll. We are a slow grazing family haha. So, luckily we were able to get another table outside for another hour and a half. Soak in the view and a couple of beers too. As we sat there we could see the storms all rolling in. As I said, we go the best of the weather this day for our roof-top dining and fun.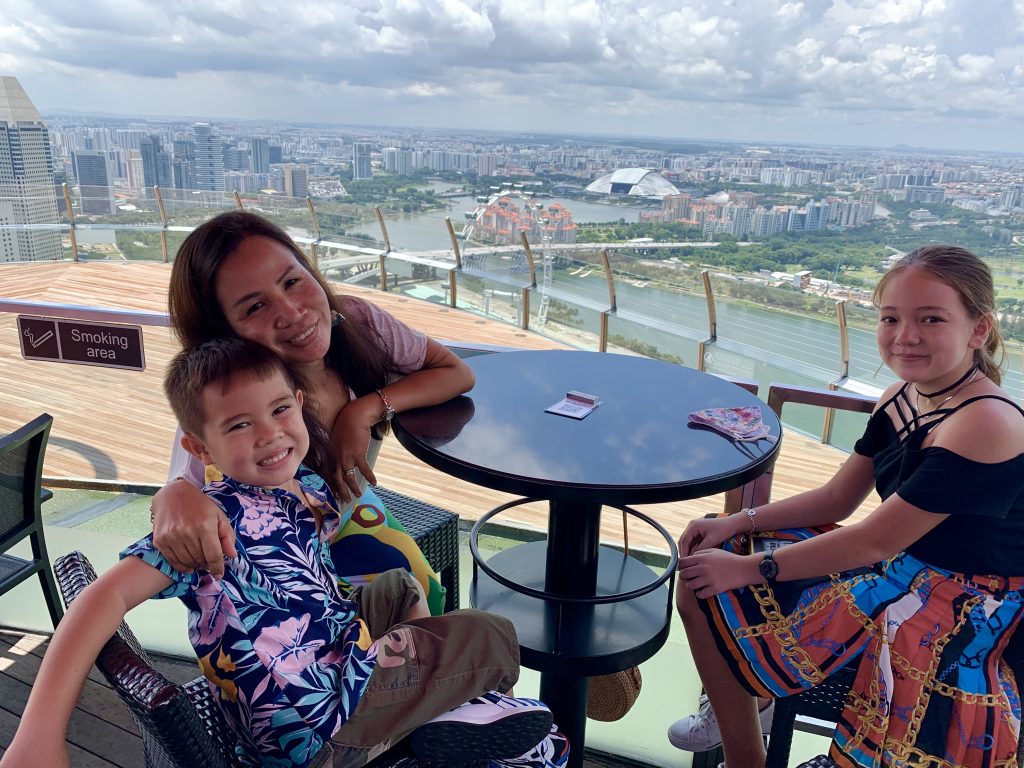 Yes, we were soaking up those stunning East Coast views, with beautiful cool breezes and chillout sound from the DJ also wafting around our ears. But check those clouds out. Yep, time to leave and perfect timing as the skies opened…
Another cracking event at Ce La Vi. Please keep the Sky High Hawker series going. It really is a genius concept. It almost feels like a staycation lunch in another country, especially with the variety of food on offer today. Chefs be proud as the food you cooked was up there in the amazing bracket. Just superb.
Thank you for you and your crew cooking efforts this day. Family Kennett had an absolute blast. I recommend these events highly (excuse the pun). Sky High Hawker Part Deux @ Ce la Vi – ENJOY!!
People also asked about Ce La Vi: Marina Bay Sands
| Question | Answer |
| --- | --- |
| What is the dress code for CÉ LA VI at Marina Bay Sands? | The dress code is casual chic at the SkyBar & Restaurant and dressy and smart casual in the Club Lounge after 10 pm. |
| Is there a cover charge to access CÉ LA VI Marina Bay Sands? | Yes, there is an entrance fee, typically applied during peak hours and special events. |
| Can I make a reservation for CÉ LA VI in advance? | Yes, it's advisable to make reservations, especially for dining, to secure your spot at this popular venue. |
| What type of cuisine does CÉ LA VI serve? | CÉ LA VI offers contemporary Asian cuisine, with a focus on fresh and flavorful dishes. |
| Are children allowed at CÉ LA VI Marina Bay Sands? | While children are permitted during certain hours, it's primarily an adult-oriented venue, especially in the evenings. |
| What are the operating hours of CÉ LA VI? | CÉ LA VI has varying opening hours for its different sections, including the SkyBar, Restaurant, and Club Lounge. |
| Is there valet parking available at Marina Bay Sands for CÉ LA VI visitors? | Yes, valet parking services are available for guests visiting CÉ LA VI. |
| Can I host private events or parties at CÉ LA VI? | Yes, CÉ LA VI offers event and party hosting services, providing stunning views and a luxurious ambiance. |
| Is there a minimum spending requirement at CÉ LA VI? | There may be a minimum spending requirement, especially for tables with the best views. It's advisable to check with the venue in advance. |
| Are there any age restrictions for entry to CÉ LA VI Club Lounge? | Yes, entry to the Club Lounge is typically restricted to individuals above a certain age, often 21 and above. |
What's the address of Ce La Vi: Marina Bay Sands