Most readers know Is Life a Recipe are East Coasters and so when we heard Wings Bar was setting up at i12 in Katong we were over the moon!
The last time we had decent chicken wings was a small a place called Wings World which was previously located in the same place of La Bonne Table is now.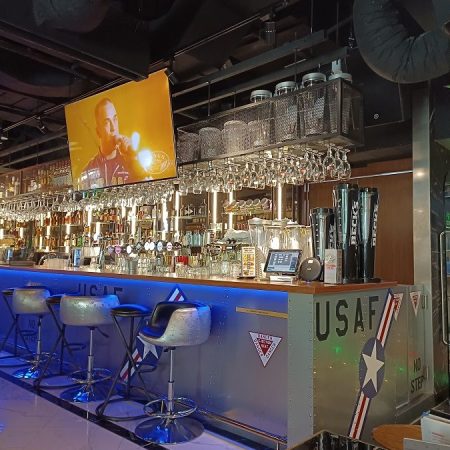 First impression was that it looks like an American diner but has the same vibes as a Hard Rock Café venue. Lots of shiny metal I'm funky mood up lighting and downlighting to give the place I cool ambience.
Large flat screen TV's at either end of the bar had Robbie Williams entertaining us throughout the lunch. it certainly is a place that looks set to be lively at night, but we were there for lunch and there was only a moderate sprinkling of guests during the time that we were there.
Since this was mid-week it's more likely to get a lot busier at the weekend as the foot fold in this area is mostly from people living in the area who work from home or are taking their kids to and from tuition.
Most tables were four seaters but they do have booth space near the window but that looks like it only seats four people as well so big groups plan ahead and see if they can arrange tables accordingly to meet your headcount needs.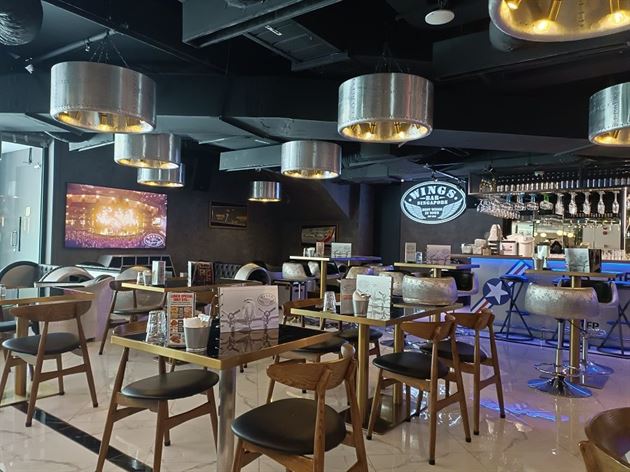 With a choice of pizza, pasta or a wings meal the choice was most obvious since we're in wings bar why not get the wings. the wings bar lunch special comes in at $15++ and is available from 11:30 AM to 3:00 PM every day. You can add a Sprite or coke for $3 and for another $3 you can add a scoop of freshly made Gelato!
Kicking off in the starter area there's a lot to choose from anything from crispy fish with truffle fries, to Thai style stuffed wings So everyone's favorite calamari well maybe not Brian's favorite!
The one that caught my attention that will be a must come back to try is the ultimate footlong nachos which consists of fresh corn chips with a choice of minced beef or chicken and seasoned Pinto beans served with sour cream chopped green onions jalapenos and the famous tomato salsa.
Wings, Wings and more Wings
The main reason why we're here after all is the wings and the wings come in many shapes or forms well flavours really but more importantly spice levels! The spice level at wings is not measured in scoville's but on a rating of zero to 6, Zero being not spicy at all and 6 being the ultimate spiciest of spicy!
There are 4 zero rated chicken wings to choose from, "Ha Cheong Gai" Wings the preferred Cantonese prawn paste wings many places in Singapore serve up, or Japanese Zero which is really Teriyaki flavour, the Honey BBQ (signature bourbon sauce) or the Memphis Belle, Louisiana Cajun style wings!
In this category there are only two types: Singapore Wings which are sweet and spicy like the Singapore women and the B52 Wings which is their original buffalo wings, crispy skin and tender chicken with their own spicy sauce mix!
Thai Afterburner with sweet chilli, ginger, Thai basil, and lemongrass! Or the Gangnam Style Wings which is honey garlic ginger and lime sauce giving it that Korean flavor!
3 Flavours on this level, the flying tiger which is made-up of a spicy Sichuan pepper sauce which apparently kicks ass. The Spitfire is considered to be seriously hot wings not for the faint hearted then there's the Jamaican jerk chicken wings which are coated with a habanero chilli sauce giving it a classic Caribbean style.
Scoville Scale Disclaimer
Now that we've moved up in scoville scale there will be add-ons that need to be factored in first there is an additional cost for these higher scoville flavors at every level we must add $3 for every six pieces and bear in mind you can't mix the flavors you have to take six of only one flavor.
Then there is the option of milk, why milk? I hear you ask. It is commonly known that milk helps subdue the burning sensation given from chilli or hot sauce as opposed to water. This is another add on and it's $5 per 500ML of milk. Trust me, some of you are going to need it at these levels!
This is where things get serious and really start to heat up (pun intended). at level 4 we only have a single choice Lancaster Wings. They have added Jose Cuervo tequila to these wings (that is all Jose Cuervo is fit for honestly, such bad tequila) but this is with an added Achiote citrus Habanero sauce that's 350,000 on the Scoville Scale. Remember if you play with fire you get burnt!
This bad boy (or girl in the chickens case) is named the Hurricane, this is seriously next level stuff. The scoville scale rises to a whopping 1,500,000, that is a serious uplift from the Lancaster at Level 4.
Now this is the Daddy of all Chillis, the California Reaper. They claim this to be the ultimate challenge and are warned to proceed with extreme caution!
Which Wings did I choose?
The warning was like a Red Rag to a Bull and so I opted for the California Reaper Wings! The Waitress asked if I was sure (I guess that's their final disclaimer) and I was positive. 
The wings are part of the lunch special and I only had to add an additional $3 to the $15++ and it was a deal!
California Reaper Chicken Wings Singapore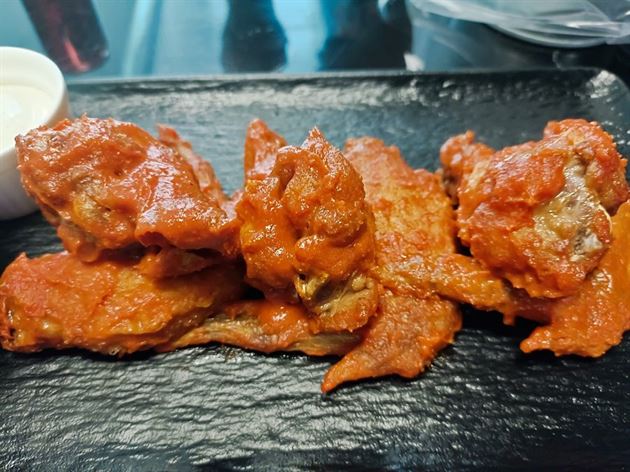 Right away I knew they could not be handled by human hands for this eating mission, so a knife and fork were my only weapon against this foe!
The first bite was one with caution, I waited to see how this was going to react before taking a second mouthful. Surprisingly it was not as bad as I had imagined. So I waited a little longer and whilst it got hotter it was not something I couldn't handle. My lunch buddy said my face or ears did not go red and I had no sweat under my eyes, how odd, I expected more!
Second bite, things got a little hotter but again not by much, so I reached over to the bowl of fries adjacent to the wings that had come with the meal and the salt from the fries took the chilli to the next level and boom it hit home! From that moment on I could not eat another French fry for fear it would intensify the heat.
I still have five and a half wings to complete and yes it was a challenge and yes I did finish them (not to the fullest extent but I was working with cutlery and not hands, so it was harder to strip the wings but I think I did a pretty good job overall.
California Reaper Wings - Conclusion
Was it really spicy? Yes, was it manageable yes!
Would I recommend others? Yes as a challenge but work your way up to it if you do an eat other things first as it will spoil your meal.
Did I opt for the milk? No, the coleslaw and cheese dip helped along the way though!
Would I do that again? No but not because of how spicy it was, the real reason was that it made me not able to eat anything else until much later in the day.
Wings Food Menu - Continued....
There are plenty of other dishes on the menu to choose from from Pizza, Pasta, Burgers to Ribs the list goes on and on, here are a few that caught my attention enough to go back and try another time!
The Signature Ribs half rack for $32 and a full rack for $45 slow smoked for at least 14 hours and cooked to perfection you can check out the original hot sauce or the smoked honey barbecue with bourbon!
they do fish and chips but I wouldn't go too a wings place to eat fish and chips I'd rather go to Smiths Fish & Chips but I certainly would consider trying the golden fried scampi and fries as that takes me back to my childhood.
The next two dishes I would be torn between OSSO BUCCO or the Black Pork Cheeks! Both sound like they're worth trying so maybe bring the wife order one each and share!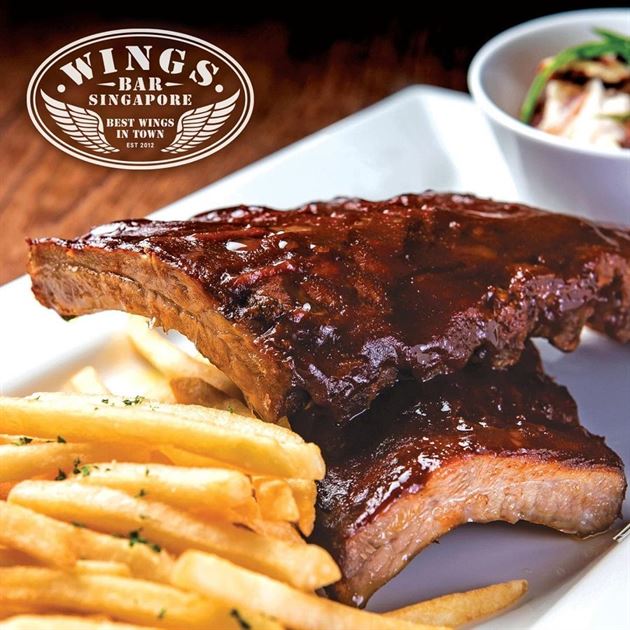 They of course offer a selection of steaks the sizzling hot plate black pepper beef or a standard I feel like steak which comes with a side order of fries and your choice of peppercorn onion or mushroom sauce.
They have beef chicken or pulled pork but the one that was stand out was the triple mini burgers which are mini cheeseburgers topped with Italian parmesan served with fries and coleslaw but what would be a good idea was if they could offer one beef one chicken one pork that would make me come back even more.
The pizzas all look good and offer your usual standard pizza choices that you can get pretty much anywhere in Singapore from your Margherita to Hawaii and your seafood marinara or your meat feast but I probably wouldn't come here for a pizza to be honest but good value if you take the lunch special.
On the pasta the front they offer all you usually Carbonara, Bolognese, Arrabiata and Vongole but much like the pizza option above the other food options for me are much better. They do have some signature pastas if you are looking for something a little lighter and they do look good, Pasta Semplice or the Duck Pasta with Crispy Prosciutto look worth a try!
For those of you watching your figure or those that are like eaters they do offer a variety of salads the Greek salad chicken Caesar salad a warm beef salad or a goat cheese salad might be your preferred route.
They do have Kiddy meals which is great for the parents pockets, priced at $10 and a juice or soda for $3 plus then you can add a scoop of ice cream for $4, just to shut them up at the end of the meal 'cause you know that's what they're there for in the first place!
If you've made room for desserts you can mix it up with a flight of 6 Gelato shooters for me $14.00 go with a mojito sorbet which is only for adults priced at $22.00 as it contains alcohol for those with a sweet tooth you can go with the fudgy chocolate brownie for $14.00 and that comes with a vanilla Gelato scoop on the side.
Finally Drinks! More importantly Alcoholic Drinks!
This one I will keep short as we did not drink on this occasion but they offer a great selection of draft beers and bottled beers. Price wise they're probably slightly more expensive than other places in the neighborhood so I'm not sure I would go here to drink beer.
They do have a Happy Hour but that did not start until 5pm and we were there at lunch, we asked if they'd make an exception and the answer was, no! They really are missing out on the day drinking crowd because we opted not to drink beer until we left for another bar!
Interestingly though they have cocktail towers which contains 12 portions of drink and ranges from $158 to $218 per tower with $158 being for the Cuba Libre and $218 being for the Long Island iced tea which averages about $18 her glass for the Long Island iced tea just to give you an idea.
Single cocktails range from $17.00 up to $20 and alternatively you can get them by the jug for $64 so it's definitely worth coming back here for a party night with a gang of people given they have a decent amount of space music playing in the background and a funky looking bar!
I won't go into the wines, whiskies on other alcoholic beverages on this occasion but there may be a follow up post specifically for this purpose!
Now go try the California Reaper Wings, I dare you!
Connect with Us on Social Media