So when my mate Clarence invited a few of us down to Tap @ Chulia on a Monday night we jumped at the chance! 
Monday night, it's the start of the weekend!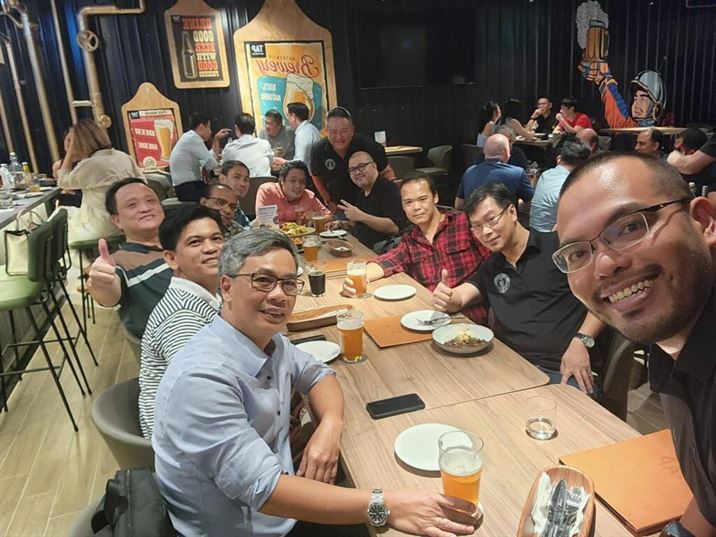 Get 50% off TAP @ Chulia by purchasing this voucher today!

TAP Craft Beer Bar have been spreading their wings across Singapore through franchise arrangements and this is the latest in the group to roll out with more in the pipeline I have no doubt! as of now Tap has outlets at Tap @ 9 Penang Road, Tap @ Millenia Walk, Tap @ Raffles City Shopping Centre, Tap @ Robertson Quay, Tap @One Raffles Link and now Tap @ Chulia!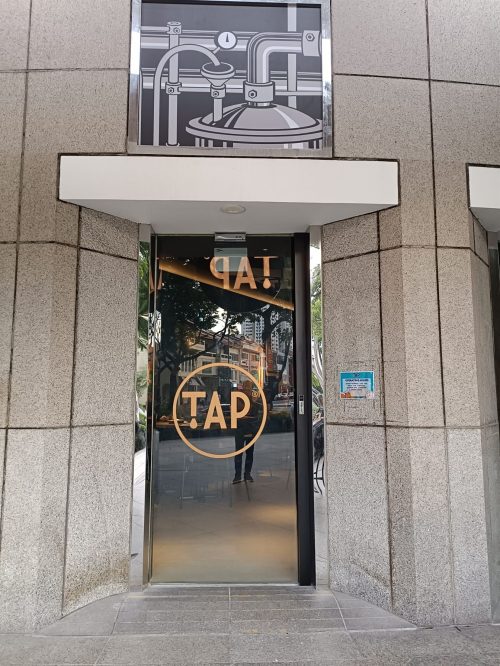 Location, Location, Location!
As everyone knows about property it is all about Location and the venue for Tap @ Chulia is hands down on a prime piece of real estate! Nestled between the OCBC Centre and Raffles Place and directly opposite Boat Quay it sits at a pinnacle place to catch the ultimate foot traffic! 
Tap @ Chulia based on location and price points is going to take a decent amount of market share from their more established neighbours!
Beers, Beers and More Beers!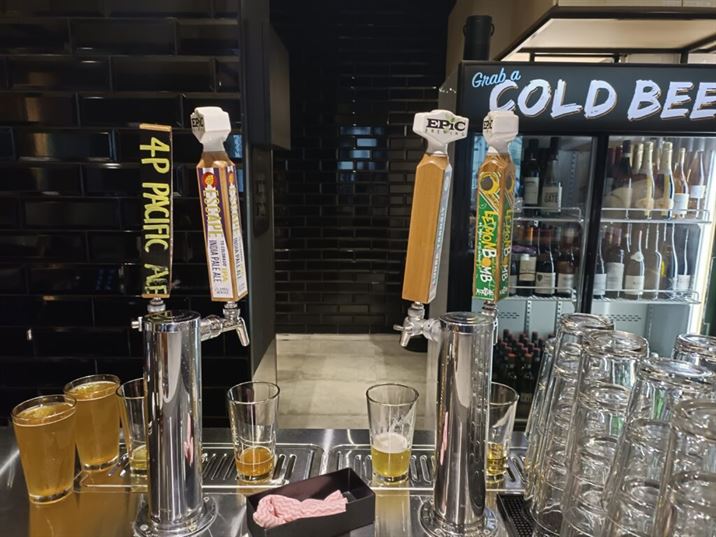 Obviously with a name like Tap @ Chulia you would expect beers to be on Tap, we ll they do not disappoint and deliver as promised showcasing 20 rotating foreign craft beers on tap with a tailored cuisine menu to provide you fresh new options every month. This is the ultimate tap craft beer bar in the CBD!
What Tap Craft Beer did we try?
A few of the guys had already opted for the 8 Ball Stout 5.8% ABV when we arrived, it was said to be very chocolatey in taste, more of a Porter then! Lost Coast Brewery, Eureka, CA are the creators and TAP have this to say about the 8 Ball Stout "This stout displays a chocolate brown head with the aroma of roasted barley. You'll find it delivers a rich, full flavor with creamy oatmeal smoothness, and subtle hop undertones. Enjoy this stout with your favorite hearty dish, or as a meal on its own", the boys call this one right!
They switched quickly into the 4P Pacific Ale 3.5% ABV that I ordered on arrival. 4 Pines Brewing Company makes this beer, TAP describes this beer as "Hazy golden in appearance. Big fruity hop aromas of passionfruit, pineapple and pear are complemented by a smooth dry finish"
Next up for me was the Defender IPA by one of my favourite Breweries Brooklyn Brewery, Brooklyn, NY.
The Defender is an American IPA coming in at 5.5% ABV, I normally drink their lager but really enjoyed this IPA from them! I stuck to this the rest of the evening as it hit the spot! TAP describes this as "Passionately hopped golden IPA with strong notes of tropical fruit and a dry finish"
Most of the beer prices started at $10 which is a far cry from some venues close by charging $18! They even have upsize options on the beers for $2 more which gave you a decent amount more beer!
There is of course food to be had at Tap @ Chulia but right now there is no menu listed on their website but hasten to say a number of the other Tap Craft Beer Bar outlets have menus listed already and they look fairly similar so it would not be too much to hazard a guess of the similarities between the venues with some slight differences! Once updated we will of course make the changes to the below menu button!
We did not eat that night as Eating is Cheating! But the menu looks damn good! Thai food includes a Green and Red Curry. The burgers look great, from Wagyu Burgers to Impossible Burgers and a Pork Belly Burger that sounds like a must! With Stews and Pasta and Quesadillas the list seems endless and caters to everyone's dietary needs!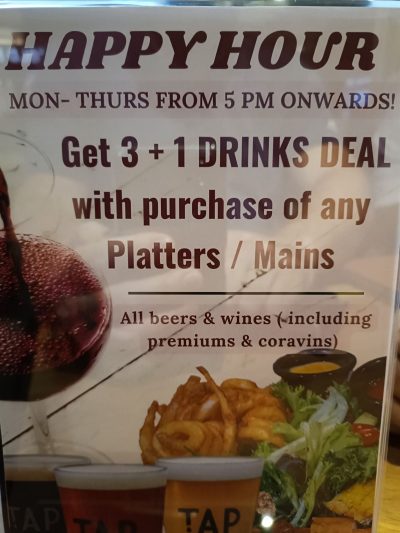 As the Tap website is being updated to include promotions for Tap @ Chulia there are no deals on offer online but we can show you this deal that might just make it worth while you visiting this funky new tap craft beer bar ASAP! 
Address &Telephone Number
Address: 
63 Chulia St, #01-01, Singapore 049514
Follow Us on Social Media for More Updates