You want these don't you – but where to buy…
Funny story, but short story.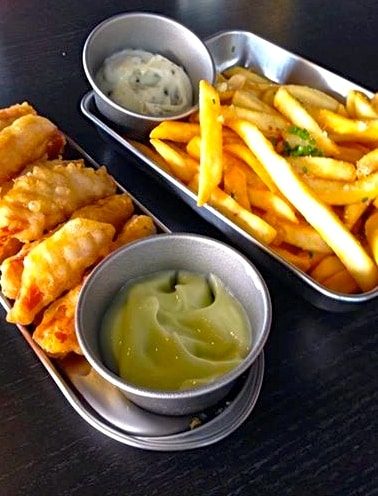 I played football for Ollie's old school last night, and as usual we scoot back to Tuck Shop, Geylang. I was last to leave and went to pay. Completely forgot I had given Mary my other card this am to go to ATM to get some cash. Now I realise this place does not accept Amex and my other UPB card is not working – whoopsy. So I had to leave my UOB card there, give some ID to verify it is me, and commit to be back today to pay off the invoice.
Now I love this place. It reminds me of London bars, with full open shutters, seating outside and archipelago beers and ciders. It's just a chilled out and uber cool place. Now because I love it, of course I would not be scamming them. So back at 330pm today to settle the bill, but also to take Mary and the kids to show them the place too.
Lor 36 I think it is in Geylang on a corner of main road and the Lor. It gets busy to get there early or book ahead. Oh yeah and back to the picture. Try the food. We just grabbed a wee toffee apple cider and some bar snacks as per the photo.
BUT – what you need to know is;
Item on the left is 'spam fritter with wasabi mayonnaise' – COME ON, deep fried spam in batter is GENIUS!!!
Item on the left is fries. BUT 'fries fried in truffle oil, sprinkled with parmesan and parsley, served with truffle mayo' – COME ON PART DEUX, you have to be kidding me. Potentially the most decadent chips I have ever had. They are simply to die for and a must for any visitor to Lunch Box.
It's cool, it's hip, it's well worth a trip.
Wanna know more – here they are; http://www.thetuckshop.com.sg
Chillax and enjoy!!!
(Visited 45 times, 1 visits today)