Truffle-infused finger snacks at Tuck Shop Singapore
You want these don't you – but where to buy…
Funny story, but short story.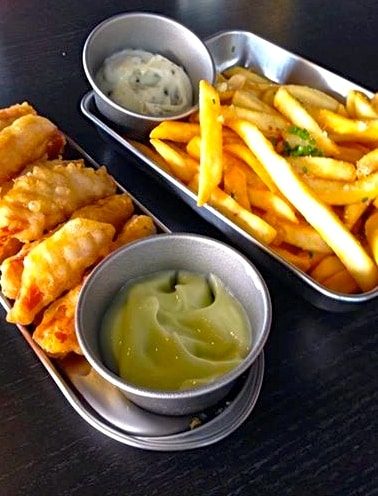 I played football for Ollie's old school last night, and as usual we scoot back to Tuck Shop, Geylang. I was last to leave and went to pay. Completely forgot I had given Mary my other card this am to go to ATM to get some cash. Now I realise this place does not accept Amex and my other UPB card is not working – whoopsy. So I had to leave my UOB card there, give some ID to verify it is me, and commit to be back today to pay off the invoice.
Now I love this place. It reminds me of London bars, with full open shutters, seating outside and archipelago beers and ciders. It's just a chilled out and uber cool place. Now because I love it, of course I would not be scamming them. So back at 330pm today to settle the bill, but also to take Mary and the kids to show them the place too.
Located at 403 Guillemard Road, Singapore 399795, it gets busy to get there early or book ahead. Oh yeah and back to the picture. Try the food. We just grabbed a wee toffee apple cider and some bar snacks as per the photo.
BUT – what you need to know is;
Item on the left is 'spam fritter with wasabi mayonnaise' – COME ON, deep fried spam in batter is GENIUS!!!
It's cool, it's hip, it's well worth a trip.
Wanna know more – here they are; http://www.thetuckshop.com.sg
Chillax and enjoy!!!
The Tuck Shop Address and Telephone No.
Address: 403 Guillemard Road, Singapore 399795
Phone: +65 67448205
Connect with Us on Social Media