Kebabchi Charcoal BBQ @ Gluttons by the Bay
Kebabchi Charcoal BBQ @ Gluttons by the Bay
You know when fate sort of happens and you then sit afterwards and sigh and say thank fuck for that outcome! Well, that happened today with our very first experience of Kebabchi Charcoal BBQ @ Gluttons by the Bay. If you have never been to Gluttons by the Bay you really should, it is awesome just down off the Esplanade. It is a KF Seetoh concept to celebrate the heritage of Singaporean hawker food culture under his Makansutra brand and infamous Die Die Must Try… Surely you must have seen that…?
So we had been to Satay by the Bay for a lazy lunch. We then decided to have a walk down to visit Gardens by the Bay. Cannot, fully booked and only allowed by time-slots. OK let's walk down to the museum. Same, same fully booked by time-slot. Damn. OK slow-walk over The Helix Bridge. Whilst walking I was pinging our mate Edward at My Little Spanish Place @ Boat Quay and yeap, fully-booked. We pinged a few messages out to other places and Chope/Quandoo etc. and #1 said how about Gluttons by the Bay & let's go see the boys at MeatSmith. Guess what Meatsmith was closed due to Covid-19. OMG. And that my friends is how we ended up having our first experience of Kebabchi Charcoal BBQ @ Gluttons by the Bay. As we walked into Gluttons by the Bay I spotted their sign. I think this is the 1st time we have entered the place from the bottom so walked past them this time. The sign got my interest sparked.
We even saw KF Seetoh today doing a walkthrough today of his Makansutra establishment, Gluttons by the Bay. The last time I saw him in the flesh was when I met him with Anthony Bourdain at the very 1st Streetfood Congress down at F1 pit-lanes. Remember that photo? Now there is a sad and happy memory…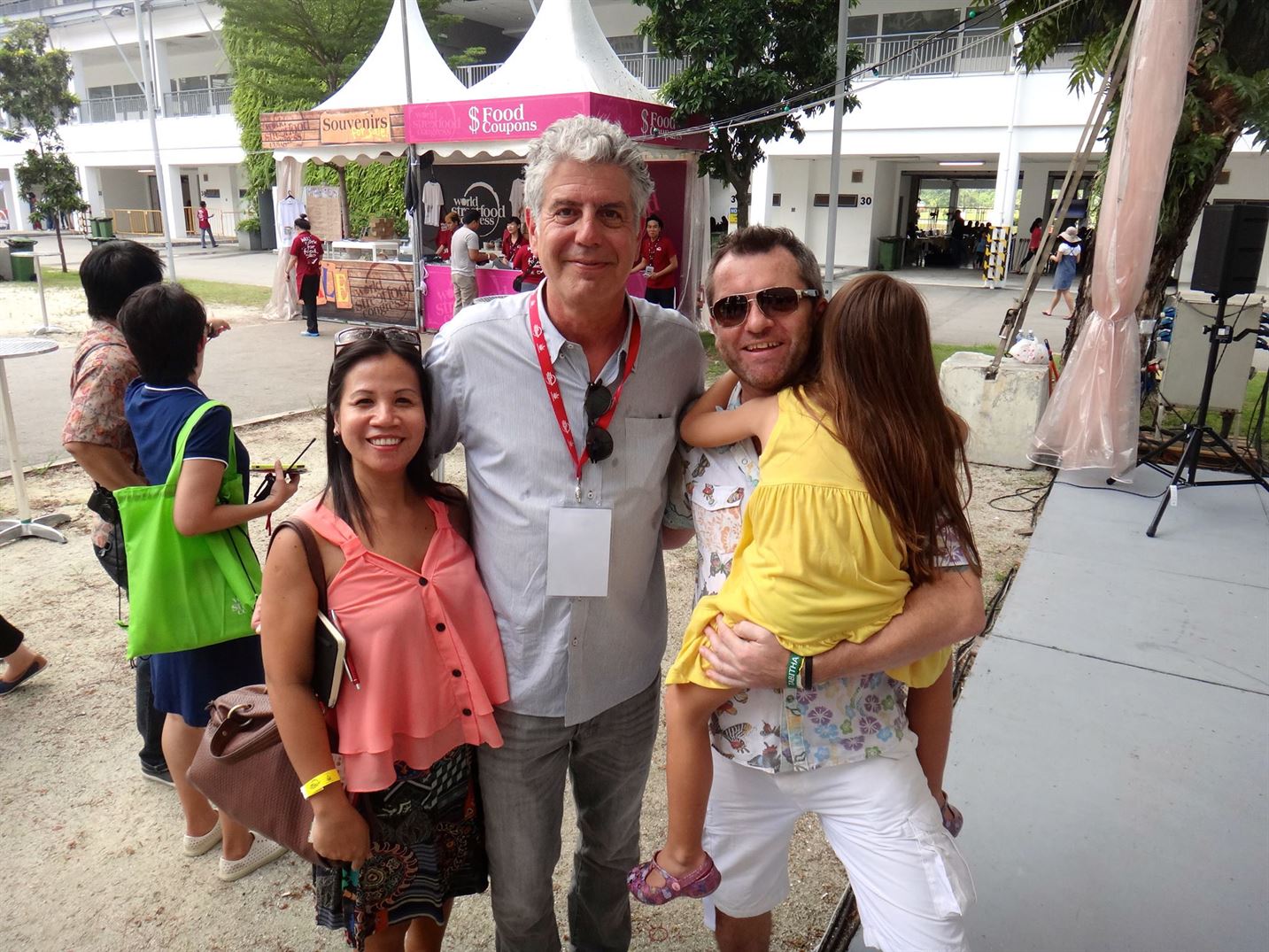 #supportourrestaurants #supportourhawkers #supportourstreetfood
Anyways, enough maudlin, let's get to the gentlemen at Kebabchi Charcoal BBQ @ Gluttons by the Bay. I love to do this, especially when the food is just so exceptional and I read that the Chef is self-taught. It always gives me that holy shit moment…
Food this good with no formal training is just a wow!!! Very humbly they state;
"Serving authentic Pakistani street food…"
What the boys forget to tell you in their wee descriptions and overviews, is that it is probably the very best Pakistani, Afghani food, and generically tandoori and curry full-stop that this fat beardy one has had in a very long-time. It is exceptional, it really is and at super-affordable prices too. Sad to say some of the food photos are shit as I could not stop myself from tucking into the food and then realised I had not snapped them for the blog. Stunning dishes that hit your eyes first, then these wafts of exotic aromas and spices hit your nose and then the taste test and holy shit the food angels of Pakistan start singing. This is such quality tasting food, all made in the usual tiny hawker stall.
So, go to visit the boys at Makansutra, 8 Raffles Avenue – shit loads of choice there and cold beverages too (you know what I mean).
Or WhatsApp them at 8784 0023 or 8161 2690 to place your orders for delivery.
I guarantee wholeheartedly you will not be disappointed. This is QUALITY from a hawker stall.
This is one of the crap photos above as #1 and I had demolished the back-side of this curry dish already. So it is a major zoom in to close-up to what was left on the plate (sorry about that). When you smell this you can't help but dive in. It is spicy but not overly spicy (well unless you think a green chilli is a green bean as #1 did). It's the perfect consistency for using your Naan as you eating utensil. It is sour and the sweet and then savoury, and then sour and then you get ginger hit. Then the super-soft chicken moment. Wow!!! I did want to get the Mutton Karahi too but sadly they were out of that, a reason to return then…
Daddy-pedia; So #1 and I were thinking that there might be Tamarind in this which gives the sour overtones, so I needed to research what is in a Kahari curry. And my research gave ZERO clues as the Kahari is not the curry it seems. It is the pot it is cooked in. Grrrrr. But it is interesting anyway, so a Karahi is a thick, circular and deep cooking pot that is originally from the Indian subcontinent. Used in Indian, Afghan, Pakistani, Bangladeshi and Nepalese cooking.
There we have it guys. A curry and tandoori place to must-try. It is exceptional. Kebabchi Charcoal BBQ @ Gluttons by the Bay. Just incredible Pakastani & Afghani food of the highest quality in my humble opinion. Just go back above and look at the tandoor oven and charcoal BBQ – you just know this is going to be just crazy good. And it was. My recommendation is to get on WhatsApp or get your arse down there and meet the boys in person – ENJOY!!!
(Visited 557 times, 1 visits today)