Kebabchi Charcoal BBQ Review
Kebabchi Charcoal BBQ happened by chance today, with our very first dining experience happening by fate. You know when that 'foodie fate' sort of happens and you then sit afterwards and sigh and say thank goodness for that outcome! Well, that is exactly what happened today!
We had been to Satay by the Bay for a lazy lunch and then decided to have a walk down to Gardens by the Bay.
Cannot, fully booked and is only allowed by time-slots due to Covid management.
OK let's walk down to the museum. Same, same fully booked by time slot. Damn.
OK let's take a slow walk over The Helix Bridge, and whilst walking I was pinging our mate Edward at My Little Spanish Place @ Boat Quay for a table. Nope, fully booked. We pinged a few messages out to other places and Chope/Quandoo etc. and #1 said how about Makansutra Gluttons Bay & let's go see the boys at MeatSmith.
Guess what Meatsmith was closed due to Covid-19. OMG.
And that my friends, is how we ended up having our first experience of Kebabchi Charcoal BBQ @ Makansutra Gluttons Bay.
As we walked into Gluttons by the Bay I spotted their sign. I think this is the 1st time we have entered the place from the bottom so walked past them this time. The sign got my interest sparked.
Kebabchi Charcoal BBQ is unique, it being a Pakistani BBQ hawker stall. They cook over coals to get that ever so smoky flavour which intensifies the spices from the curries & marinades they hand-make.
This combination is going to make this Pakistani Street food Stall take Singapore by storm. It is just too good not to try once, and then you're hooked!!!
Let's hear from the boys at Kebabchi Charcoal BBQ
What the boys forget to tell you in their wee descriptions and overviews, is that it is probably the very best Pakistani, Afghani food, and generically tandoori / curry full-stop that this fat beardy one has ever had.
It is exceptional, it really is and at super-affordable prices too.
Sad to say some of the food photos are poor as I could not stop me from tucking into the food and then realised I had not snapped them for the blog.
Stunning dishes that hit your eyes first, then these wafts of exotic aromas and spices hit your nose and then the taste test and holy cow the food angels of Pakistan start singing.
This is such quality tasting food, all made in the usual tiny hawker stall.
I read that the Chef is self-taught which always gives me that holy moly moment… Food this good with no formal training is just a wow, and so humbling to a fellow cook!!! 
Here's the Kebabchi Charcoal BBQ stall. Make sure you look out for them when you visit Makansutra Gluttons Bay.
I cannot believe this is the 1st time we have eaten here after so many visits here as a family.
Bonkers…
That will be fixed for future reference folks.
Watch our little VLOG of Kebabchi Charcoal BBQ below…
Let's have a look at that food...
This is one of the crap photos above as #1 and I had demolished the back-side of this curry dish already before I realised I had not taken a photo.
So it is a major zoom in to close-up to what was left on the plate (sorry about that).
When you smell this you can't help but dive in. It is spicy but not overly spicy (well unless you think a green chilli is a green bean as #1 did). It's the perfect consistency for using your Naan as your eating utensils.
It is sour and then sweet, then savoury, then sour again and then you get ginger hit. Then the super-soft chicken moment. Wow!!!
I did want to get the Mutton Karahi too but sadly they were out of that, a reason to return then…
Daddy-pedia; So #1 and I were thinking that there might be Tamarind in this which gives the sour overtones, so I needed to research what is in a Karahi curry. And my research gave ZERO clues as the Kahari is not the curry it seems. It is the pot it is cooked in. Grrrrr. But it is interesting anyway, so a Karahi is a thick, circular and deep cooking pot that is originally from the Indian subcontinent. Used in Indian, Afghan, Pakistani, Bangladeshi and Nepalese cooking.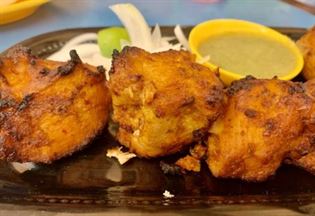 Chicken Malai Tikka
@ SGD $10.00 it is truly hawker pricing in a restaurant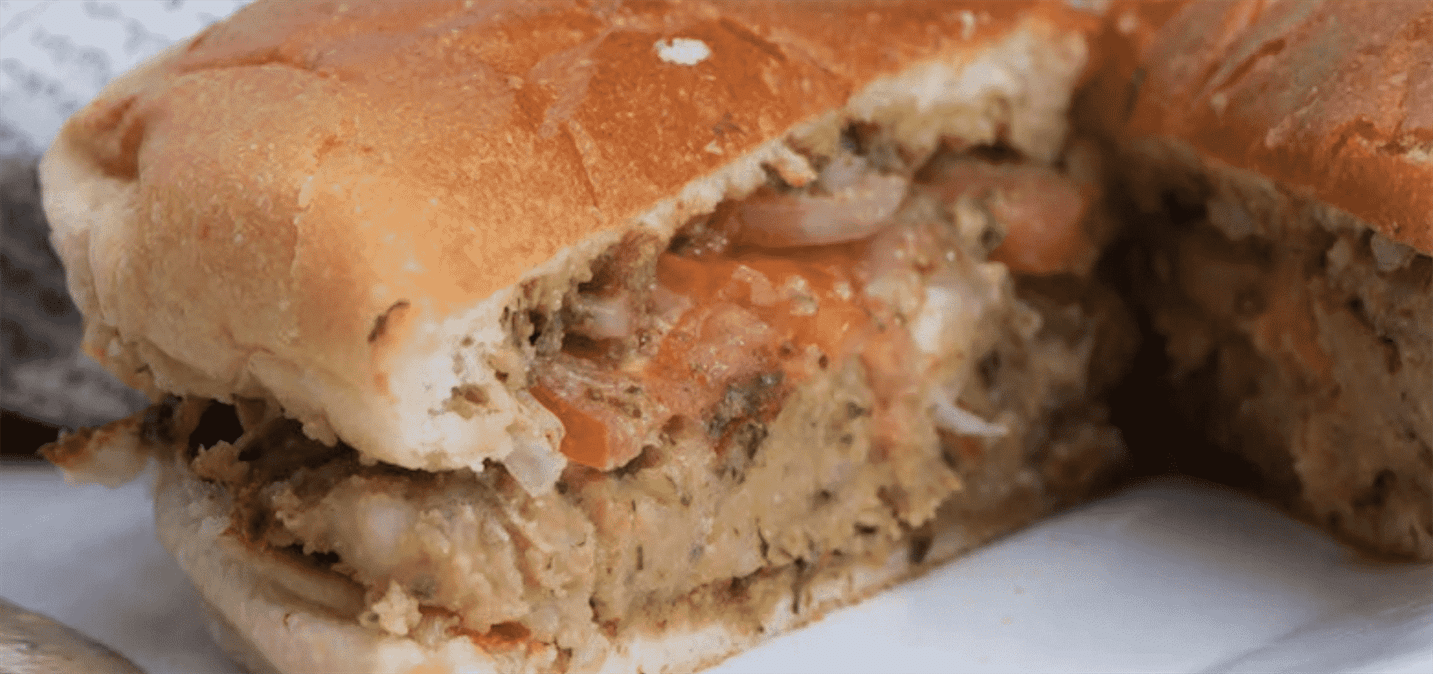 Kebabchi Bun-Kebabs
It's a sandwich that originated in Karachi and Lahore, although they can be found all throughout the country. Bun kebabs are often sold from street vendors, roadside booths, and fast-food restaurants.
Because of the generous usage of butter and the almost paste-like consistency of the bun kebab mixture, Lahore residents call this "bun plaster," or "fried" bun kebab. Bun kebabs can be served as a major dish or a quick bite.
They are to die for (especially if you eat too many of them) and even more especially if you buy them from the Boys here!!!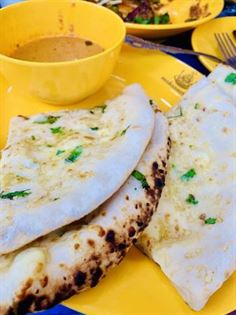 Without a shadow of a doubt some of the very best Naan bread we have ever consumed.
I don't know how they do this but they come out still nicely charred and crisp from the oven but then you take a bite and they are super-light and ever so fluffy. 
Just the most incredible Naan bread of all time. Be proud Kebabchi Charcoal BBQ, these are KILLER!!!
Kebabchi Charcoal BBQ Naan Bread
We even saw KF Seetoh today doing a walkthrough today of his Makansutra Gluttons Bay establishment. I was going to say hello, but you could tell he was super-busy.
The last time I saw him in the flesh was when I met him with Anthony Bourdain at the very 1st World Streetfood Congress down at the F1 pit-lanes. Remember that photo of us with Anthony Bourdain?
Now there is a sad and happy memory…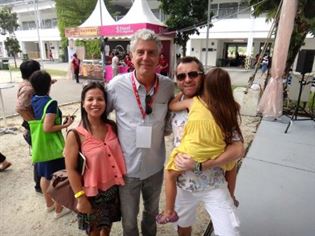 It was such an awe-inspiring moment to meet Tony Bourdain, my foodie hero. And it was at the coolest foodie event ever, organised by a council including Tony & KF Seetoh. 
I still have my chicken-rice Makansutra wristwatch from the event.

If you have never been to Makansutra Gluttons Bay you really should, it is awesome just down off the Esplanade. It is a KF Seetoh concept to celebrate the heritage of Singaporean hawker food culture under his Makansutra brand and infamous Die Die Must Try…
Surely you must have seen that…?
Well KF was also great mates with my foodie hero Anthony Bourdain. And despite Tony Bourdain's sad passing, KF is cracking ahead with their plan to open a Makansutra in NYC just off Times Square. Good luck with that KF my friend. I wonder if Kebabchi Charcoal BBQ is going to be one of the hawker stalls in there?
#supportourhawkers #supportourstreetfood
Breaking News - The Boys have moved to a new home...
I have therefore updated this blog to show their new contacts and address. We visited Makansutra Gluttons Bay recently and they were gone. I panicked
So folks, do NOT go running immediately after reading this Blog to Makansutra Gluttons Bay for your Pakistani charcoal curry fix, cos they ain't there.
I had chat with the crew because I was a little worried that they were a Covid victim, but I was delighted to hear they have moved to bigger premises as due to popularity they needed more space. I love that news! So I will share now some updates about their new home.
Here's some snaps of their new home, I am liking it...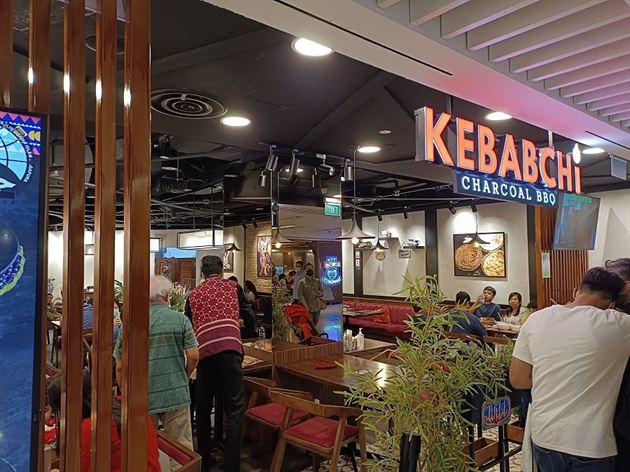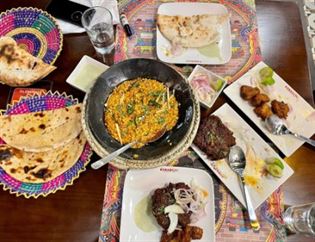 Kebabchi Charcoal BBQ New Restaurant Menu
Kebabchi Charcoal BBQ Opening Times
The Boys are open Mon-Sun;
11:30 AM – 10:00 PM
Kebabchi Charcoal BBQ Suntek City Address & Telephone
Suntec City Mall, Tower 1, #B1-146
Call them @ +65 8784 0023
Definitely book folks. I guarantee you don't want to set your hopes up and then arrive to be disappointed. This is a meal you do NOT want to miss out on.
Kebabchi Charcoal BBQ Delivery
They do indeed have delivery, but it is some proprietary App via the website that you need to interact with it seems. Well, that is all I could find on their new Website.
There we have it guys. A unique Pakistani curry and tandoori place to must-try because it is exceptional. Kebabchi Charcoal BBQ Makansutra Gluttons Bay offers up just incredible Pakastani & Afghani food of the highest quality in my humble opinion.
My recommendation is to get on the phone or get your bum down to Suntec NOW and meet the boys in person – ENJOY!!!
Other Pakistani food reviews from Is Life a Recipe;
Other IsLife Hawker Reviews at Makansutra Gluttons Bay & local area;