Glass Potato Crisps
Glass Potato Crisps: My little Sous Chef, Jude Jude, and I have been holding an idea for a week and today was the day to make that idea a reality. We had seen this concept of making see-through potato crisps and decided we would make our own version. It was decided and it was down today.
Potatoes were purchased. Potato starch was in the bag. And I roughly had the vaguest idea about what we should be doing with my Sous Chef to make this thing happen. How the bloody hell do you make potatoes see-through and seasoned and crispy? Read on. Read on for how to make Glass Potato Crisps.
To make a little 'side-plate' of Glass Potato Crisps you will need 1st to make your potato stock;
6x baking potatoes
Sea salt
And then do this – follow the 'story' of Glass Potato Crisps;
Stab the spuds all over with a sharp knife;
Throw the spuds in a big pot on the hob;
Drizzle with Olive oil;
Give a good pinch of sea salt;
Cover the spuds with water – 1-2cm over the top of them;
Bring to a boil and then reduce to simmer for 30-40 minutes;
Strain the spuds – making sure to keep the 'water' in a saucepan as this is your potato stock;
Keep the spuds for some other dish – they have released their flavour and starch for you, so say thank you!
When the potato stock has cooled a little pop it back onto low heat;
Add in 8 or so Tbsp of potato starch whilst continually whisking – see the Sous Chef above on exactly how to do this;
After about 5-10 minutes this will start to thicken to a 'glue-like' consistency as below.
And here comes some proof of the outcomes Glass Potato Crisps… AMAZING!!! I love what Jude Jude and I made today. We took a potato, and we made soup. We turned that soup into a gel. We baked that gel into a see-through glass-like potato crisp. Holy cow. We amazed ourselves today.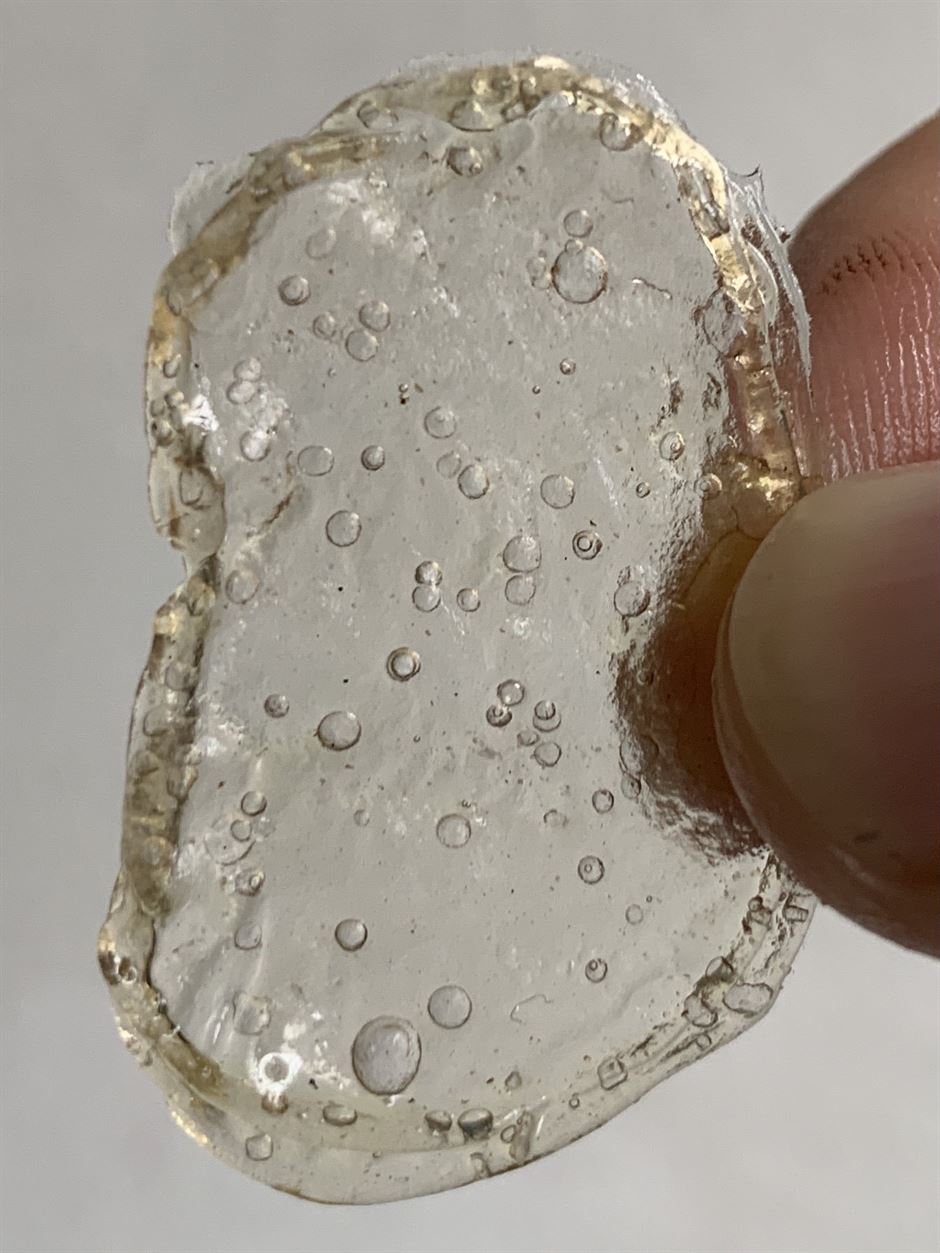 Glass Potato Crisps were just incredible. My Sous Chef Jude Jude was equally incredible. I could not find potato starch in NTUC, he did. I could not find the baking paper at home, but he did. He added ingredients, stabbed potatoes, whisked and, and, and… Oh yeah, and he ate, ate, ate haha.
These are such a giggle, especially when you share them with your kids as they think they are some plastic or hopefully glass. But then you bite and they are super-crispy, amazingly seasoned potato crisps. Worth a go – ENJOY!!!