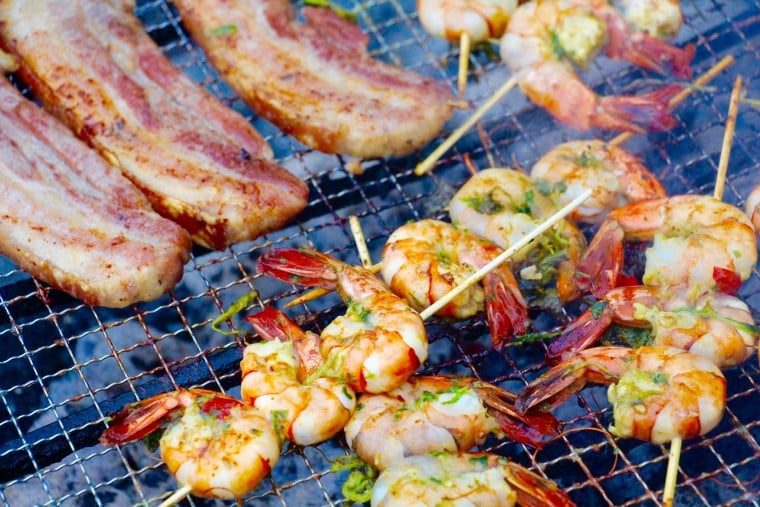 A lovely BBQ was held on Saturday down at the pool with our neighbours – The Rutherfords. Pia knocks one out of the park with her chili prawn recipe – BOOM!!! So yep I am nicking it for the Is Life a Recipe blog. Nicely done Pia, these were absolute crackers, loved them!!!
You will need a few bamboo skewers, and of course as we're BBQ'ing get your zip lock bags out. Open em up and throw on in;
15 shelled prawns, but leave on the tails;
1.5 teaspoons of olive oil;
3 finely chopped chili padis;
2 finely chopped cloves of garlic;
1 teaspoon of paprika;
Juice and zest of half a lemon;
1 handful of chopped coriander; and
A good pinch of salt and cracked black pepper.
Now that is all in the bag give the prawns a good rub around to coat that lovely marinade all over. Leave in the bag in the fridge for a couple of hours to let those flavour soak in nicely.
When you're ready get the coals nice and hot. Whilst that's heating up get three or so prawns on to a skewer and repeat. Bash the chili prawns on the BBQ and frill until pink and charred, then flip em over and repeat the process. Should be about 5 minutes in total.
Hand the chili prawns out – great finger food as on the skewers allowing your other hand to have this foods soulmate in it – yep a cold cold beer. Completely delicious.
So thanks to Pia for this one – it is an absolute cracker. Everyone Loved it.
Chili prawns – throw one on the barbie courtesy of Pia Rutherford – Enjoy!
Check out the BBQ Prawns with Green Mango, Chili, Lime & Mint salad