Thailand, Thailand, Thailand
Thailand for me is absolutely one of, if not THE food mecca. I love Thai food. The way everything is fresh, nothing pre-prepped here, the history back to days if the Courts of Siam, and the influence from so many countries that had some say or other in its history, the immigrant population and their influence and of course its neighbours of many of its borders. How can such complexity not deliver a truly exciting outcome?
The hot, sweet, sour, salty ethos. The burn. I find the best way to enjoy it to its fullest capacity is sitting on a beach with toes in sand, supping a cold Singha (beer) to wash down the delicious food – and give some respite to the burn of course.
You just have to love the people. I remember a trip once to Kata Beach back in 2006. Ollie was a little boy. We requested Ska Bar there for the amazing variety on the menu, the price (so low), the quality, the friendliness of the staff, the bar next door and of course the amazing views down the beach and out to sea. Sounds truly incredible doesn't it. OK try this. Go back 6 years later. We go back to Ska Bar and the girl comes running out; "Wow Ollie has grown. How are you all? Here is my baby girl now." I have to admit I was truly blown away by that experience and again the truly incredible people of Thailand.
Do you kind of get the point? It is truly one of my life-time favourite destinations.
Oh did I forget the views?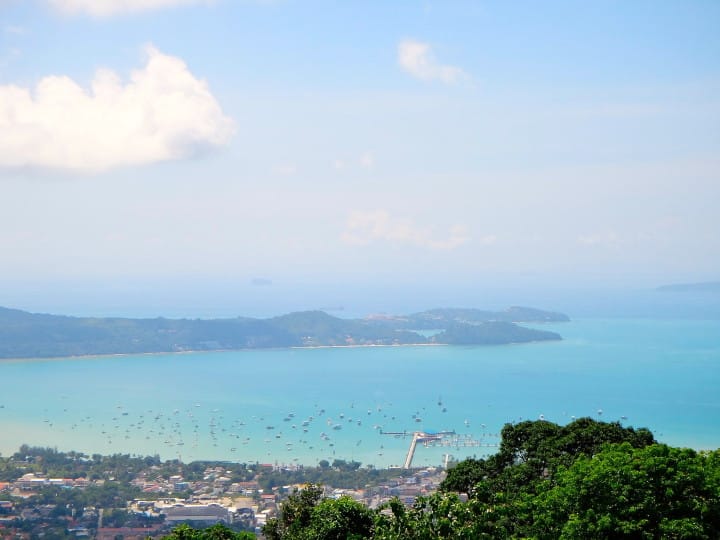 Its not just the restaurants as there are usually a plethora of street food sellers, little carts on wheels they plop on the street side. Usually firing up little burners and getting a wok or hot plate going and then banging out morsels like you may never have tasted before at home, wherever that is. You have to stop and stare as you have no idea what is on sale, because usually it is all in Thai writing. Peer in to the cart, get engulfed in the wafting smells of the delights being prepared, and yes go on, I dare you, try the stuff!
So this is about food so lets get to it and make it specific. One of my all-time favourite Asian dishes is Laab Gai, the famous Thai meat salad usually with pork or chicken mince, loads of chilli, fish sauce, lime juice, coriander, mint, toasted rice – or is it? Back to what I said before about loving Thailand for the food. There are so many influences that you tend to get many different varieties of the very same dish – and that could be literally be within yards of each other, as I will explain.
Make sure you check out the post Khao Soi from Northern Thailand
Thailand, Thailand, Thailand – where on earth would I rather be!!
Enjoy!!!