Asian Jambalaya Recipe
Yes, an Asian Jambalaya recipe. Come on folks you know me, I have created other hybrid recipes such as Laab Gai Pizza, Chicken Laksa, Asian Shepherd's pie etc. so what's wrong with a spin on Jambalaya by using local Asian ingredients? There is nothing wrong with that in my cookbook, and so here is Asian Jambalaya. It looks pretty damn good in my personal and humble opinion.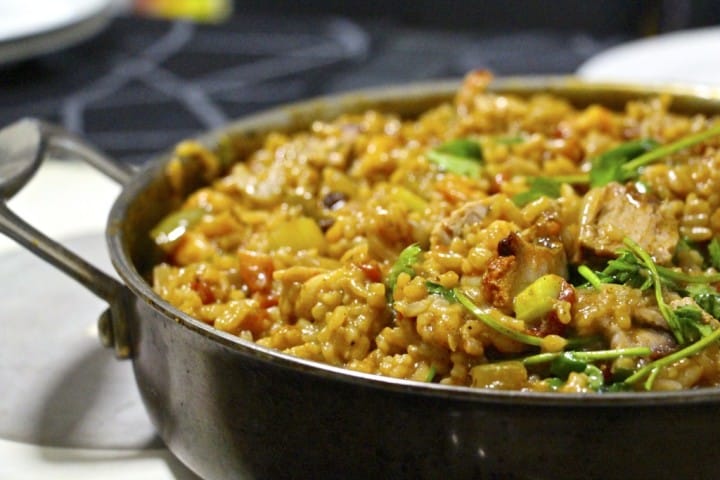 Come on I live in the deep South East of Singapore, similar to where Jambalaya comes from in the USA.

A tenuous link I'll give you that.
Jambalaya Origin
Jambalaya is originally from The Deep Southern States of the good ole US of A you may hear. However Jambalaya actually originated in the Caribbean Islands. The early Spanish explorers mixed their food culture with the native foods from that region and created what we know today as Jambalaya. It is traditionally made using three staple ingredients;
Meat & veg;
Stock; and
Rice.
Hold on a minute sounds very similar to Paella – yep, back to the Spanish influence my friends. But how did it end up in Southern States of USA – well what was the American Civil War all about – yep slavery. Where did I say it originated from? Where did those nasty Southern boys get their slaves from? Hey presto, by George I do believe they've got it! That's right originally created in Caribbean through locals being influenced by the Spanish, and then those poor souls were forcibly extracted to USA to pick things like cotton in Southern States of USA as slaves and brought the dish with them. But even within the Southern US states there are different variants to Jambalaya with the influence of Cajun & Creole, so I have no issue in creating my Asian Jambalaya.
This will make enough for 6 easily;
2 roughly chopped red onions;
3 roughly chopped celery stalks – try to use the inner ones as much less stringy, I even threw in the leaves;
5 roughly chopped garlic cloves;
1 green capsicum, deseed and chop in to cubes ;
2 tablespoons paprika (yes go on get it in there its a spicy dish);
2 tablespoons of turmeric;
2 tablespoons dried oregano;
1.5 litres of chicken stock;
1 tin of chopped tomatoes;
3 tablespoons Worcestershire sauce;
2 tablespoons of Tabasco sauce – or 2 chili padi finely chopped;
1 chopped roast pork belly – yep I got mine from the supermarket;
16 deveined, peeled and cut in half prawns;
1 ripped up bunch of coriander;
3 cups of Japanese rice; and
Good pinch of salt & pepper.
WARNING – WARNING – you will need quite a deep pan to cook Asian Jambalaya.
So once hot in to that deep pan add about two tablespoons of olive oil and fry off the celery, onion, garlic, capsicum, paprika, and oregano until softened and fragrant. Then add in the rice and fry for 3 minutes or so to allow it soak up the oils and flavours of these ingredients. This is again very similar to the Paella recipe process.
Then bang in the stock, Worcestershire, tabasco, turmeric and tomatoes and bring to the boil. Reduce that right down then to a low simmer and put on the lid and leave it to bubble away for 15-20 minutes. Occasional stir needed to make sure the rice is not burning and sticking to the bottom. Add more stock if it starts to dry out.
Whilst this is happening cook the prawns in some butter and oil, add some salt and pepper and a sprinkling of the paprika. Set this aside as we'll be using these in a minute.
As I said you will need about 15-20 minutes for the rice to be nicely cooked through and soft – not overcooked, so keep trying a bit. Not crunchy but certainly not soft and mushy. Just keep adding stock if dries out, ladle at a time type thing. Once the rice is done take the pan off the heat and add in the pork, prawns and coriander, and give it a little stir. Sprinkle over a little more coriander and et Voila. That is it. Asian Jambalaya.
A lot of ingredients can sometimes make a recipe daunting prospect. But I think from the above you'll agree that this recipe is not that hard. It serves a load of people, it looks wonderful, tastes sublime, and if you serve with some crusty bread why not let people serve themselves direct from the pan, it is simple peasant food after all. Asian Jambalaya.
If you like Caribbean Food check out Lime House!
ENJOY!!!
Connect with Us on Social Media