Khao Soi from Northern Thailand
Quite a funny little story associated to this recipe. A friend and I were sharing dinner one night recently. I got on to the love of cooking and me trying for book No2. His wife then joins in discussing her cooking prowess, to which Grant is of course 100% supportive and endorsing all the time. Specifically her 'signature dish', of Khao Soi "pronounced cow soy". Yep Si, the wife, is from Northern Thailand, near Laos and yep that is the history of this dish. So we agreed to a battle off – and I came up with my version below of Khao Soi from Northern Thailand.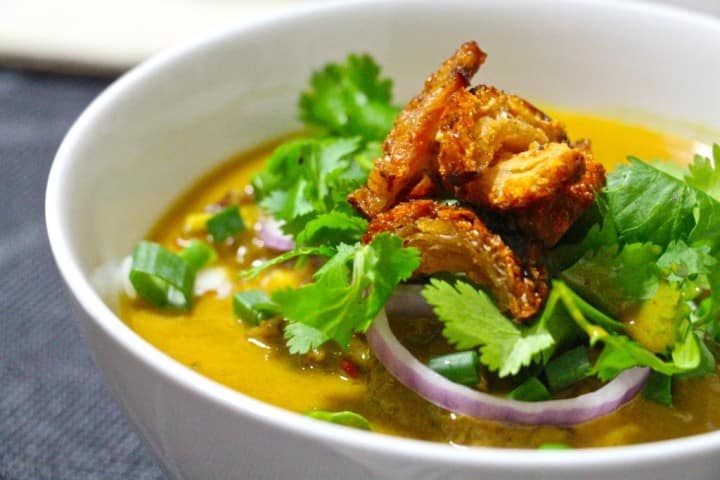 Khao Soi from Northern Thailand, is actually pronounced Cow Soy. As I understand it, Daddypedia time, it means 'cut rice', as before you serve the noodles you cut them. The noodles are flat rice noodles. So I suppose it all kind of makes sense to call it 'Cut Rice', as you are doing so before you serve the dish – so folks don't forget to do that when make this.
Now you can take a short-cut – do you or do you not want to make you own red curry paste? Up to you. If you don't want to make from scratch, just buy a jar of Thai red curry paste or Penang red curry paste. If you do, read on as I give you my own recipe for red curry paste that I used in my version of Khao Soi from Northern Thailand.
The Semi-Naked Chef's red curry paste – this will actually make enough for approximately 2 curries for 4 people. Basically into a blender you add all of the following and blitz until it forms a rough paste. No need for airs or graces, a rough paste is fine;
10-12 dry chillies (you'll get these at most supermarkets now – but if you can't you could replace with say 2-3 chili padi);
5 roughly chopped garlic cloves;
1 stalk of lemon grass – peel a few outer layers, top & tail and chop roughly;
1″ knob of galangal or young ginger, cleaned and roughly chopped;
6 roughly chopped coriander roots (again from supermarket if you buy Chinese parsley they normally come rooted);
2 good shakes of white pepper;
1 teaspoon of fish sauce;
1/2 teaspoon cumin powder;
1/2 teaspoon coriander powder; and
2 tablespoons of paprika.
Once you have zapped this, simply set it aside in the fridge for it to muddle and off we go with the rest.
The curry – enough for 4;
I used about 4 tablespoons of my curry paste above;
4 finely chopped garlic cloves;
1lb of flank steak finely sliced across the grain, then bash with a meat hammer to make it really tender;
3/4 a tin of coconut milk;
1/2 litre of chicken stock;
2 teaspoons of turmeric;
2 tablespoons of soy sauce;
2 teaspoons salt;
2 teaspoons sugar;
2 limes halved and squeezed of all their juice; and
2 packets of flat rice noodles – kway teow is ideal.
For garnish;
half a cup of finely sliced Spring onions – just the green tops;
half a cup of very thinly slices shallots;
half a cup of roughly chopped/ripped coriander; and
I bought a roast pork belly from the supermarket, rotisserie style. I cut off all the crackling and then sliced that very thinly. literally little thin bite sized pork scratchings.
First of all get some noodles, a packet of Kway Teow would be ideal, in to some water and bring to the boil. As the name suggests, 'cut rice', then use some scissors to cut them in to bite sized pieces. Drain them, and put them back in the hot saucepan to keep warm.
Take out your wok and add a few tablespoons of oil and fry off the garlic and the 3 tablespoons or so of curry paste. Let that go a while and you should really start to smell all the aromas wafting around the kitchen. It's going to be delicious.
Add in the beef and fry that off until it is nearly cooked. You'll see little flecks of blood in there still hopefully. Add in the coconut milk, chicken stock, turmeric, soy and stir away for a while letting it all mix together.
Add in the sugar and salt, bring to the boil and reduce to a simmer. Stir in the lime juice and you have finished. Your very own completed version of Khao Soi from Northern Thailand.
In some bowls add in enough noodles per person, ladle over the gravy, and an equal portion of the beef. Dress this now with the garnish. A little sprinkling of the Spring onions, some shallot, some coriander and then finally some of the little pork crackling bits er prepared earlier. Serve the Khao Soi from Northern Thailand immediately.
It is a belter this one I tell you. Bring on the competition Si, I think I am ready! It's quite an easy recipe folks, but is one that comes out restaurant grade for looks and taste. It is a stunning soup – especially if you like Thai food and the combination of sweet, sour, salty spicy – this has it all. My Khao Soi from Northern Thailand.
ENJOY!!!
Connect with Us on Social Media