Spicy Thai – Thai Cafe 7 years later…
Remember my blog of 7 years ago? CLICK HERE FOR A REMINDER. This was our first time trying this place. Well, today wifey was talking about the next holidays and mentioned Thailand. That mention of Thailand got my food juices flowing and I went back to the blog to remind me and see if the place is still open. It's still open, just at a really cool new location as below. Aljunied was their old address where they had created a restaurant from a number of hawker stalls. Now they have done the same, just down Bedok. Let's have a look @ Spicy Thai – Thai Cafe 7 years later…
Come and see them at the new gaff at 218 Bedok North Street 1 #01-01 – 460218
Call them @ 6747 8558. It is more like a hawker food court so no booking, just rock up. We'll be coming back for dinner ASAP, as we all agreed we want to see this place rocking at night. We have both Mum's with us soon, so there's an idea. Dinner with Mum and Miz. I like that idea. Spicy Thai – Thai Cafe 7 years later… was as I remembered it back in 2013. It was just the most incredible lunch and will now become a family revisit favourite, that's for certain. We must try their Mookata next time.
If you need your Thai food fix, look no further. This was just wonderful and so very reasonable. For example, a decent Mud Crab at No Sign Board is going to set you back about $100. It was $35 here. Mary and Ollie said the crab was exceptional, super fresh and amazingly flavourful. Wifey is a great seafood critic, so this praise is major for this place. See more below re that dish.
Let's hear from them though before we begin. On a sign on one of the walls; "Spicy Thai – Thai Cafe sprouted from the passion of taking Thai food seriously. Blending our culinary instincts and unexplainable affinity with anything Thai, our team is constantly working hard to offer the finest Thai dishes right here, in the heart of Singapore. We have a wide repertoire of dishes, from authentic to fusion, to meet various palates. While we value authenticity in Thai food, we also love creating fusion dishes so you enjoy a melange of tradition and contemporary and have your taste buds sing!"
It's never over until the fat lady sings. But believe me, this fat beardy foodie bloke's taste buds were singing out loud way before her and way louder than her!!!
We perused the menu and ordered large. We're going for it. Full-on flavour explosions, textures galore, some favourites we remembered from last time 7 years ago and a few surprising ones to boot. One rather interesting menu item @ Spicy Thai – Thai Cafe 7 years later… which we neither remembered or ordered but needs a mention;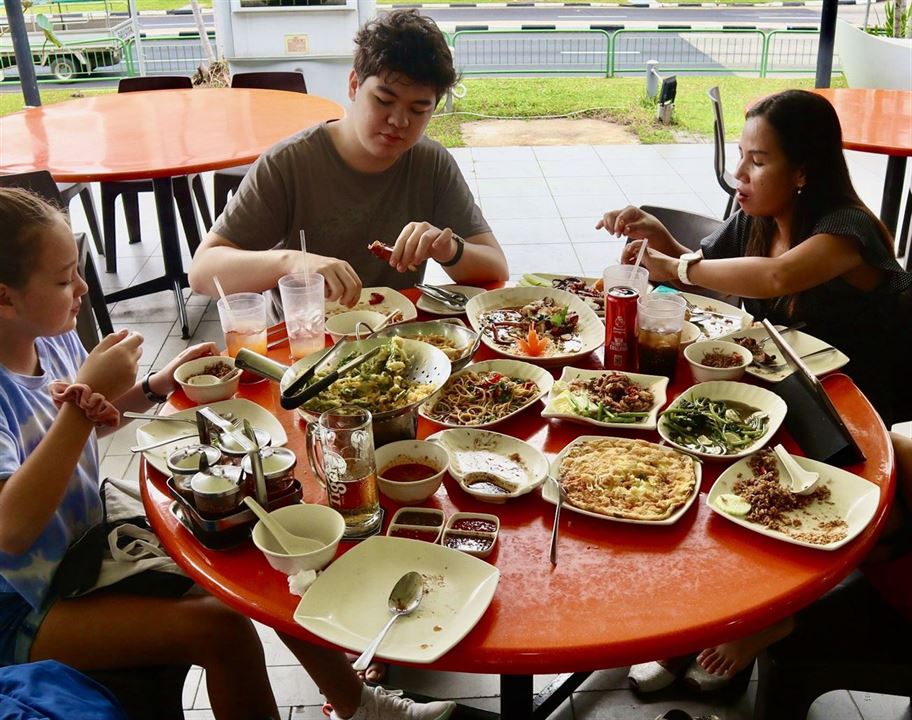 So happy we went back to experience Spicy Thai – Thai Cafe 7 years later… We had such a cracking lunch and will absolutely be going back for more, more, more very soon. Two visiting Mum's will be getting the benefit of this food soon. Watch this blog for that as we might even have a Lady Boy for dinner. Now that will be a 1st for us all haha. It was just a super lunch. Such quality. Such flavour and textures to boot. I would get yourself down here ASAP and have a foodie blast. Next up perhaps we go Mookata Thai BBQ.
ENJOY!!!
Connect with Us on Social Media