No recipes today folks just a wee blog on the food experience we had for lunch – at the truly amazing Bar.B.Q.Tonight Restaurant.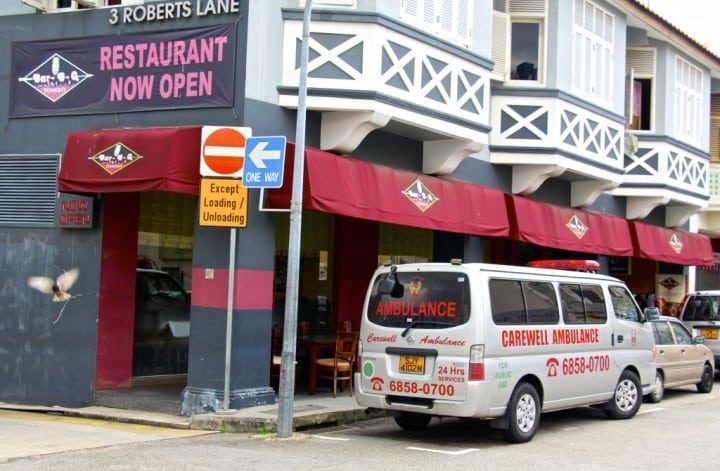 Get yourself along to Little India, 3 Roberts Lane and visit these guys. Or bell them for takeaway on +65 6299 5210
We did lunch buffet today – more on that in a second.
Yes Yes Yes I know doesn't look like much from the outside.
No the ambulance was not there to collect some poor diner;
No the yellow street sign does not mean the ambulance can legally park there to perform stomach pumps.;
No the one way sign does not mean quick turn left before you reach the restaurant;
No the no entry sign is not warning off venturing in; and
Have to admit the yellow sign did perfectly reflect Oliver though – he went in and loaded up and about an hour later we lost him for an hour as he performed the other side in the shopping centre across the road.
Seriously though – this place is just wonderful – and with a surprise for me awaiting inside.
(PS didn't spot this until just now but check the cool shot of the bird in flight, below the now open sign with some hay in beak clearly for nest building – cool!!!)
How did I hear about this restaurant at the end of Little India, on a corner, completely packed but with not a white face in sight (my kind of place!!!) – well from a customer I'd like to also call a mate – Shehryar you know who you are. See I listened, absorbed what you said and executed, and man oh man am I so very glad we did. Me plus Mary, Ollie, Amy, Glenda and 'bump Jude' in tow to explore the food mysteries within.
It was $15 buffet lunch – yep FIFTEEN, 7GBP – that was all. Was it worth it for what we had – read on dear reader.
We ate like Kings and Queens – yes we ventured off piste with a few al-la-carte, specifically because the buffet was spicy and we needed something for Amy, but also to venture to a pasture well known, and a major unknown one for yours truly and Ollie. These guys don't use tandoor it seems, they use charcoal BBQ pits, great big long ones and then just lay the food atop to cook, blacken, get smoky and oh my God oh so delicious…
For the buffet – 'all you can eat' – you get access to (well on this day);
Malai Tikka – Boned chicken that has been marinated in a beautiful herb and cream concoction and BBQ'd;
Reshmi Kebab – Again chicken that has been minced with green chill, coriander and onion and accompanied by an truly amazing tamarind sauce;
Chiken Boti – Yep chicken again, this time marinated with red chills, garlic, ginger and again with that tamarind sauce;
Fried fish – Simply battered white wish, I think with a little turmeric in the batter and deep fried;
Fish curry 'Special' – Absolutely it delivered to the name – one of the Chef's speciality dishes;
Mixed vegetables – served up in a really nice tomato and onion gravy;
Special Dal – man I love these Dal curry's, and this did not disappoint. Lentils spiced with ginger, garlic, secret spice mixes atop with brown onion and cumin;
Chicken Biryani – oh so tender pieces of lovingly prepared chicken in loads of spices, and steamed in Basmati rice; and
Roghani Nan – yep spelt that way, I usually spell it Naan – hey it's their restaurant. QUite thicker than normal, and sprinkled with sesame and butter.
There you have it, the buffet lunch for 15 bucks!
Nah not enough. I want more – let's go Al-La-Carte too. So we also ordered;
Afghani Chicken Boti – simply some of the very best chicken I have ever had. We got this for Amy as it is non-spicy marinated with a truly wonderful Middle Eastern garlic sauce. A belter, but believe me best is yet to come; and
Lamb ribs – sounds pretty ordinary right? Get out of town. This was Mary's desire, that ended up being a favourite of us all (not quite me or Ollie though). Steamed first in a deep spicy marinade. Also serves to tenderise the meat. Then I tell you what, let's bash in the charcoals to get it blackened and smoky too. Holy shit these were GOOD!!! Like OMG good!!!
BUT!
Here comes the surprise.
A new one for me and Ollie – and a very big surprise – it made me double take when I saw it on the menu. I had to try it. Thank you oh lord that I did order.
What was it? Please just tell us! I can hear you.
OK.
Here goes.
My ultimate experience, and most favourite, and most surprising dish was…
Drum role…
Sheep Brain Masala!!!
Stop the bus! This was one of, if not the very best curry dishes I have ever had. Knocked out of the park.
Here she is below – but in closing – Bar.B.Q.Tonight – you rock guys, that was a superb lunch thanks!!!