Amy was eating, Jude had eaten. I was shopping for a party tomorrow and trying to think of lunch for Ollie, Mary and Glenda.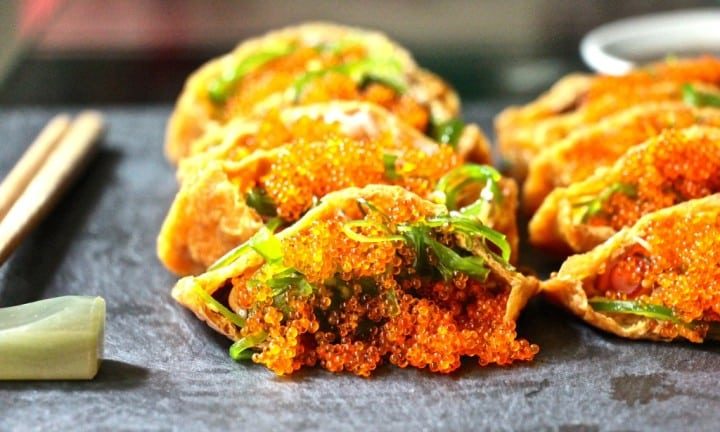 I walked past the Japanese counter and expired some things that I thought would be lovely together , and in so doing I managed to create a new dish that is sort of Japanese by design. Japanese-style kangaroo snacks – made with pouches.
It seemed to kit the right button as all were consumed very quickly, with some looks of delight on faces.
I think it looks pretty damn good too on my new slates.
Nice!!!
This made enough for 10 pouches which fed 3 people;
1 packet of deep fried bean curd pouches, or as known in Japan Abura-age
1 piece of fresh octopus, I basically had one leg that I thinly sliced on an angle to have bite sized pieces
1 packet of seaweed, I used Wakame from the sushi bar in the supermarket
1 packet of white bait fish, or Shirasu
1 packet of flying fish roe, or Tobiko
A knob of ghee (or butter), some oil, and a pinch of salt and pepper
Get a pan on a fairly high heat and melt the ghee with the oil.
Add in the octopus and the pinch of salt and pepper and fry for 2-3 minutes until they plump up. Move to one side of the pan and add in white bait to the other side of the pan and fry again for about 5 minutes together. Sort of ting and yang looking.
That is the only cooking element. The rest is plating. And it goes in order, so follow as below;
Take one Abura-age and open the pouch
Place 2 slices of your octopus in the bottom of the pouch
Add in some of the fried Shirasu up to the top of the pouch
Lay on some Wakame across the Shirasu layer
Sprinkle on some Tobiko on top of the Wakame
Finished 1, now repeat 9 more times.
You'll see how I plated, I kept it very simple.
But still with the colours I think it looks absolutely amazing.