Boiled eggs with Paprika Sauce
I was starving one day, and could not be bothered to go all out cooking, and came up with this little dish; Boiled eggs with Paprika Sauce. So very simple, but so very delicious. Looks pretty nice too right?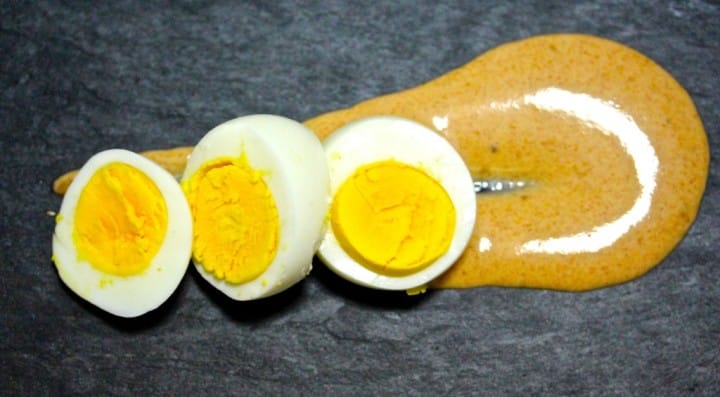 I think inspiration came from Devilled Eggs. This was snack for yours truly only – but if you want to cook for two, simply double up, if for 3 treble up etc.
Stick 2 eggs in a pan of cold water. Bash on the heat. Set the clock for 15 minutes and there is your boiled eggs on the go. As they are bubbling away make the sauce. In to a bowl add;
3 tablespoons tomato sauce;
2 tablespoons mayonnaise – I used Japanese to get the vinegar kick;
2 tablespoons of lime juice,
1 teaspoon of very finely chopped garlic;
1 teaspoon of smoked paprika; and
A pinch of sea salt.
Mix all together with a fork and there is your sauce. The eggs are likely done by now too, so pop them out of their shell, and slice them up. On your serving plate place a big dollop of the sauce and then with the back of your spoon sort of drag the sauce away from you. Looks nice. Lay the eggs (excuse the pun) atop of that and serve away.
Come on anyone could make this right. A lovely little breakfast dish, that would make anyone receiving it happy. It looks good, it tastes fantastic. My Boiled eggs with Paprika Sauce. Give them a go. I am extremely confident that you will – ENJOY!!!
Is Life a Recipe YouTube Channel