Marisa Knibbs 23rd Birthday Glamping ChillaxBBQ
Marisa Knibbs 23rd Birthday Glamping ChillaxBBQ
ChillaxBBQ PTE Ltd's  (did you see the other post?) first official event as a newly incorporated Company, was for our great mate. Marisa Knibbs 23rd Birthday Glamping ChillaxBBQ. I cannot believe she has reached the heady heights of being 23!!! What a giggle this was. A light-touch from ChillaxBBQ today, with just The Beard and Frankie Goes To OllieWood. But it was different. Different, as in, something like 10 new dishes on offer today. Also 1st time ever doing something East Coast with Glamping, which is bloody brilliant by the way as you will see. So lot's of 1st's, but hopefully with a usual quality output or two from the menu.
Glamping by the way is glamorous camping, and you will see this from the photos. Quality.
Thanks out to our mates at The Cheese Shop @ Joo Chiat – fondue was legendary, and this time I even remembered to take a photo. Our new bit of kit, the warmer, made this last hours, and it became the focal point of the party. I kid you not. It was the last item from the cooking kitbag for Marisa Knibbs 23rd Birthday Glamping ChillaxBBQ.
Frenchie called it 'RUDE FOOD' and I love him for that!!!
Menu for Marisa Knibbs 23rd Birthday Glamping ChillaxBBQ, was;
Beef Wellies with black truffle – NEW;
Pigs in Blankets – for the kids – NEW;
Bashed Beef wrapped asparagus with horseradish – NEW;
3 cheese Tex Mex fondue with toastie bread;
Chicken gyros – NEW;
2x signature Tomas;
Grade A4 Wagyu – HOLY CRAP;
Prawn with Manuka honey and paprika;
Saganaki cheese and lemon – NEW;
Tataki with Yuzu and chives – NEW;
Scallops on the shell with Ponzu and chives – NEW;
Fresh herb x5 and citrus fish – NEW;
Slow roast pork belly with Hollandaise, Dijon and lemon juice;
Hot charred salami with maple syrup and chili flakes; and
Seared beetroot, with honey caramelized walnuts, feta and baby spinach – NEW.
HOLY COW – yeah, when Knibbs asked for a refreshed menu for his loved one's birthday, one went overboard and delivered 90% net new recipes. And, in my reckoning, most of it was pretty damned good. I just hope the audience might post us a wee commentary, or review.
Here comes the pictorial bit of the post for – Marisa Knibbs 23rd Birthday Glamping ChillaxBBQ.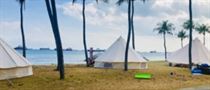 And after a walk home with no shoes, leaving all the ChillaxBBQ gear in Knibbs car, I managed to sleep. Massage today to get the knots out of my legs – much needed. Yep that was one hell of a ChillaxBBQ. Busy busy busy. But Marisa Knibbs 23rd Birthday Glamping ChillaxBBQ was an absolute belter. So many new items on the menu. A real challenge, but that's how we like it of course. Again final few thanks to; Wifey & BeBe for the prep at home and helping during the night, Frankie Goes to OllieWood for being on the tools (Leg-End), Cheese Shop @ Joo Chiat for the always amazing blend, Archer for the VERY kind words, and of course Mr and Mrs Knibbs for having us do the foodie. Love you guys all, and thank you for the usual funny fantastic night, and for meeting new faces and old mates too. Hoping you like the blog. Give us a call if you want same – a call away – ENJOY!!!
Is Life a Recipe YouTube Channel
(Visited 78 times, 1 visits today)