ChillaxBBQ's Slow Roast Pork Belly
Dare we release this to the public. This is one of our signature dishes, one that is loved by all. It's been a secret, but so many have eaten it and asked for the recipe perhaps it is time to reveal. So here is ChillaxBBQ's Slow Roast Pork Belly. It's quite a simple recipe, but believe me, this is knockout, off-the-charts and will easily compete with the best fo the best in Singapore – even perhaps that one with a Michelin *. This is pork-a-licious. This is sublime. This is PORK HEAVEN. Look away Halal lovers…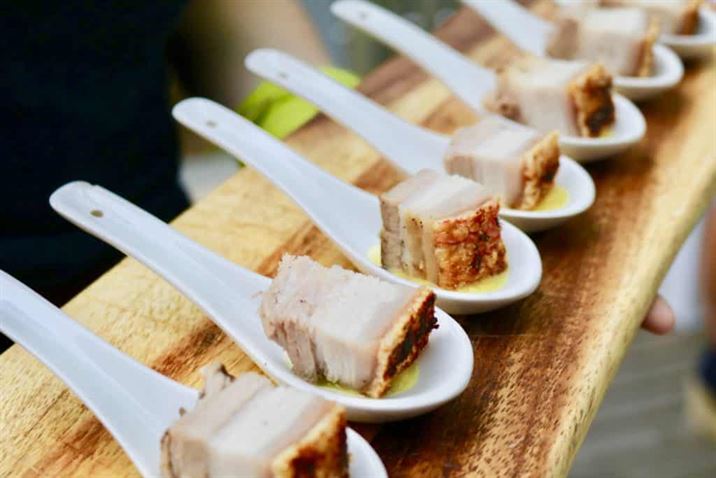 She takes a little time, but the investment is worth it. I usually cook 1-2Kg per BBQ, and that will easily feed 30 or so Pax, so do the math. I'll say 1Kg for this recipe though. Try to get from the wet market and ask the uncle to de-bone the pork belly for you. You don't want people having to pick about with ChillaxBBQ's Slow Roast Pork Belly.
You will also need a meat tenderiser. I don't know if you have seen what the hawker Uncle's use? I have a stabby thing that I got from TOTT. It's genius. I use it for all my meat prep, from pork belly to our tomas. It's a load of spikes on a spring type thing. I use it to stab all over the pork belly on both the meat and skin side as this lets the salt and the marinade get in deep. It really does make all the difference. If you don't have one you can use a small sharp knife to stab the meat all over.
Once you have stabbed it all over put the pork belly into a baking tray, skin side up, and get your oven on 90 degrees – yes 90;
Lift it up and into the baking tray mix up;

A drizzle of Olive oil;
A cup of soya sauce;
4 teaspoons of Chinese 5-spice;
And a good sprinkle of sea salt & cracked black pepper;

Put the pork belly back in;
Drizzle the skin side with some Olive oil, and a really good sprinkle of sea salt and cracked black pepper (the salt will draw the moisture from the skin so it will crackle up better;
Put that in the oven and leave that for about 3-4 hours;
After 3-4 hours whack the heat up to 240 degrees, sprinkle over a little more sea salt and watch carefully because in about 30 minutes that crackling will be popping away;
Take her out and let it rest for 30 minutes and then trim off the burnt bits of skin on the sides and bottom, Scrape the crackling if there are any burnt bits, and then cut into cubes;
For a serving sauce empty half a jar of Hollandaise Sauce and half a jar of English Mustard into a bowl, mix it together and serve a little dollop in a spoon, and place on a cube of pork belly.
BOOM!!! That's that. There she is. One of ChillaxBBQ's secret recipes for your personal consumption. Ladies and gentlemen, we give you ChillaxBBQ's Slow Roast Pork Belly. Now you can do this yourself, but if you can't be arsed just give us a call and the boys will do your meat for you. Either way folks you surely will – ENJOY!!!