A dinner @ His Knibbs
You would have seen two ChillaxBBQ blogs for the crew cooking for David's birthdays the past two years. Well this time it is Mr Knibbs who decides to take up the mantle and organise a rather special dinner for a few friends and family. It's Portuguese/Spanish from what I can surmise from the snippets of intel he has been releasing. It's exciting. We can't wait. Armed with a GIGANTIC bottle of bubbles, we go to experience A dinner @ His Knibbs.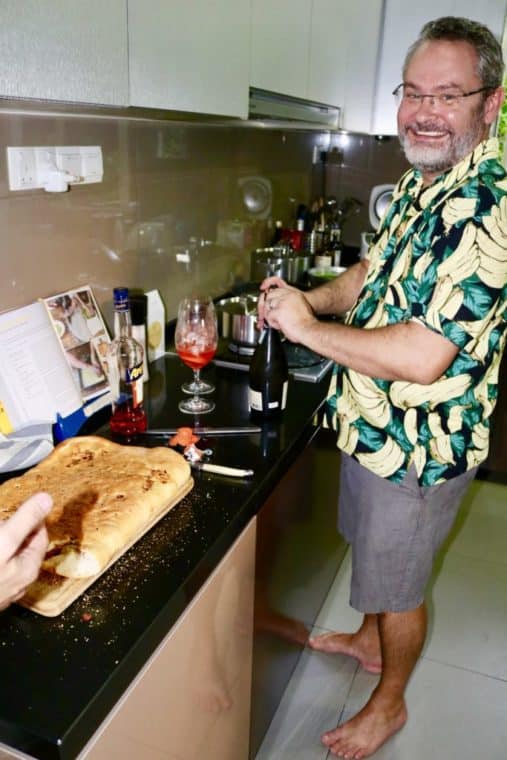 I wore a rather bright shirt too this night.
"Where did you buy yours?" Knibbsy asked me.
"Guess!" I said.
"Oh I don't know, Zara or somewhere like that!" Said Knibbsy.
"No Guess!" I said.
"I did!" said Knibbsy.
Dinner is done, well least the amazing fair from Mr Knibbs. We still had a monster cheese platter to come from Mr Archer. A cracker David, truly mate great work. A dinner @ His Knibbs, was an awesome affair indeed. But for a breather, David goes and collects this game called 'Speak Up'. Sounds harmless. Designed for kids and parents. Again sounds harmless enough – just watch the video. I think ALL us adults had some pee stains in our pants and knickers when we got home. Hysterical!!!
So Dave and Marissa we cannot thank you enough. Adults and kids alike had a BALL thank you. We loved A dinner @ His Knibbs. Sorry we had to depart when we did – kids were on last legs, and yet another party today for Amy. It was a cracking meal mate, and such such fun – especially that stupid game. Goodness me. Seems we have Archer's next in November. Then it will be my turn, and I'll be turning my hand to fine dining away from ChillaxBBQ style. Should be interesting. If I do do that, I hope like we did at yours, that all – ENJOY!!!