Beetroot beef curry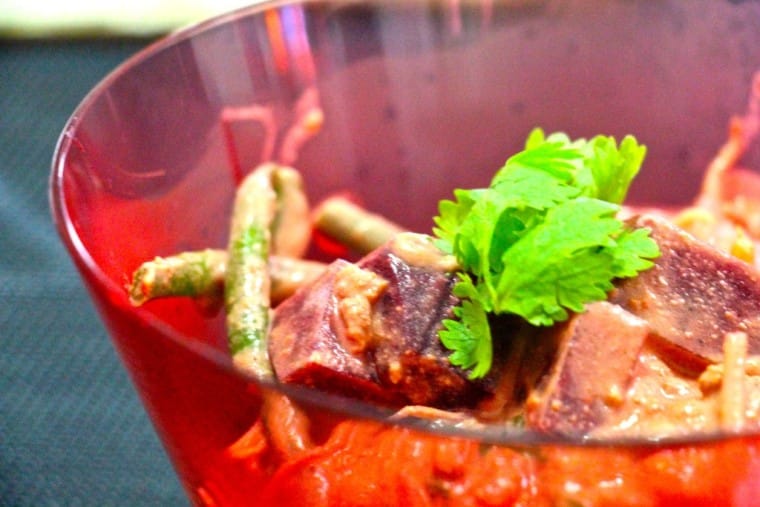 Easily enough beetroot beef curry for 4 here folks.
You will need;
2 packs of mince beef;
2 teaspoons of finely chopped garlic;
2 small red onions finely chopped;
1 cup of French beans (or equivalent – snake beans etc.), that you have trimmed;
1 cup beansprouts;
1 cup of roughly ripped coriander;
1 teaspoon of Turmeric;
2 beetroots that I peeled and then cubed;
1 litre of coconut cream;
2 finely chopped chili padi;
3 limes for their juice; and
A good pinch of salt and pepper.
Seriously this is as simple as simple could be.
In your wok put the coconut cream and beetroot cubes, garlic, onions, salt and pepper. Get that to a nice simmer and cook until the beetroot starts to tenderise.
Add in the beef, the beans, the turmeric, the chili, the lime juice and continue to cook until the beans are al dente – just with that little snap left to the texture, and of course that the meat is done.
Off the heat and stir in the coriander, and bean sprouts as the heat will wilt those immediately.
Serve – maybe with a few quarters of lime for additional sour?
This was absolutely a winner. Have you ever had a pink dish? A first for me and Kennett family today. The beetroot was such a good idea to use in a curry. It added some sweetness, texture and clearly colour.
Have a go when you're in a pink mood.
The Semi-Naked Chef's beetroot beef curry – Enjoy!!!