Deep-Fried Foie Gras Recipe
This is is a belter of a foie gras recipe, a delicious foie gras appetizer recipe in fact, but one I would suggest you only have infrequently. This also costs a fortune to make. But boy is it worth it. Deep-fried foie gras is just a crazy dish I made up one day. It's unctuous, crunchy, sublime. How can foie gras, which is battered, and deep-fried be anything but incredible?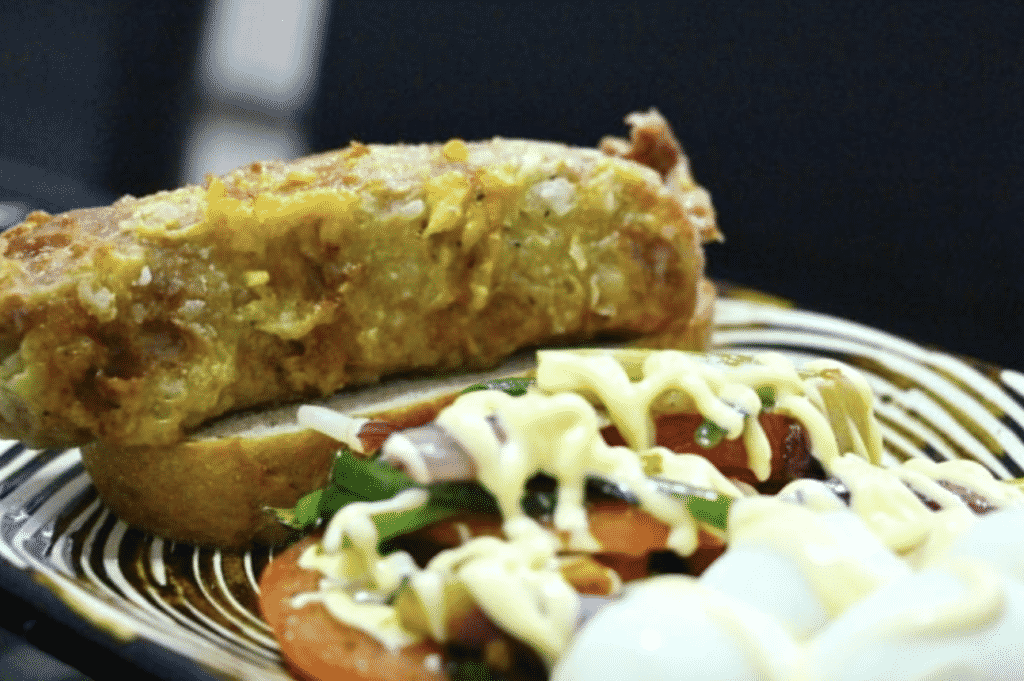 Frequently asked Questions about Foie Gras answered by ISLIFEARECIPE-dia
Where did this deep fried foie gras recipe come from?
An idea popped in my head one day when thinking of deep fried Mars Bars that I have eaten in Scotland before. For some reason, as I had deep fried Mars Bars on my mind I immediately thought; "I know I'll deep-fry foie gras…" And hence was borne Deep-Fried Foie Gras Recipe.
There are two sides to this dish, the small accompanying salad, and the hunk of deep-fried foie gras goodness.
Step 1 – the salad
3 finely sliced shallots
1 bunch of finely sliced Spring onions
3-4 sliced tomatoes
3 finely sliced garlic cloves
A good squirt of Japanese mayonnaise
In a pan add a little olive oil and bring to high heat. Fry off the shallots and garlic for 2 minutes and add in the tomatoes and Spring onions.
Fry these off for only 2 minutes or so, as you want them to retain their shape and an element of crunch.
Plate this and drizzle a little Japanese mayonnaise over the top as in the picture. The mayo will give you some nice acid to cut through the unctuousness of the foie gras.
Step 2 – the Foie
1 piece of foie gras per person – as much as you can take
1 packet of Tempura flour – sprinkle in a little sea salt and cracked black pepper to season it
2 beaten eggs
1 wok filled to about 4 inches with cooking oil for your frying
A slice each of toasted Sourdough bread.
Pretty simple this;
Take the foie from the fridge just before you are going to fry it
Get two bowls – one for the beaten eggs and one for Tempura the flour
Take your slab of foie and dip it in the egg mix, making sure it is fully coated
Then drop it in the seasoned flour, again making sure it is fully coated
Once you have done this with all the pieces get that oil hot hot hot and drop them in one at a time
Try not to fuss with them whilst frying as they may break up
But you want to make sure they do not stick to each other. Just but be gentle
When golden brown take a slotted spoon and carefully lift them onto a plate with some kitchen towel laid on it. Just to drain off the excess oil.
Plating the deep-fried Foie Gras
Place your toast on a serving plate

Pop some of your salad and Japanese mayonnaise to the side

Lay that Deep-fried foie gras on top of the toasted Sourdough

Finished!!! 
Oh yeah, baby you are so gonna love this dish. The flavour, the textures, the smells and even the look. It is awesome. Deep Fried Foie Gras is a cracker. Pur yourself some champagne and settle down to munch away. 
Why not try some other Is Life a Recipe's recipes using foie gras
As promised in the FAQ here are some family favourite French restaurants offering up the sublime foie gras on Red Dot
La Bonne Table

– just down the road in Katong, run by. husband and wife crew, this is a beauty and you can buy homemade foie gras from them with some notice

Florian at Naumi Hotel

– a family favourite again, in the city, where do a wonderful foie gras crostini

Cugini Trattoria Pizzeria

– a truly great Italian restaurant down Joo Chiat, you have to try their Feggato Grasso dish, woof!!!
Connect with Us on Social Media