Deep-Fried Foie Gras Recipe
This is is a belter of a foie gras recipe, a delicious deep-fried foie gras appetizer recipe in fact, but one I would suggest you only have infrequently. This also costs a fortune to make. But boy is it worth it.
Deep-fried foie gras is just a crazy dish I made up one day. It's unctuous, crunchy, sublime. How can foie gras, which is battered, and deep-fried be anything but incredible?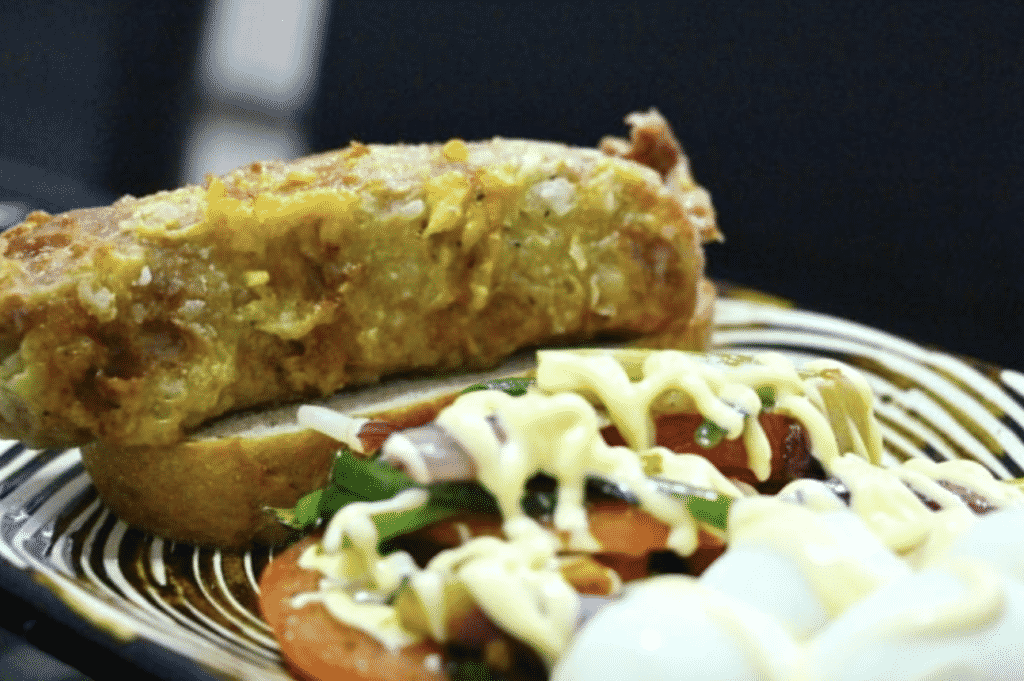 Deep-Fried Foie Gras Table of Contents
The Salad Recipe to accompany the deep-fried foie gras
You will need for the salad
3 finely sliced shallots
1 bunch of finely sliced Spring onions
3-4 sliced tomatoes
3 finely sliced garlic cloves
A good squirt of Japanese mayonnaise
In a pan add a little olive oil and bring to high heat. Fry off the shallots and garlic for 2 minutes and add in the tomatoes and Spring onions.
Fry these off for only 2 minutes or so, as you want them to retain their shape and an element of crunch.
Plate this and drizzle a little Japanese mayonnaise over the top as in the picture. The mayo will give you some nice acid to cut through the unctuousness of the foie gras.
The deep-fried foie gras recipe
You will need;
1 piece of foie gras per person, or as much as you can take
1 packet of Tempura flour – sprinkle in a little sea salt and cracked black Kampot pepper to season it
2 beaten eggs
1 wok filled to about 4 inches with cooking oil for your frying
A slice each of toasted Sourdough bread
How to make deep-fried foie gras;
Take the foie from the fridge just before you are going to fry it
Get two bowls – one for the beaten eggs and one for the Tempura flour
Take your slab of foie and dip it in the egg mix, making sure it is fully coated
Then drop it in the seasoned flour, again making sure it is fully coated, but not clumpy
Once you have done this with all the pieces get that oil hot hot hot and drop them in one at a time
You want it hot so the tempura immediately starts to cook
Try not to fuss with them whilst frying as they may break up
You want to make sure they do not stick to each other. Just be gentle
When golden brown take a slotted spoon and carefully lift them onto a plate with some kitchen towel laid on it,
Drain off the excess oil.
Plating the deep-fried Foie Gras
Place your toast on a serving plate

Pop some of your salad and Japanese mayonnaise to the side

Lay that Deep-fried foie gras on top of the toasted Sourdough

Finished!!! 
Frequently asked Questions about Foie Gras answered by ISLIFEARECIPE-dia
What is the foie gras pronunciation?
Hey, it's French so you could put a really good effort in to use an accent? But if you want to go to basics, the s is 'silent' and you can just go with this;
fwaa graa
Can you deep fry foie gras?
Absolutely you can and if you follow this deep-fried foie gras recipe you'll have your very own version to try. 
Foie gras can also be eaten raw with a short searing in a hot pan. It can also be salt-cured, which makes the foie gras flavor intense and ready to be devoured. It is occasionally poached briefly,  then chilled before being cut.
Should you cook foie gras?
The decision of whether or not to cook foie gras is subjective and can be influenced by personal preferences. It is usually ready to eat, but you can also still sear, bake, pan-fry, or deep-fry.
Foie gras is an exquisite dish prepared from the fattened liver of a duck or goose. While its rich, buttery flavor is appealing to some, others may be put off by its high-fat content or have moral objections to its production methods.
You should think carefully about the moral consequences of eating foie gras before making a final decision. Personally, I love it!!!
How long should foie gras be cooked?
There are so many ways to eat foie gras from this recipe for deep fried, but you can also pan-sear foie gras or even oven-bake foie gras.
Deveining and seasoning the raw foie gras is not necessary. Make sure the oven is at 180°C +. Foie gras should be seared on both sides in a nonstick skillet without adding additional oil, then baked for 20 minutes with bastings of the released fat.
Slices of thick toasted Sourdough bread are a traditional serving suggestion.
Why is it important not to overcook foie gras?
The texture and flavor of foie gras, a rich and delicate delicacy, are adversely affected by overcooking, which makes the liver harsh and dry. Foie gras has a velvety texture and a meltingly soft, buttery flavor.
Foie gras loses its natural moisture when cooked for too long, making it chewy and tough in an unpleasant way. Flavor and aroma are also diminished.
Foie gras should be cooked over a low flame for a brief period of time (no more than a minute or two per side when seared). The foie gras's natural moisture and texture will be preserved, and the flavors will be protected.
Other foie gras preparation methods include making a terrine, pate, or torchon.
Is foie gras just the liver?
The liver of a goose or duck that has been fattened by forced feeding is known as foie gras. It's a specialty of French cooking and a true delicacy.
What is a good foie gras wine pairing?
Foie gras pairs nicely with a wide variety of wines. It is traditionally eaten with a sweet white wine, such as Sauternes, however, foie gras can be served with a soft or fruity white or red wine, as well as champagne!
What does foie gras taste like?
With its buttery and delicate flavour, it's distinct from a typical duck or goose liver. It is way smoother and very unctuous.
Where can I buy foie gras near me?
Actually foie gras is pretty easy to purchase form most supermarkets these days. You can buy foie gras pate, foie gras terrine and more. But for me, being a purist, nothing beats good old plain foie gras.
A great place to buy some is at one of our favourite French Restaurants in Singapore, La Bonne Table – read on and we'll include our Singapore Food Blog Review for the restaurant.
The French word "foie gras," which means "fatty liver," is the English translation. The liver of a duck or goose is used to make this luxury dish.
Where did this deep fried foie gras recipe come from?
An idea popped in my head one day when thinking of deep fried Mars Bars that I have eaten in Scotland before. For some reason, as I had deep fried Mars Bars on my mind I immediately thought; "I know I'll deep-fry foie gras…
And hence was borne Deep-Fried Foie Gras Recipe.
How to cook foie gras Gordon Ramsay?
Chef Ramsay, a renowned celebrity chef, and owner of multiple restaurants has several methods for cooking foie gras.
One method he has shared on how to cook foie gras is as follows;
Take the foie gras out of the refrigerator and let it come to room temperature.

Season the foie gras with salt and Kampot pepper, and then sear it in a hot pan with a little bit of butter or oil for about 1-2 minutes on each side, until the exterior is golden brown and crispy.

Once seared, remove the foie gras from the pan and let it rest for a few minutes to allow the juices to redistribute.

Prepare a simple salad or some sautéed vegetables.

To serve, slice the foie gras into thick pieces and arrange it on a plate with the salad.

Chef Ramsay recommends serving with a sweet and acidic accompaniment like chutney or quince jelly and some bread toast.
Deep-Fried Foie Gras, our conclusions
Oh yeah, baby, you are so gonna love this dish. The flavor, the textures, the smells, and even the look. It is awesome. Deep Fried Foie Gras is a cracker. Pour yourself some champagne and settle down to munch away. 
We have given you a few more recipes as well to play with, but for sheer indulgence, this is the one. It has texture and flavor pops going off everywhere. It's umami on steroids. Die-die-must-try.
Other Is Life a Recipe foie gras recipes
Family favourite Singapore French restaurants serving foie gras
La Bonne Table – just down the road in Katong, run by. husband and wife crew, this is a beauty and you can buy homemade foie gras from them with some notice

Florian at Naumi Hotel

– a family favourite again, in the city, where do a wonderful foie gras crostini

Cugini Trattoria Pizzeria

– is a truly great Italian restaurant down Joo Chiat, you have to try their Feggato Grasso dish, woof!!!
Connect with Us on Social Media