Onsen Egg with Bacon, Tomatoes, Japanese Cucumber, Mayo, and Bacon Fried Bread
&
Japanese Mayo, Crispy Bacon, and Hard-Boiled Egg with Bacon Fried Bread
Are you like me? Are you mandatory Stay@Home? Do you have kids too? Well, I am determined to try and keep this going with a recipe a day for you to try at home. What better time to have a go at cooking than being at home?
What better time to need to have a variety of food, and no I do not mean using FoodPanda. Get your cooking gear out guys, get the kids involved, and have some fun. Come on you have two weeks in 'the cooler', when else are you going to have that 'focus' capability?
So, here are two recipes today for you for the kids for breakfast.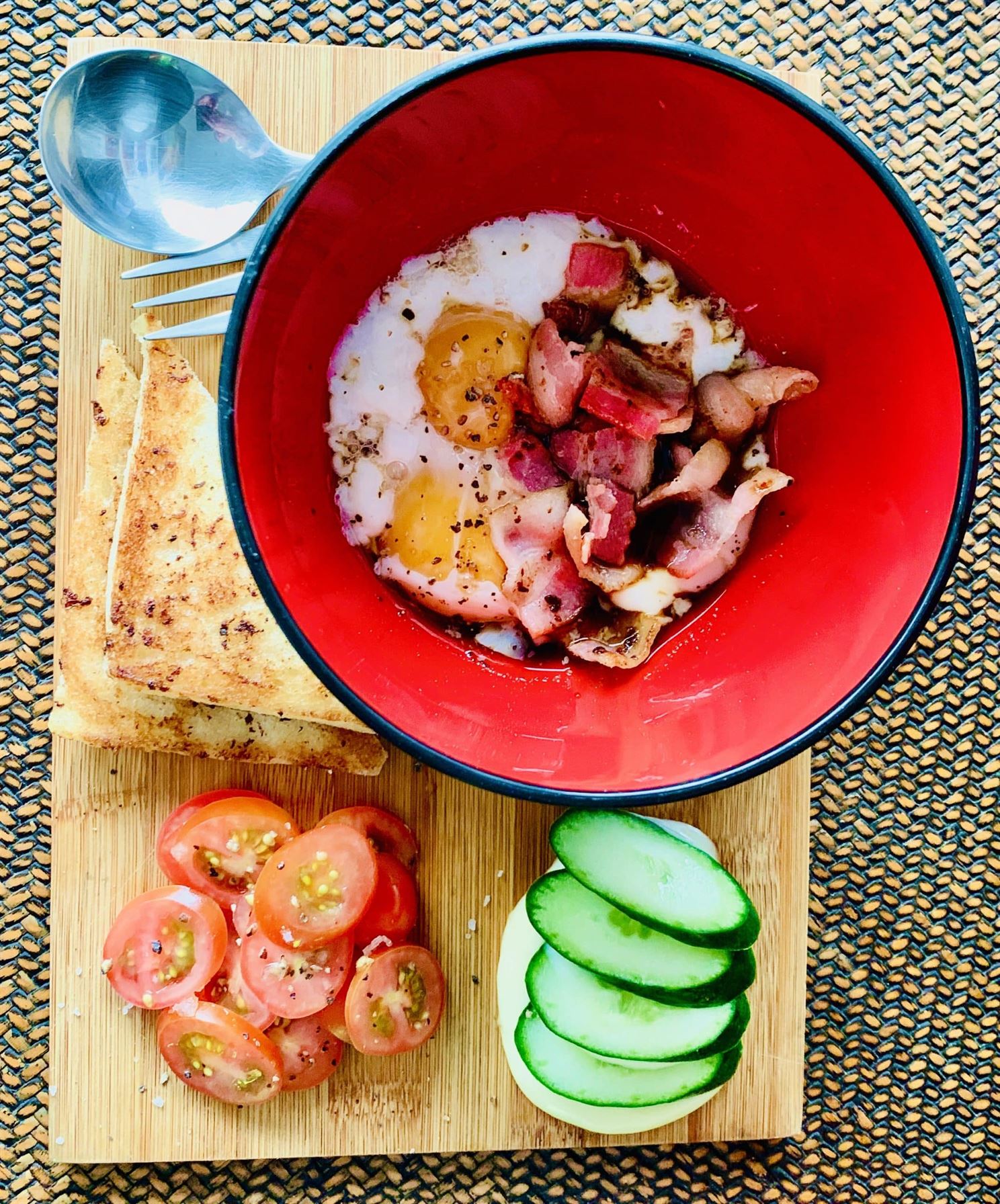 Boil a kettle, add two eggs to a bowl, and pour over the water once it has boiled. Cover with a plate and leave for about 5-10 minutes or so. Crack the eggs at the top and pour out the gooey partially cooked eggs. They should look like the photo above. Pop them in a bowl, drizzle with soy sauce, and give a sprinkle of sea salt and cracked black pepper.
In parallel to that fry off some bacon. I had to do that in my SCANPAN haha.
I am using these buggers for EVERYTHING now. Amy likes her bacon soft. Once done I snipped it into bite-sized pieces with scissors and popped that on top of the egg as you'll see above. Pop the bowl on the serving platter.
When the bacon is done, take a slice of white bread with the crusts cut off. Mop up some of the bacon fat in the pan with the bread on both sides and fry it off until golden brown and crispy. Best fried bread on the planet. Cut in half and pop on your serving platter.
Thinly slice some Cherry Tomatoes and Japanese cucumber at the angle. Season the tomato with sea salt and cracked black pepper on pop on the platter. Squirt a little Japanese mayo on the platter and arrange the Japanese Cucumber slices all fancy-like.
Serve to the hungry mouth, AKA Strawberry Blonde. This is recipe #1 today for ChillaxBBQ Stay@Home Recipes #3.
Jude Jude's is easier to make than Strawberry Blonde's.
Hard-Boil an egg and slice it as thin as you can and set aside.
Fry a couple of streaky bacon rashers until nice and crispy and cut into 4 equal-sized pieces.
As we did with Strawberry Blonde's dish, cut the crusts off a slice of white bread and soak up the bacon fat in your pan. Use both sides of the bread. Fry until crispy and golden brown. For Jude Jude, I cut into 4 pieces.
Plating is easy. Squirt some Japanese Mayo down as a base. Lay the 4 bacon pieces on top. Arrange those hard-boiled egg slices down all nice and fancy like on top of the bacon. Spread them out like in the photo.
Drizzle a little soy sauce over the egg. Finally, give a little sprinkle of some sea salt and cracked black pepper over the top, and then arrange the fried slices all Chef-like next to the plating. And, as in tennis, serve!
And that is that. ChillaxBBQ Stay@Home Recipes #3. Really simple to make but really effective and a beautifully plated 2x brekkie dish option and actually fun to make. The kids destroyed these, I kid you not. Wifey and I went downstairs to dome something. When we came back up everything from both plates was gone.
That is from a picky 11-year-old and a 6-year-old who is my food-kindred spirit. I love it when a cooking plan comes together. If ChillaxBBQ did breakfasts, they would look like this. Go on, you're at home and bored, give it a go.
ENJOY!!!