Bar-A-Thym - A Gastronomical Experience in the Heart of Singapore
Bar-A-Thym is a popular French restaurant in Singapore that offers an unforgettable gastronomical experience. If you are a fan of beef wellington, Bar-A-Thym is definitely a must-visit destination in Singapore.
Bar-A-Thym, located at 18 Gemmill Lane, is a French restaurant in the heart of Singapore that offers a unique and unforgettable dining experience. The restaurant is the brainchild of Francois Mermilliod, who has combined his love for food and the environment to create a menu that is both delicious and sustainable.
In this post, we will delve deeper into the history of Bar-A-Thym, its menu offerings, and its commitment to sustainable and ethical food procurement practices. We will also explore why Bar-A-Thym is one of the best French restaurants in Singapore and why it should be on your must-visit list.
Easter Sunday Brunch Buffet – April 9th 2023
Priced at $98++ per person
The Bar-A-Thym Easter Sunday Brunch Buffet was an absolute blast, the food was incredible, and the live band made the entire day so much more fun! How doesn't like a good old boozy Sunday brunch?
Starters were off the charts, the Deviled eggs went down a treat ( a few times actually), the Tomato and Burrata was continuously being filled as people steamed into that. For me I love a good charcuterie board but when it's free flow it's like 'hallelujah' especially with those little French pickled gherkins aka the cornichon, heaven!
The Whole Lamb, Honey Baked Ham and Grain Fed Angus Sirloin for meat selection were all equally showcasing but of course the lamb on the spit took the 1st Prize! The team took it to next level with the carving as you can see below.
Dessert, we needed to make room for this and took a break from eating which was occupied by the band playing and the odd guest jumping up to have a go, something of a karaoke but with people that can actually sing! Even our daughter belted out a couple of big hitters and the crow went wild, I kid you not!
The desserts were simple enough, Hot Cross Buns (but of course Easter weekend and its what Jesus would want), the Pavlova with mixed berries oozing with berries sauce had me calling my dentist to make an appointment is was so sweet but bloody gorgeous! And oh did I mention the Brownies? Oh man were they delectable!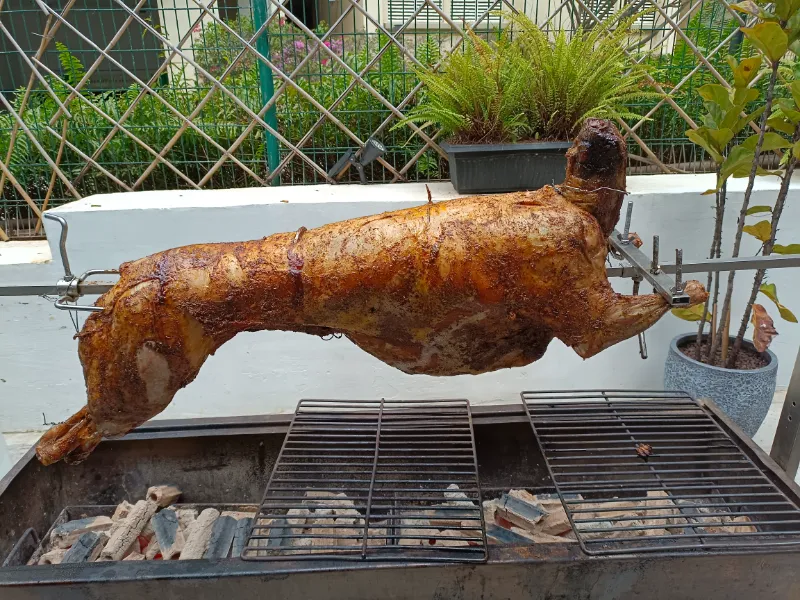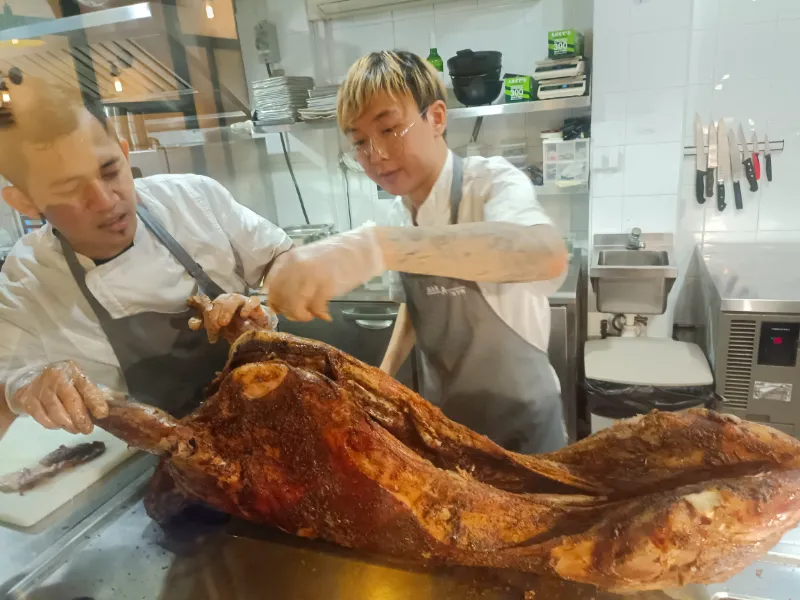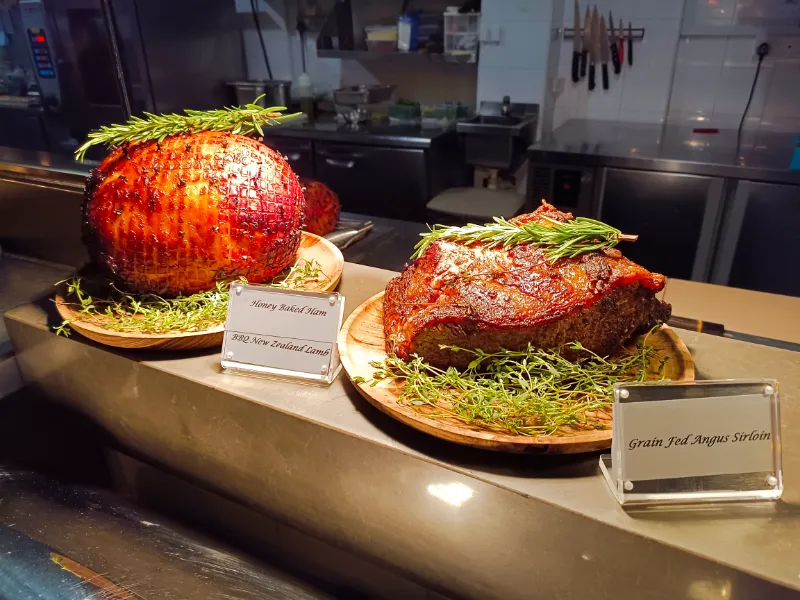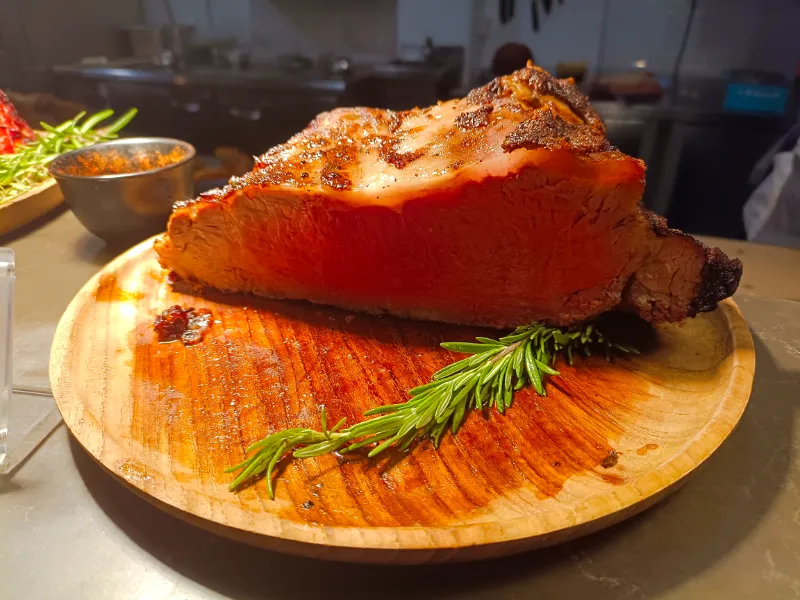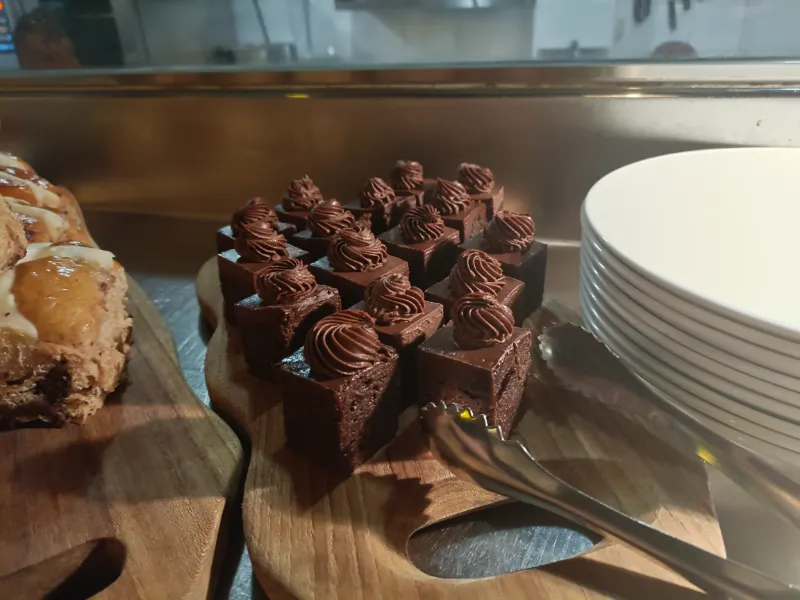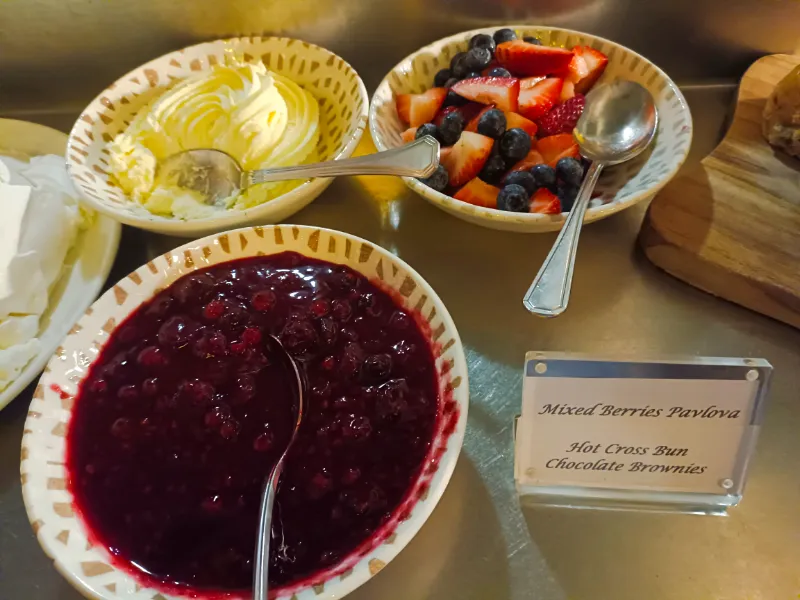 Of that's Snooze right, my bad! So we opted out of the free flow which was a vodka station by the looks of it with Bloody Mary's (not Brians Mary of course).
Mas Amiel 2020 | Maury – Large Format
$25 Glass (90ml)
The Mas Amiel 2020 was not included in the free flow for obvious reasons, whilst we did not give it a try (regrettably) the table in front of us was guzzling it back with much merriment, so it clearly works!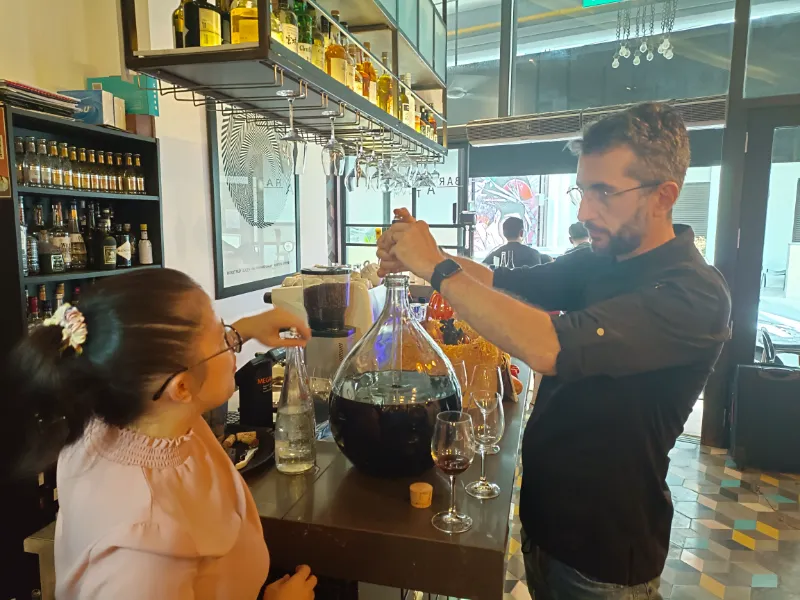 The Wine - Chateau Bechereau Lalande De Pomerol 2019
Instead, we opted for a full-bodied red wine, the Chateau Bechereau Lalande De Pomerol 2019, reasonably priced for a high end French restaurant in Singapore at $108.
would describe it as a delightful red wine originating from the Bordeaux region of France. The moment you pour it into the glass, you'll notice its deep ruby colour, which is visually appealing and inviting.
As you take a whiff of the wine, you'll pick up enticing aromas of ripe dark fruits, like blackberries and cherries, blended with hints of earthiness and a touch of spice. You might even catch a whiff of some oak and vanilla notes, thanks to the wine's aging process in oak barrels.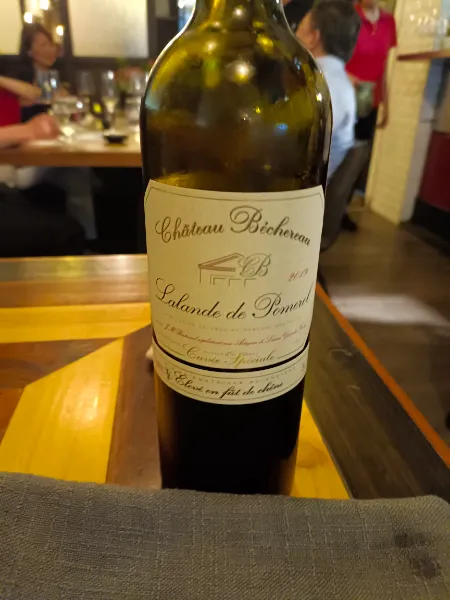 When you finally taste the Chateau Bechereau Lalande De Pomerol 2019, you'll be pleasantly surprised by its rich and velvety texture, with flavours that match its nose. The dark fruit flavours are prominent, complemented by subtle hints of chocolate, liquorice, and a delicate earthiness. It has a medium body and well-balanced acidity, giving it a smooth and enjoyable mouthfeel.
The wine's finish is moderately long, leaving you with a pleasant aftertaste of fruitiness and a touch of spice. This Lalande de Pomerol is a versatile wine that pairs well with various dishes, particularly red meats, roasted poultry, and hearty stews. It's a wine that can be enjoyed now but will also develop further complexity with a few more years of aging. Despite that it drank well and complimented to meats and desserts extremely well.
Bar-A-Thym's menu is inspired by the south of France and the Mediterranean, with a focus on fish and seafood. The menu changes frequently to reflect the seasonality of ingredients and to ensure that only the freshest and most sustainable ingredients are used.
One of the signature dishes at Bar-A-Thym is the Grilled Octopus, which is served with a tomato and basil compote and chorizo oil. The octopus is cooked to perfection, with a crispy exterior and tender interior that melts in your mouth.
Fremantle Octopus à la Plancha
Chorizo, Fregola Sarda
Spicy Tomato Chutney
Costs: $38
Another must-try dish is the Duck Confit, which is served with a parsnip puree and caramelized endives. The duck is slow-cooked for several hours to ensure that it is tender and juicy, while the parsnip puree adds a creamy texture and subtle sweetness to the dish.
Crispy Skin Duck Confit
Du Puy Green Lentils Ragu
$39
Bar-A-Thym also serves one of the best beef wellingtons in Singapore. The dish features a tender and juicy beef tenderloin that is wrapped in a buttery puff pastry and served with a red wine sauce, truffle mash, and sautéed mushrooms. The beef wellington is a perfect blend of flavours and textures that will leave you craving for more. There is even a website dedicated just to this called Puff Fiction
with Foie Gras & Red Wine Jus
Size: Large Approx (1.2kg) 4-6 pax
$298
Bar-A-Thym Menu Offerings
At Bar-A-Thym, sustainability is not just a buzzword, but a way of life. The restaurant only sources its ingredients from suppliers who adhere to sustainable and ethical food procurement practices. This means that the seafood served at Bar-A-Thym is either farmed or caught using sustainable methods, and the meat is sourced from farms that practice ethical animal husbandry.
Bar-A-Thym also tries to reduce its carbon footprint by using energy-efficient equipment, recycling its waste, and using only biodegradable packaging materials. The restaurant also works with local charities to donate its excess food to those in need.
Commitment to Sustainability
Why Bar-A-Thym Should Be On Your Must-Visit List
Bar-A-Thym offers a unique dining experience that is hard to find elsewhere in Singapore. The restaurant's commitment to sustainability and ethical food procurement practices means that you can enjoy your meal without worrying about the environmental impact. But most of all Francois is front of house ensuring his guests have an amazing time and yes Sir we did, thank you so much!!
Bar-A-Thym Restaurant Address & Telephone Number
Address: 
18 Gemmill Lane, Singapore 069255