Filipino Bulalo Soup Recipe = Comfort food from the Philippines
Wow, this is a belter. This is truly what you would class as comfort food. But comfort food from the Philippines. We are all massively missing our friends and family in the Philippines due to no travel caused by our mate Covid-19, so when I saw our BFFs at Butcher Box Joo Chiat touting Wagyu Ox-Tail, I jumped at the chance to get some and create this legendary dish and to share with you my Filipino Bulalo Soup Recipe.
I have never cooked Bulalo Soup before, I have only ever been on the other end of the spoon consuming the deliciousness in the Philippines or at certain locations here in Singapore. you can absolutely get Bulalo Soup in Singapore and I'll share some locations later in the blog.
Despite never having cooked Beef Bulalo Soup before, I had an idea of the way to do it and of course have Wifey on standby to give e some pointers too. I wanted to use the Wagyu for the marbling and to have that fat intensify the beef flavour of this Filipino Bulalo Soup Recipe and to go low, slow and long for cooking this because I also want this Ox-Tail to fall apart in your mouth.
I have seen a Bork Bulalo recipe, but being a purist I am sticking to a beef Bulalo recipe, as it is the one that won my heart in the Philippines. So in this recipe, you'll be getting my version of beef Bulalo ingredients and procedure.
And that will involve cooking this low and slow for 8 hours. Hopefully, this Filipino Bulalo Soup Recipe will give you the confidence of how to cook Bulalo for yourself, but as always if you can't be bothered to cook I'll be sharing a few places where to go for the best beef Bulalo in Singapore.
Time for some ISLIFEARECIPE-dia about this infamous Filipino dish of beef Bulalo
Where is Tagatay in the Philippines?
Filipino Bulalo Soup Recipe
This beef Bulalo recipe is actually very easy to do, from preparation, cooking and serving as you will see below. It's Filipino comfort food, and it reminded Wifey of family, friends and our 2nd home and of the cause and effect of my food I am very proud today.
Wifey said; "Thank you for bringing the Philippines to our home today for dinner…"
Bulalo is one of these dishes you serve from a huge bowl and have someone serve up smaller bowls to the family sat for dinner. Maybe have a consenting adult do that because I bet there is always a fight for that last piece of bone marrow or Oxtail. 
Today, I also made some Filipino Native Sauce to accompany this delicious soup, so you get a double-whammy with two recipes today.
Here we go with the Bulalo recipe ingredients, easily enough here for 5-6 PAX
Take a huge stockpot with a lid, throw it on the hob and add in all the following ingredients;
1Kg of Wagyu Ox-Tail – give it a good rinse in freshwater first
If you have Bone Marrow, get that in there as well. 1Kg would be sublime
4-5 litres of water
2 beef stock cubes
2 red onions – peeled and quartered
2 Tbsp of finely chopped garlic
3 Tbsp of fish sauce
A good sprinkle of sea salt & cracked Kampot black pepper
Bring to the boil and reduce to a very low simmer for 4 hours
Add in 2 corn cobs cut into 1″ pieces
Keep the low simmer for another 4 hours
As you are doing this check every hour or so and skim off the excess fat/oil on the surface that comes from the Oxtail
When you are just before the eight-hour mark, add in a Chinese cabbage that has been cleaned and chopped into bite-sized pieces
Let it go for another 20 minutes or so to soften up the cabbage
Serve in bowls with some Filipino Native Sauce for dipping
Filipino Native Sauce Recipe
If you want to 'up-size your Filipino Native Sauce production, try this recipe
Sukang Pinakurat is a traditional Filipino condiment made from organic coconut fermented sap also known as "Tuba" blended with chilis and other ingredients.
Tuba is also an alcoholic drink that I have 'enjoyed' a few times on trips to the Philippines. It has no effect until you stand up…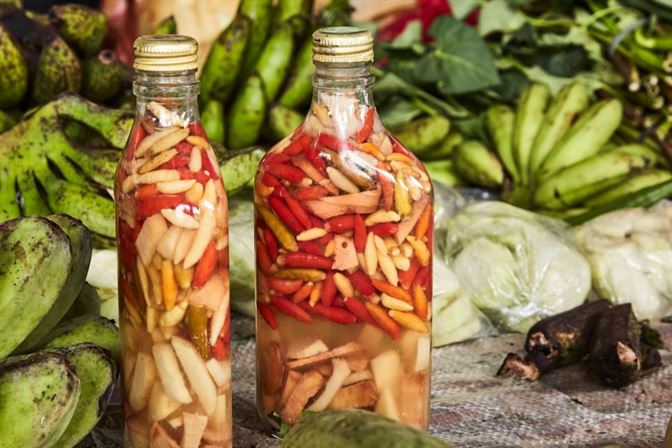 This will make a nice bottle full, say 720 ml, that will last forever. Well not so long in our house…
10 garlic cloves, peeled and sliced
5 whole bird's eye chillies
3-inch knob fresh ginger, scrubbed and minced
1 tablespoon whole black Kampot peppercorns
3 to 4 cups white sugarcane vinegar, try to get the Filipino brand from the supermarket
1/4 cup fish sauce
And follow these simple steps:
Put the garlic, chillies, ginger, and peppercorns in a clean glass jar or bottle and cover with the vinegar and fish sauce
Loosely cover or cap the jar and let sit at room temperature in a dark place for 48 hours to 'ferment' and muddle
Transfer the jar to the refrigerator
The pinakurat will keep forever and the flavour will intensify over time
This Filipino Bulalo Soup Recipe was awesome, and it sent us all on a virtual flight to the Philippines and days with the family sat in Tagbilaran or on Panglao Island drinking cold

San Miguels

and eating copious amounts of local food.
It was just so good, even if I say so myself. Wifey's comments made me proud of this attempt too. Just one self-criticism was that it was a very intense sweetcorn flavour though. I need to tone that down next time by throwing in the sweetcorn more towards the end (mental note to self), say at the 7-hour point.
But hey, I was still impressed with this little bit of the Philippines hitting our table today. The Oxtail was intensely flavourful, especially with that Native Sauce, and it was literally fall-apart soft, succulent, amazing Wagyu. This was my 1st attempt at Filipino Bulalo Soup Recipe and it rocked!!!
ENJOY!!!
Where to get your Beef Bulalo Soup fix in Singapore?
Where to get your Beef Bulalo Soup fix if you happen to be on the islands of Bohol or Panglao, the Philippines