My last day of official freedom from corporate times again ha ha.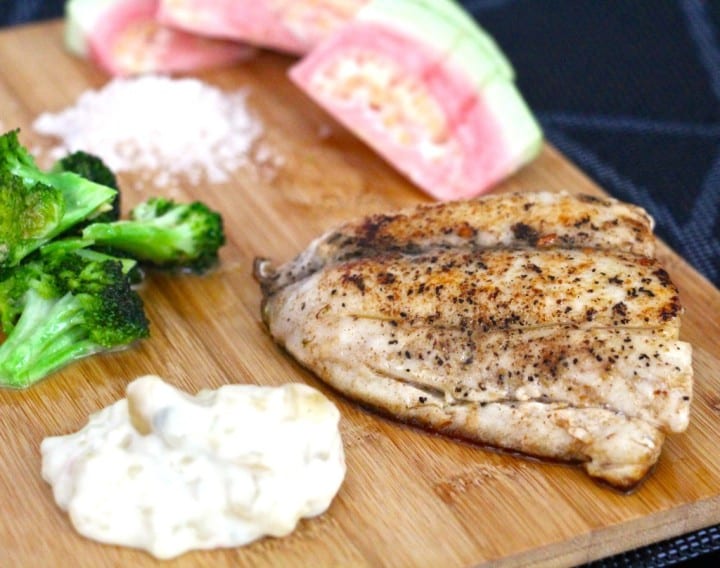 Well basically I am changing jobs which gave me two days off before I start in my new role.
So today I thought I would cook the girls their lunch, something the girls would like would be fish – so I created this monster.
As there is no sauce per se, it really does look good served platter style, kind of posh-like.
I only cooked for two, but it is pretty simple – one fish fillet, half a guava, 8 or so broccoli florets halved and a splurge of tartare per person!!!
So this is how it goes, and let's do this for you as a per person – makes it easy right? Just x the No of guests (cough cough – now if you can't get that, go to the back of the f*cking class as you should not really be holding anything sharp in the first place!!!)
Here we go – in phases – all can be done separately and then arranged on the plate/platter as above;
Phase I – Macadamia Tartare – your sauce
A good tablespoon of good old tartare sauce (now you could make your own of course…)
4 or 5 finely chopped (not powder) salted Macadamia nuts
Mix these together.
STOP – yep your sauce is done, wow that was hard!!!
Phase II – Broccoli with garlic – your greens
4 broccoli florets and cut in to halves or quarters;
A good knob of salted butter and a little olive oil; and
A clove of garlic finely chopped.
Take a small fry pan and get it on the heat. Melt the butter and oil together and fry off the broccoli and garlic until it wilts a little and likely starts to brown.
5-10 minutes maximum.
STOP – yep that is your veggies done.
Phase III – the fish – your fish
One plump firm white fish fillet – I used snapper – leave the skin on (you can of course buy these as fillets or as I did on the bone and fillet yourself);
Salt and pepper; and
A good knob of butter and a little olive oil.
Rub some salt and pepper in to each side of the fish, so both flesh and skin.
Take another fry pan and repeat as above. Melt off the butter in the oil.
When sizzling lay the fillet in skin side down and leave it alone. After about 5-10 minutes it should be browning the skin and crisping it up. Carefully check and if it is done cautiously turn over as you don't want this falling apart of course.
Then you cook on the fleshy side for 5 minutes more only. Stick a sharp knife in a thick part of the fish and touch it on the top of your lip. If it is hot all the way through you are done, if there are any cold spots leave for another minute or so to cook through.
Seriously again you are finished. See it's not that hard at all.
Phase IV – the pink guava – your garnish
So simple. Per person take about half a pink guava and cut in half, then quarters and then again.
Should give you 8 thin slices of this very pretty fruit.
Again that's it – being very Asian focused I did pile a little salt flake for dipping the guava in (very street market style that).
Phase V – arrange as above in the photo, serve and take applause – ha ha!!!
(Visited 25 times, 1 visits today)