A Tranquil Escape in the Heart of Changi Village
Canopy Changi Village Restaurant
Located in the charming coastal district of Changi Village, Canopy Changi Village restaurant provides the perfect tranquil escape from the bustling city life of Singapore. Nestled amidst lush greenery with breathtaking views of the sea, this beachfront gem is the ideal place to relax and unwind over delectable meals with loved ones.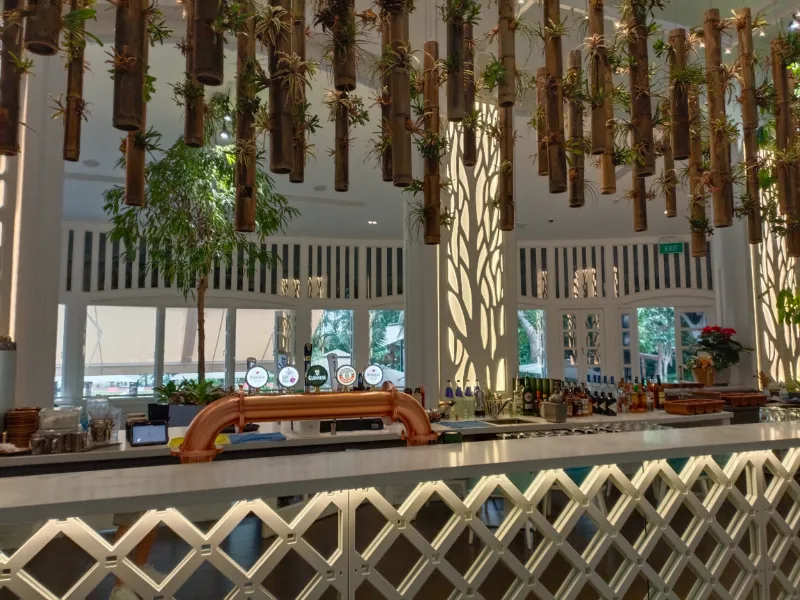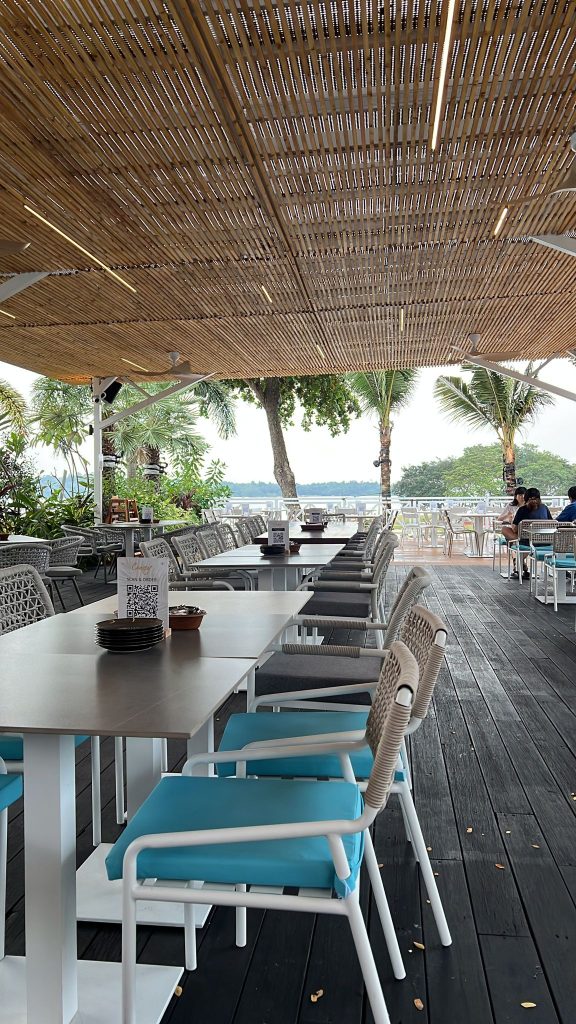 Stepping into Canopy Changi Village, one is immediately transported into a lush oasis. Towering palm trees form a natural canopy overhead, their leaves rustling gently in the sea breeze. Planters overflowing with vivacious flora line the stone pathways, their colours and scents invigorating the senses. Dappled sunlight filters through the leaves, bathing the dining areas in a soothing glow. Combined with the soothing sounds of waves lapping at the shore in the distance, an overwhelming feeling of calm washes over you. Your stresses seem to melt away as you breathe in the fresh coastal air.
The open-air concept carries through the entire restaurant, with alfresco dining areas nestled harmoniously amongst the greenery. A variety of seating options are available, from intimate two-seater tables perfect for couples to spacious lounge settings ideal for larger groups. All provide sweeping views of the verdant landscape and sea. Wooden furniture and earthy ceramics create a relaxed, beachy vibe. Soft lighting strung from the trees above sets the perfect ambiance as daylight fades into dusk.
VIP Beach Vibe with a Live Band or DJ Set!
This little oasis in Changi village is going to rock your world literally, they have a live band line up coming your way real soon so keep an eye on their website for more details but as of now they are playing a laid back chillout vibe fit for Café del Mar in Ibiza!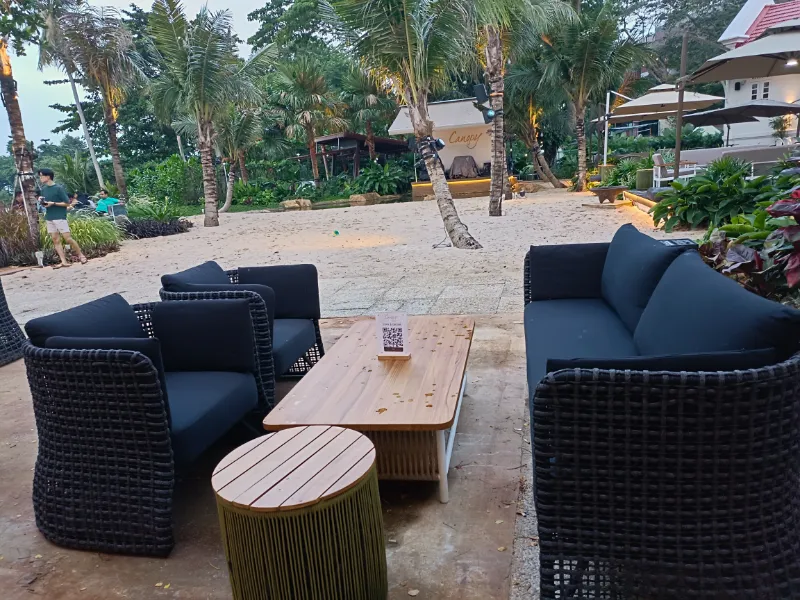 Canopy Changi Village Food
We booked a family table of ten and was given a long elegant wooden table that fitted in with the rest of the décor but felt kinda special! The only issue I can fault them on here is that the table booking QR system was a one device option, so we had to share the phone around to make an order (or ask one of the guest book 9 other peoples food).
Also this does not help when splitting bills at the end of a meal which was fine on this occasion for the family but I know under different circumstances when its two separate groups that option would not be that easy to resolve. So Canopy please look into that!
Pizza for Starter to Share
This went down a storm and did not touch the sides, absolutely spot on! I'd order this again!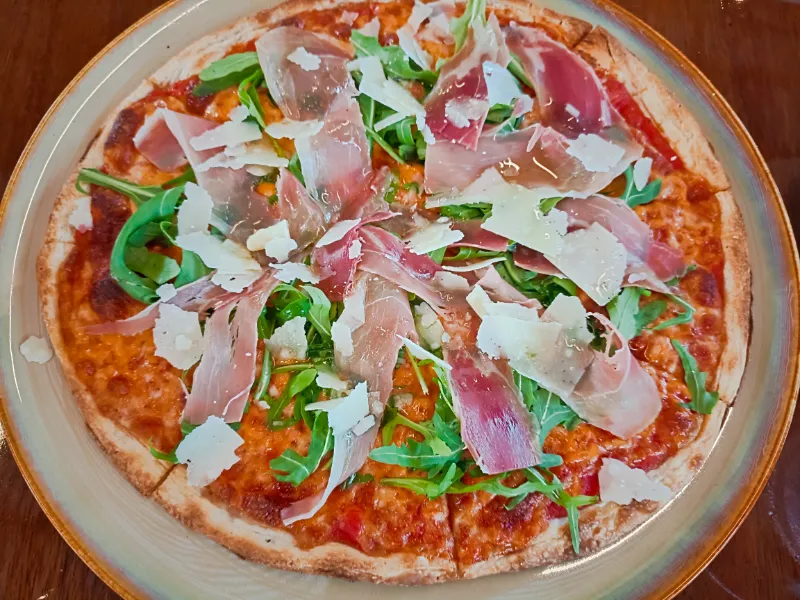 Fish & Chips + Burger
Despite looking like a staple western dish you will be surprised how easily this one is to mess up but they nailed it! I personally had the burger and have to say it was hands down one of the best burgers I have had in a long while. The wife opted for the Fish and Chips which ended up being shared with a few others on the table as it comes with two large slices of snapper! Good value and was wolfed down quickly.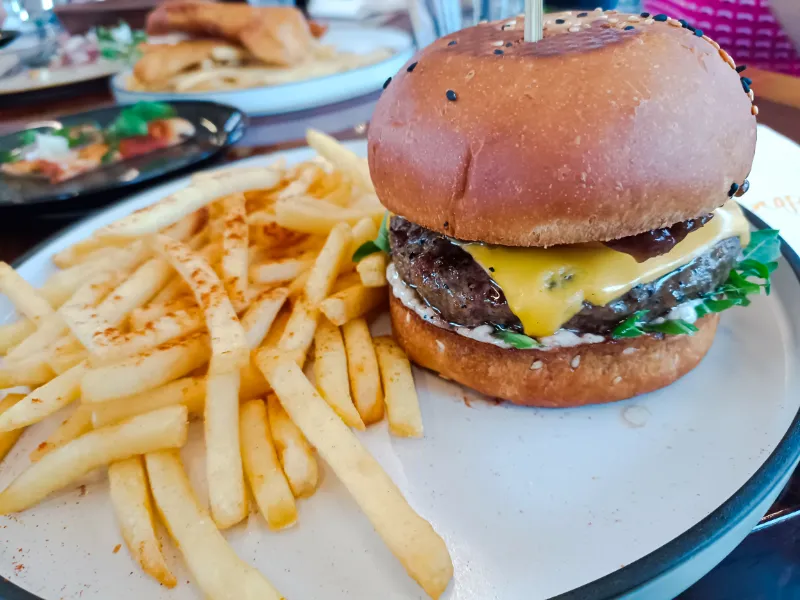 Meat, Meat and more Meat!
3 portions of the Grilled Spanish Pork tells you it was a popular dish to day the least, and a single Chicken order but plates were effectively licked clean (not literally).
I did spy a Lamb Rack being served and am definitely coming back for one of those because if memory serves me right it was $42 and if my eyesight was on point it had 4 decent size lambchops on the plate!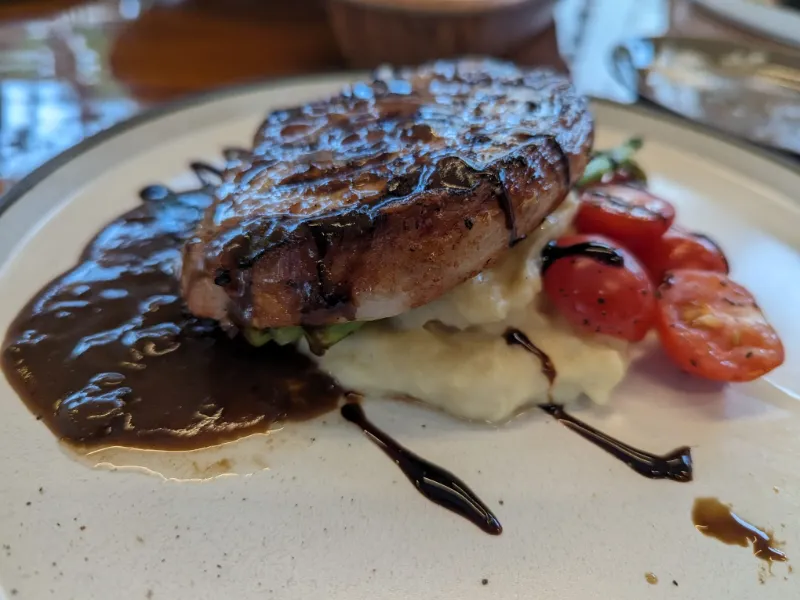 Pasta la Vista Baby!
So there was one winner here and one loser! The Chili Crab was the winner here, spicey just how we like it with a big portion of Soft Shell crab which our daughter devoured before we had a look in! Sadly the Lobster Bisque Pasta was labeled as a Mee Goreng! Canopy, you need to look into that one for sure!
Sweet Child of Mine!
Well after the food stuffing we had above the GM came over for some feedback (that's you Mohit) and then upsold the tale on desserts! Good work fella! Despite there being ten of us, only two desserts were ordered but I am glad they did, portion sizes are big and there was enough for a few spoons each of both dishes below to get a taster for our next visit. The stand out for me were those bad boy Fried Banana fritters (as did everyone else on the table for your guide) that accompanied the Changdol!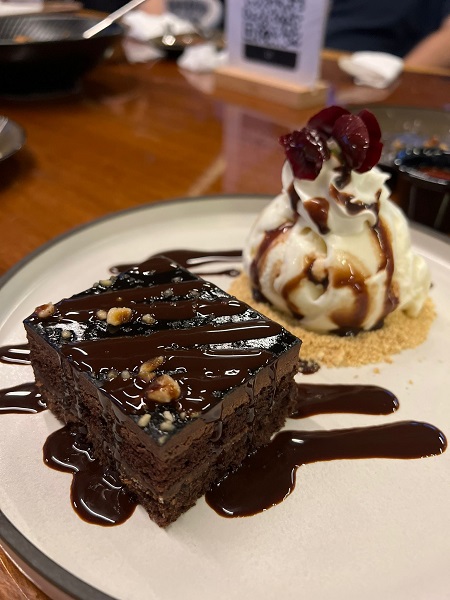 Free Chicken Wings!
A deal right now is if you spend a certain amount you get some free chicken wings!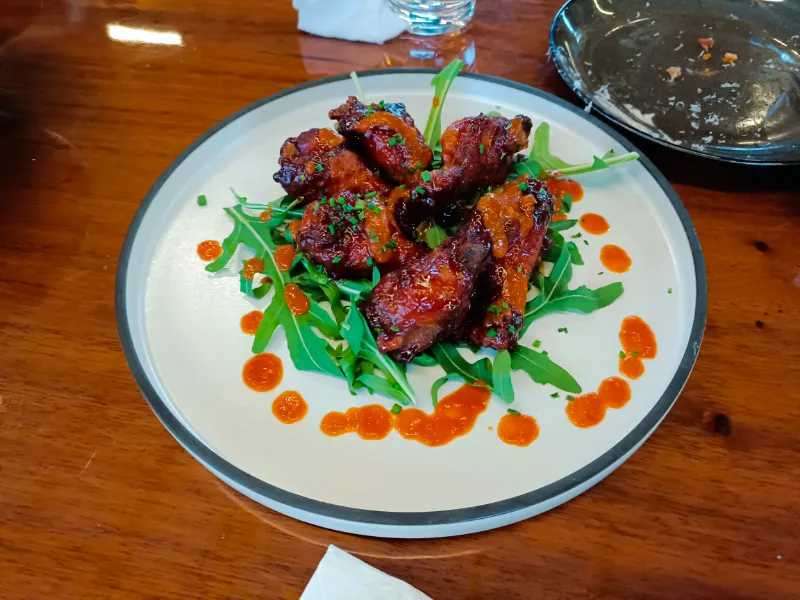 Canopy Pet Friendly Dining
Canopy Restaurant at Changi Village is renowned for its welcoming atmosphere for both families and pets. This pet-friendly establishment offers a serene garden setting where patrons can dine with their beloved four-legged companions. With its commitment to creating a relaxed and inclusive environment, Canopy provides a haven for pet owners to enjoy a meal without leaving their furry friends behind.
Visitors to Canopy can savor delicious food while their pets relax in the picturesque garden surroundings. The restaurant's pet-friendly policy extends a warm invitation to pet owners, making it an ideal spot to unwind and bond with their pets. Whether you're seeking a leisurely brunch, lunch, or dinner, Canopy's pet-friendly garden area provides a tranquil escape for all members of the family, including the furry ones.
This pet-friendly feature aligns perfectly with Canopy's commitment to being a family-oriented dining destination, where everyone can relish delectable meals in the company of loved ones, human and canine alike. So, if you're in Changi Village and looking for a place to dine with your pet, Canopy Restaurant is a delightful choice that embraces the spirit of togetherness.
*Water bowls are provided to keep your pets quenched!
Goodnight Canopy, until we return!
Whether seeking a lazy long lunch catching up with friends or special night out, Canopy Changi Village nourishes both body and soul. The skilled staff go above and beyond to ensure every guest feels comfortable and cared for. One of our family members said "the sea breeze, greenery and feeling of escapism from city life makes Canopy Changi Village a refreshing change of scenery". Having enjoyed this peaceful oasis myself, I could not agree more. This serene sanctum near Singapore's eastern shores is the perfect destination for recharging your senses on any visit to the Lion City.
Canopy Changi Village Address
2 Netheravon Rd, Block B Civil Service Club @ Changi, Singapore 508503.
It offers dine-in and takeaway options and has operating hours that typically close at 12 am (can extend to 2am if the party is in full swing).