A No Base Wagyu Beef plus Foie Gras Pie Recipe
Some people ask "Does a Pie Need a Bottom?" and to quote Mary Berry of the Great British Bake Off Fame ""However I think for a pie to be a pie, it needs a base otherwise it's a stew with a hat on.
Mary on this one we are going to have to disagree!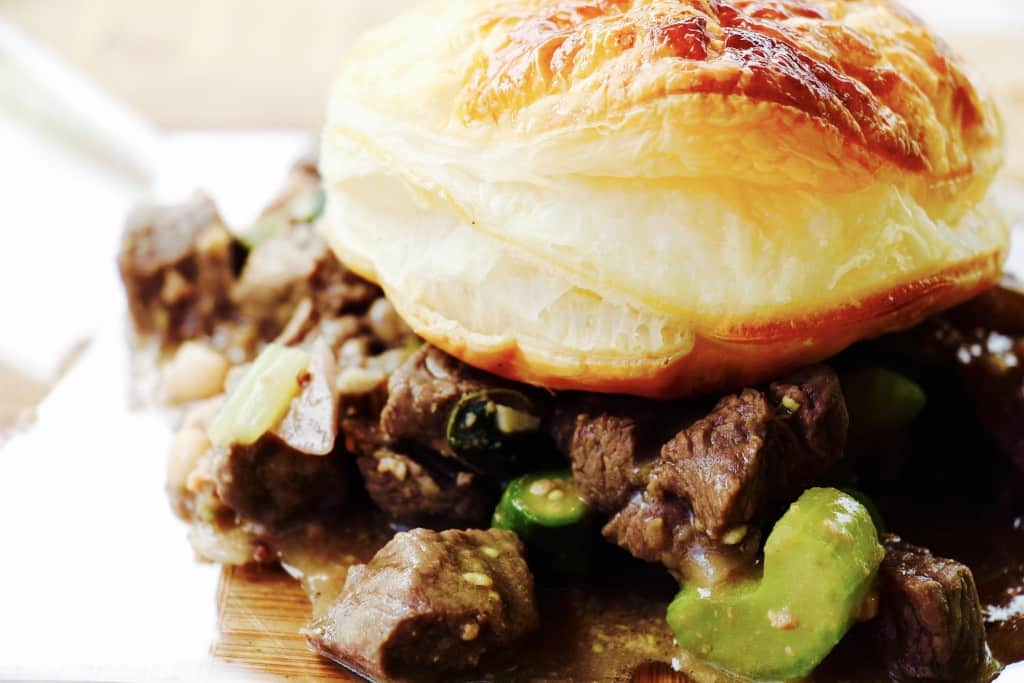 I tell you what - that looks bloody good methinks
This made enough enough for about 6 pies.  I have done a video for you as well, pretty simple to explain that way through the magic of video, but for the purists here is the recipe nicely written down too. Here you go folks, here is my Wagyu Beef & Foie Gras Bottomless Pie.
Wagyu Beef & Foie Gras Bottomless Pie Recipe
1. Take some sheets of puff pastry and cut the sheets into circles, I got about 3 circles per sheet.
2. Beat an egg and brush that on one circle and then pop another of the circles on top.
3. Brush the of all the pastry circles, pop them on to a baking tray and then into the oven at 200 degrees for 5-10 minutes until puffed up and browned, set these aside.
4. Cut two big steaks of wagyu beef in to bite sized cubes, throw in a frying pan or wok with some oil, and get it on the heat – then add in the following ingredients:
5 finely chopped small red onions,
A good pinch of cracked black pepper,
1.5 teaspoons of wholegrain mustard,
1 teaspoon of chopped garlic,
1/2 cup of beer stock,
3-4 thinly sliced Chestnut mushrooms,
A jar of foie gras,
1/2 jar of white haricot beans.
6. Give it all a nice stir – then add in the following:
4-5 stalks chopped celery,
4-5 stalks of thinly sliced celery,
A packet of Marjoram, simply strip the leaves off,
4-5 finely chopped Spring onions,
5.Give that all a stir and then let it simmer for 5-10 minutes.
7. To serve, use a slotted spoon and create a little pile in to the middle of a plate, and then carefully pop one of your puff pastry pie tops on top. And that is that you have finished my Wagyu Beef & Foie Gras Bottomless Pie. Takes great, like really great and the look is unusual I think you'll agree. I know you're going to like this one.
Connect with Us on Social Media
(Visited 284 times, 1 visits today)