Now the Japanese like potato salads, they also like pickled vegetables – known as Tsukemono.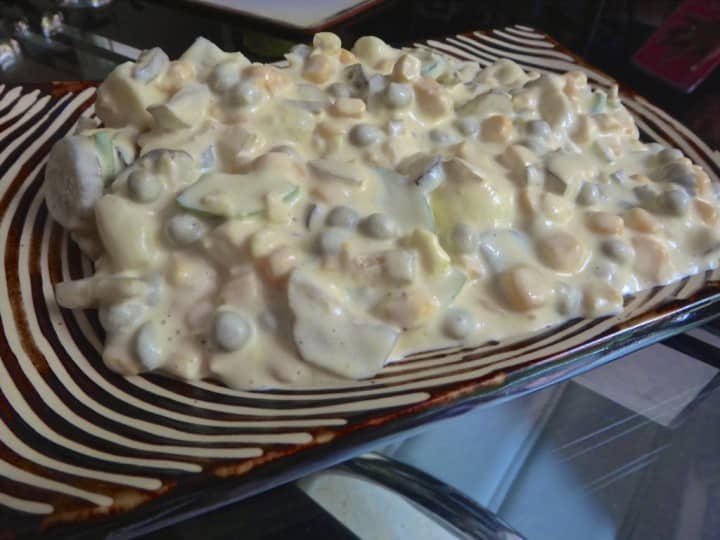 Pop to Russia and you get the same. There are traditional farmer style salads with pickled vegetables, potatoes, egg and the like. The salad I have had from Russia, recently, is called Olivier (nearly named after No.1 Son).
So I thought, why not, combine the two and create a Japanese-Russian style salad. Let's call it Olivier-san.
This will do a fairly big salad for at least 6 if accompanying some other dish. You will need;
1 squeezy bottle of Japanese mayonnaise (or use a bottle of salad cream. You want the vinegar of salad cream not mayonnaise);
3 hard-boiled eggs, sliced;
1 cup of cooked and cooled peas (or straight from tin peas will do as pre-cooked);
1 cup of sweetcorn whole kernels;
1 jar of Japanese pickles (or use a jar of sliced gherkins – back to Russian style);
5 potatoes cubed, and boiled until soft in some salt water – try to keep these guys warm; and
2 tablespoons of Japanese white vinegar (or use any white vinegar).
How simple is that. To finish it gets even simpler.
In a bowl add all the ingredients above. Try to keep the potatoes warm when adding as this slightly melts the mayonnaise, and warms the peas and sweetcorn.
Give this a gentle stir until all are covered with the mayonnaise and serve.
Come on if you can't manage this dish you should be locked up somewhere dark.
I would say some simple BBQ'd thinly sliced pork fillet would be phenomenal with this salad, to add some sweet to the tartness of the pickles.
I hope my Japanese family might give this a go, and of course enjoy it.
(Visited 122 times, 1 visits today)