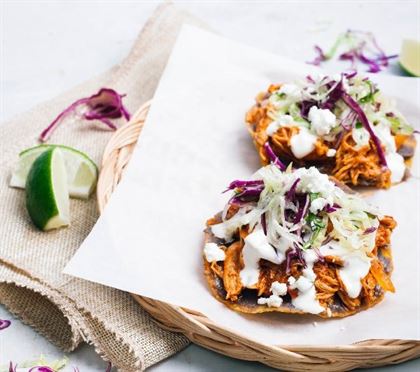 Where can you find authentic Mexican food in Singapore? Well one of those places is Papi's Tacos.
A neighborhood Taqueria in the heart of Singapore as they state is truly where you will find incredible tacos that are addictive!
The introduction of Papi's Tacos in the Lion City heralds the entrance of genuine, hassle-free Mexican gastronomy that is reminiscent of the casual street eating culture of Central Mexico.
Diners are treated to genuine hospitality from Head Chef and Partner Mauricio Espinoza, as well as a warm, welcoming ambiance and authentic, traditional cuisine. Mauricio (or Papi, as we call him) comes from the little village of Papalotla, Mexico, and he brings his culture to a variety of straightforward yet delicious tacos other traditional cuisine. The masterminds of the famed cocktail bar Employees Only have created a simple menu of bebidas and delicious margaritas to complement the authentic Mexican cuisine.
Papi's Tacos serves customers in their restaurant, caters, and hosts private parties nonstop. Papi welcomes you anytime of day or night, whether it's for lunch, dinner, happy hour, a midday margarita, or a late night taco!
Papi's Tacos Review - Seah Street
I love surprises, especially when it comes to food. This is one such wonderful example.
My Wifey and I were on staycation for our anniversary & my birthday. I chose a wonderful boutique hotel in Seah Street right next to Raffles Hotel – sort of in the city, but not in the city. Chosen for the boutique chic and also the rooftop bar overlooking our beautiful little city. Naumi Hotel. We had lunch planned & booked the next day – but not dinner on Sunday. Where to go?
We did a loop walk of a few blocks, including Liang Seah Street which is now almost 100% hotpot restaurants as far as the eye can see. How that place has changed since I worked close by and it used to be a drinking hole for us at Caesar's & Beavers… The good old days.
Papi's Tacos - Tacos & Margaritas
So we completed a loop and ended up back at the hotel and walked into next door. Literally next door and Papi's Tacos. I'll say it again – this is TINY in stature but boy do they make up for that with its coolness, staff, flavours and textures, awesome margaritas and just a wonderful ambience even with only 2 people seating. It is just BRILLIANT.
If you want superb Mexican food from a 'real' Mexican? Papi's Tacos are it!
If you want reasonably priced food and drinks in the city (next to Raffles Hotel just out of interest)?
If you want to have fun whilst you eat?
In fact, do you want some of the best tacos & Mexican food accompanied by the very best frozen Margaritas you will ever have likely in Singapore?
Even the team at the Mexican Embassy speak highly of this place, so they can't be wrong!
Look no further. Get yourself to Seah Street and see the crew from Papi's Tacos. You will NOT be disappointed. Well, you will be if you can't get a table!!!
Papi's Tacos Opening Times
SUNDAY-THURSDAY
12PM-2:30PM | 5PM – 10:30PM
FRIDAY & SATURDAY
12PM-2:30PM | 5PM – 11PM
Papi's Tacos Location - Seah Street
Address: 39 Seah Street, #01-01, Singapore 188395
Papi's Tacos Location - Tanjong Pagar
Address: 33 Tanjong Pagar Road, #01-01, Singapore 088456
Connect with Us on Social Media