Savoury Bagelwiches, Cafe-Worthy Drinks, and More: Another Bean's Irresistible Offerings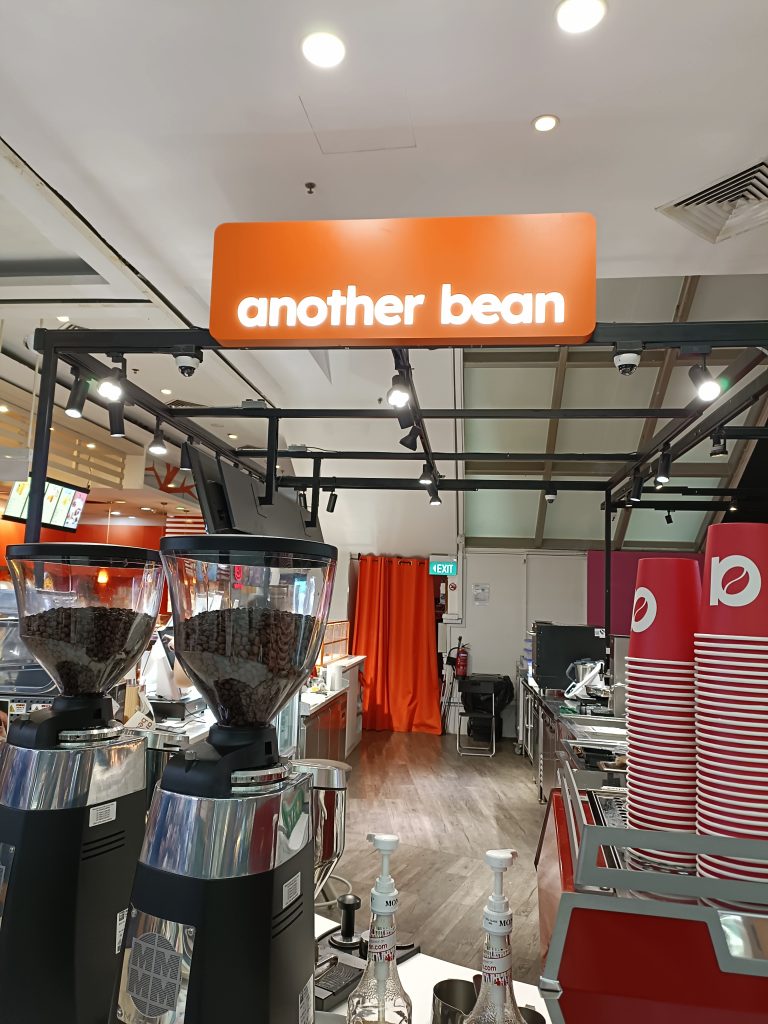 Another Bean is a grab-n-go food kiosk located in Changi City Point, near Expo MRT Station in Singapore. They specialise in serving savoury bagelwiches and cafe-worthy drinks. Another Bean offers a range of affordable bagels starting from S$7.90, and they also serve cream lattes in flavours like tiramisu and peanut butter. The kiosk focuses on providing a convenient and quick dining experience with a combination of coffee and bagels.
The Novelty of Another Bean Café
Another Bean, a distinct and notable café situated in the bustling heart of Singapore, is no ordinary stop for a quick coffee fix. Nestled within Changi Business Park Central 1, it sets itself apart by offering an extensive selection of nourishing bagels and beverages that give you some good alternative options.
Delving into the Intriguing Menu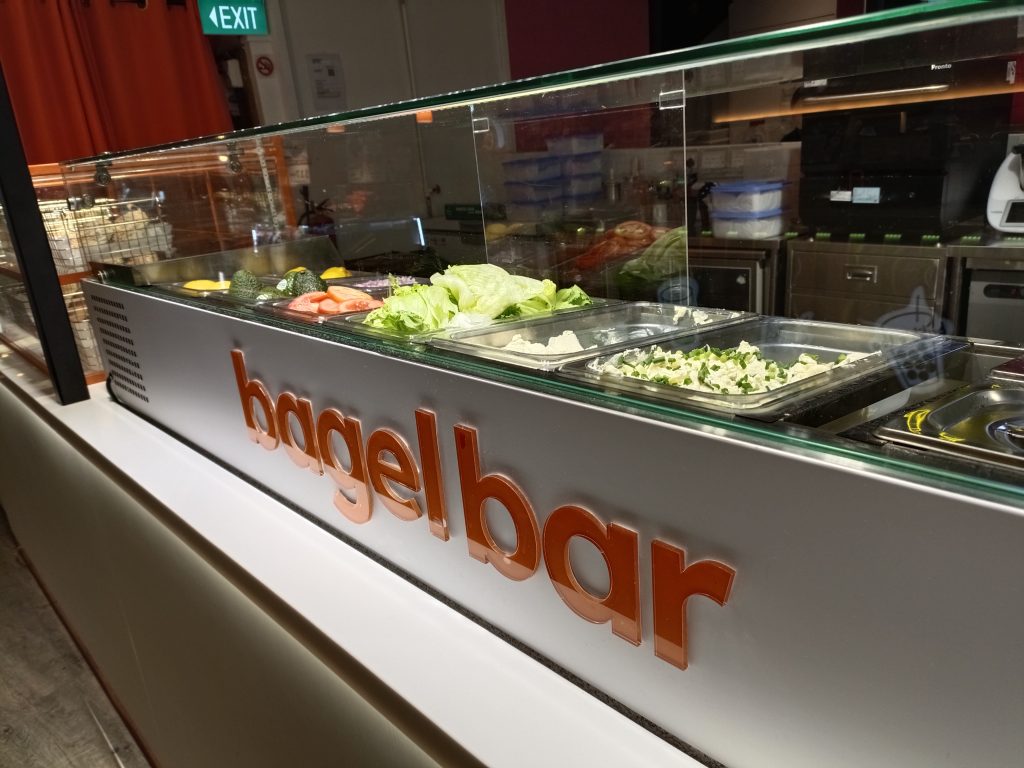 One of the remarkable traits of Another Bean is its commitment to inclusive dining. Although it isn't officially halal-certified, the café is notably conscientious, eschewing the use of pork or lard in any of its dishes. This inclusivity encourages a more diverse clientele, fostering an amicable and welcoming atmosphere for all patrons.
Bagel Choices: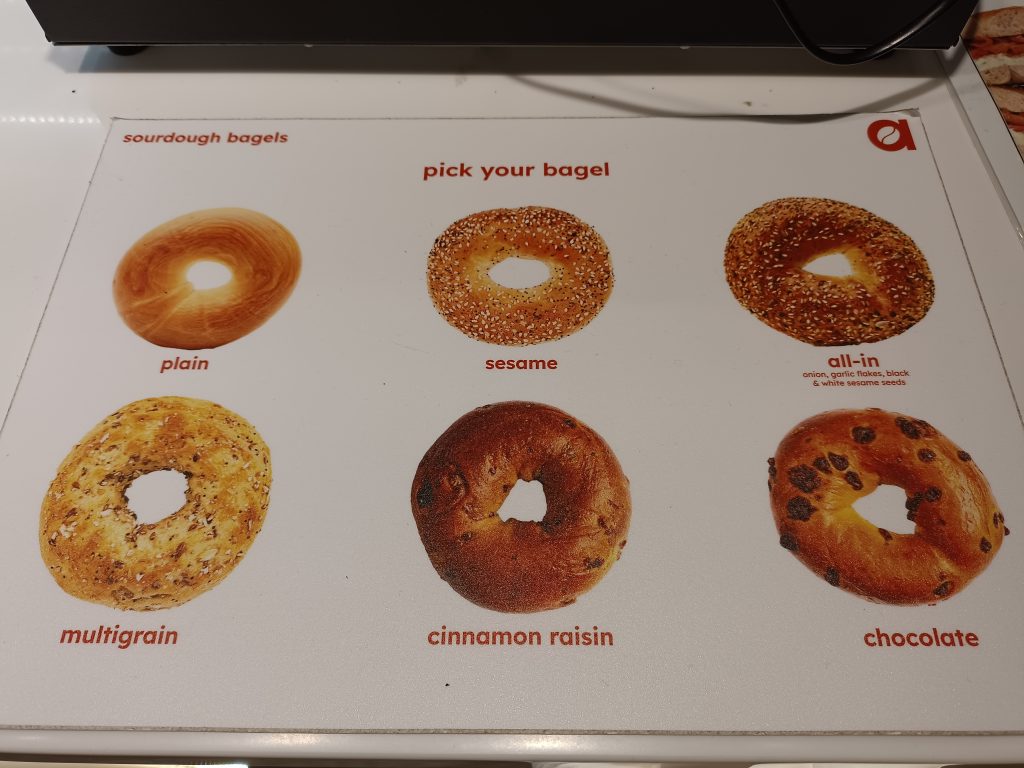 Plain Bagel:
A classic choice loved by many, the plain bagel at Another Bean provides a simple yet delicious foundation for your bagel creation. With its soft and chewy texture, it's the perfect canvas to showcase your preferred toppings or spreads.
Sesame Bagel:
For those seeking a touch of nuttiness and crunch, the sesame bagel is a popular choice. Topped with sesame seeds, this bagel variety adds an extra layer of flavour and texture to every bite.
Multigrain Bagel:
If you prefer a bagel with added nutritional benefits, Another Bean offers a multigrain option. Packed with a mix of wholesome grains like whole wheat, oats, and flaxseeds, this bagel provides a hearty and satisfying experience.
All-in Bagel:
For the indecisive or adventurous eaters, Another Bean offers an "All-in" bagel that combines various flavours and textures. This bagel is typically topped with a mix of ingredients such as sesame seeds, poppy seeds, and garlic, providing a medley of flavours in every bite.
Cinnamon Raisin Bagel:
For a delightful touch of sweetness, the cinnamon raisin bagel is an excellent choice. Infused with warm cinnamon and studded with juicy raisins, this bagel offers a comforting blend of flavours that pairs well with a variety of spreads like cream cheese or butter.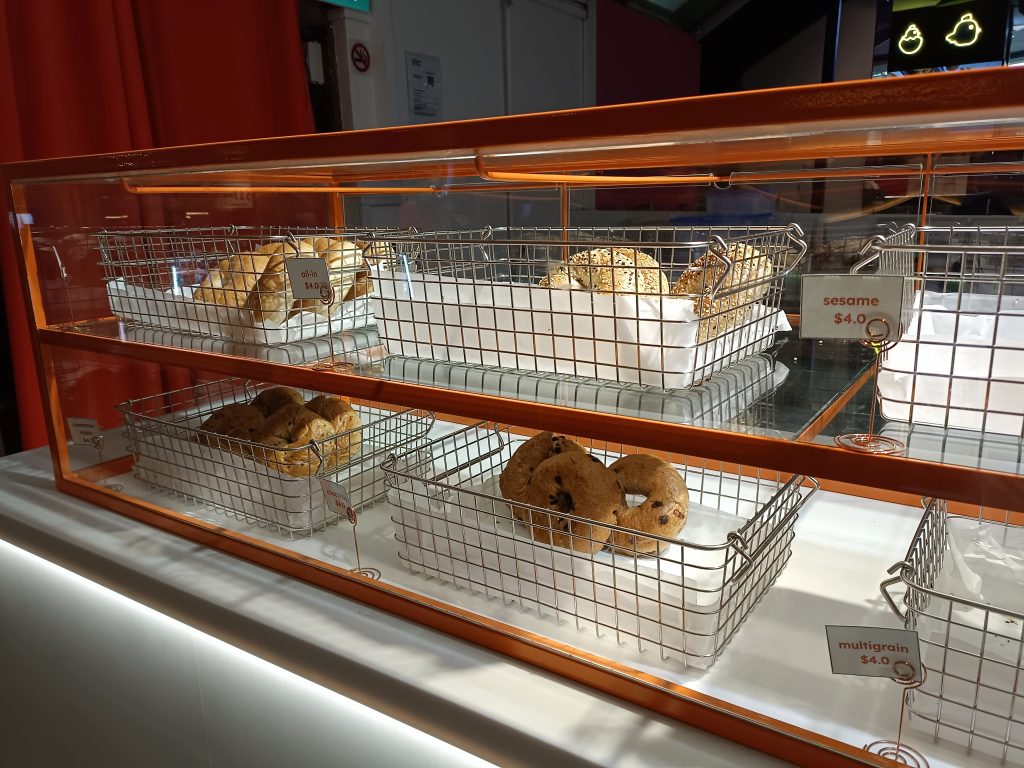 In addition to these options, Another Bean may also feature other specialty bagels, including chocolate bagels. These bagels add a delightful twist by incorporating rich chocolate flavours into the dough, creating a treat that satisfies both sweet and savoury cravings.
Whether you prefer a classic plain bagel, a sesame bagel with its nutty appeal, a wholesome multigrain variety, an all-in flavour-packed creation, or a sweet cinnamon raisin or chocolate delight, Another Bean offers a range of options to cater to your bagel preferences. Pair your bagel choice with a cup of their cafe-worthy drinks, and you're in for a delightful grab-n-go experience.
The Irresistible Lox Bagel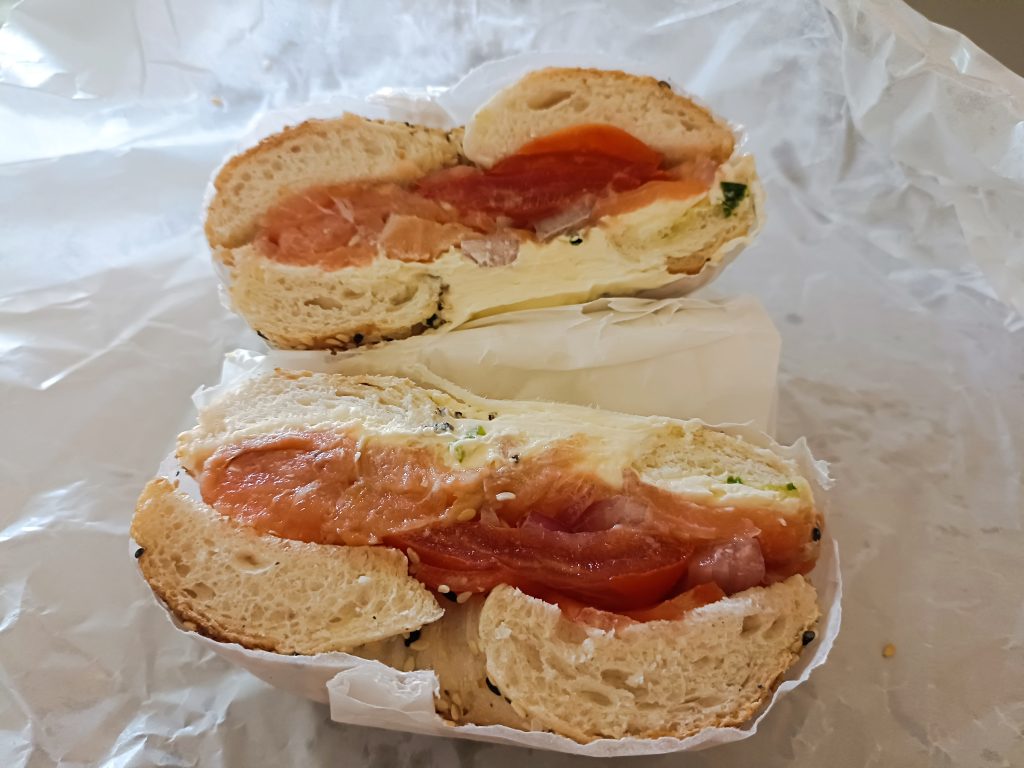 The lox bagel is a classic culinary creation that has delighted taste buds for generations. This delectable dish brings together the richness of smoked salmon, the creaminess of cream cheese, and the satisfying chew of a fresh bagel. Whether enjoyed for breakfast, brunch, or any time of the day, the lox bagel offers a harmonious blend of flavours and textures that is hard to resist.
Flavourful Ingredients:
At the heart of a lox bagel is the star ingredient, smoked salmon, also known as lox. The salmon is cured and cold-smoked, resulting in a velvety texture and a distinct smoky flavour. The saltiness of the salmon pairs perfectly with the tanginess of cream cheese, which acts as a creamy, velvety spread on the bagel. The combination of these two ingredients creates a symphony of flavours that dance on your palate.
The Bagel Base:
A crucial component of the lox bagel is the bagel itself. Traditionally, a plain or everything bagel is used to provide a sturdy yet chewy base for the toppings. The bagel's doughy interior and slightly crispy exterior complement the delicate texture of the salmon and creaminess of the cream cheese. Some variations may opt for a different bagel flavor, such as sesame, poppy seed, or even a gluten-free option, to add an extra dimension to the taste profile.
Accompanying Toppings:
While the smoked salmon and cream cheese are the stars, the lox bagel can be enhanced with additional toppings and garnishes. Thinly sliced red onions provide a sharp bite that cuts through the richness, adding a refreshing contrast. Capers, small briny buds, contribute a burst of tanginess that complements the overall flavour profile. Fresh dill or chives sprinkled on top add a touch of herbaceousness, elevating the visual appeal and aroma of the bagel.
Enjoying the Lox Bagel Experience:
The lox bagel is a versatile treat that can be savoured in various settings. Whether enjoyed at a cosy breakfast spot, a bustling bagel shop, or at home like we did, the combination of flavours and textures creates a memorable experience. Pair it with a cup of hot coffee or a refreshing fruit juice for a delightful morning or midday meal.
Price $12.90
The Turkey, Ham & Cheese Bagel
The turkey ham and cheese bagel at Another Bean is a delightful combination of savoury flavours. Packed with slices of succulent turkey ham and melted cheese, this bagel offers a satisfying and indulgent experience. 
The savoury saltiness of the turkey ham is complemented by the creamy richness of the cheese, creating a harmonious blend of flavours. Whether enjoyed as a quick breakfast or a tasty lunch option, the turkey ham and cheese bagel is a delicious choice at Another Bean.
Price $8.90
–Operational Hours to Suit Your Schedule
Be it an early morning coffee or a casual dinner, Another Bean has got you covered with its convenient operating hours. Catering to the working crowd, the café opens its doors from 8am to 8pm on weekdays. Over the weekends, it adjusts its schedule slightly, operating from 10am to 8pm, ensuring that no one misses out on the delightful experience.
Situated at Changi Business Park Central 1, Another Bean provides a unique dining experience at B1-K5, Changi City Point, Singapore 486038. This location combines the best of Singapore's vibrant city life with a touch of tranquillity, offering a dining experience that is second to none.–> D[Unique Dining Experience]
The Online Presence: Exploring the Café Virtually
If you wish to explore the café virtually before paying a visit, you can navigate to their Instagram account as they don't have a website for a comprehensive overview. Not only does this help you familiarise yourself with their offerings, but it also gives you a sneak peek into the ambience and aesthetic of the café.
Another Bean Address 
Address: 5 Changi Business Park Central 1 Changi City Point, B1-K5, 486038
Follow Is Life a Recipe on Instagram