Asador Nose To Tail: a unique 'pop-up' from Chef Javi. One he commits to repeat with different themes from now on. Bring it on Chef.
Asador Nose to Tail: Step into the grilling world of Asador Spanish Restaurant, where dining isn't just an experience – it's a delicious adventure from nose to tail with Chef Javi! 🍖🇪🇸
Imagine indulging in the finest Spanish cuisine, where every part of an assortment of animals is transformed into culinary gold. From succulent cuts to exotic delicacies, Asador and Chef Javi took the restaurant diners this night on a gastronomic journey like no other.
Before I dive into the juicy details, let's set the stage – Asador nose-to-tail dining was all about redefining the diner's expectations! Pushing the boundaries with perhaps first-time ingredient experiences for the diners. It was bold, but man alive did Chef Javi make the right choices, and some. It was elegant, exquisite, exciting, and ever so good.
This is why this fine-dining Spanish BBQ grill in Joo Chiat is making waves in Singapore the Lion City. Asador nose-to-tail dining experience was unlike any other. Stay with me as I deep-dive into the art of savouring every bit of flavour from every part of the animal at Asador Spanish Restaurant. Your mouth will be drooling after this blog – I thank you! 😋🍷
Asador Spanish Restaurant Nose to Tail Menu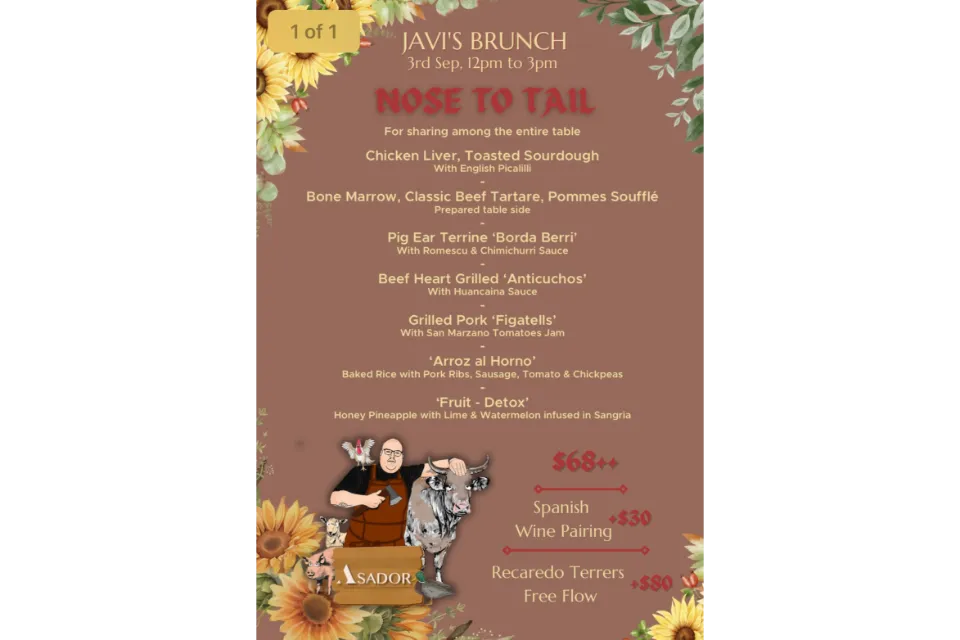 How good does that look? I just love the little character of Chef Javi patting the cow on the head with one hand, whilst holding an axe in the other. Oh yeah, baby!!! And check out that price, how amazing is that for such a wonderful culinary experience?
Chef Javi getting the Arroz Al Horno ready for firing in the baking oven just behind him. Have a look at those bad boys… WOOF!!!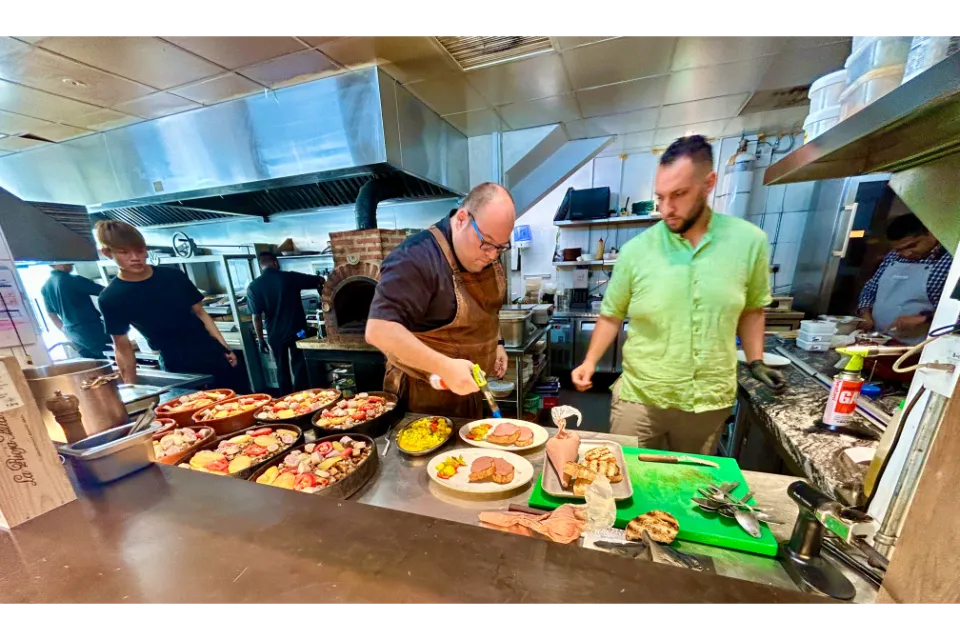 Two of my favourite Chefs on the planet: Chef Javi and Chef Houssein of Asador Singapore. Living legends, both. Chef Javis is torching the Chicken Liver on Sourdough  
Did you know both Asadaor and Next Door Spanish Cafe have been awarded by ICEX the coveted 'Restaurant of Spain' award by the Spanish Government? Only sixteen of those are in Singapore to date. 
The Asador Menu: Nose to Tail...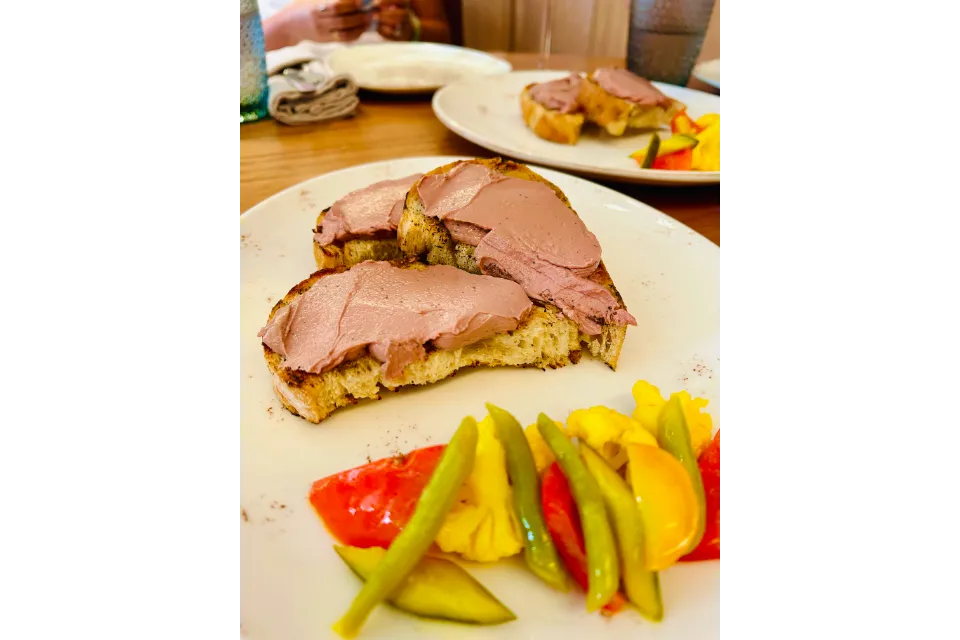 Chicken Liver, Toasted Sourdough With English Picalilli.
Wow, what a start. An intense chicken liver pate of sorts, with a massive flavour hit. Super unctuous and so very creamy. And that Picallili, BOOM, almost like a palate cleanser. Superb pairing with the wine as well. Way to go Chef. 
Bone Marrow, Classic Beef Tartare, Pommes Soufflé Prepared table side
Love a bit of food theatre. This is mixed and seasoned table-side. Quinnelled and then popped atop the incredible roasted bone marrow.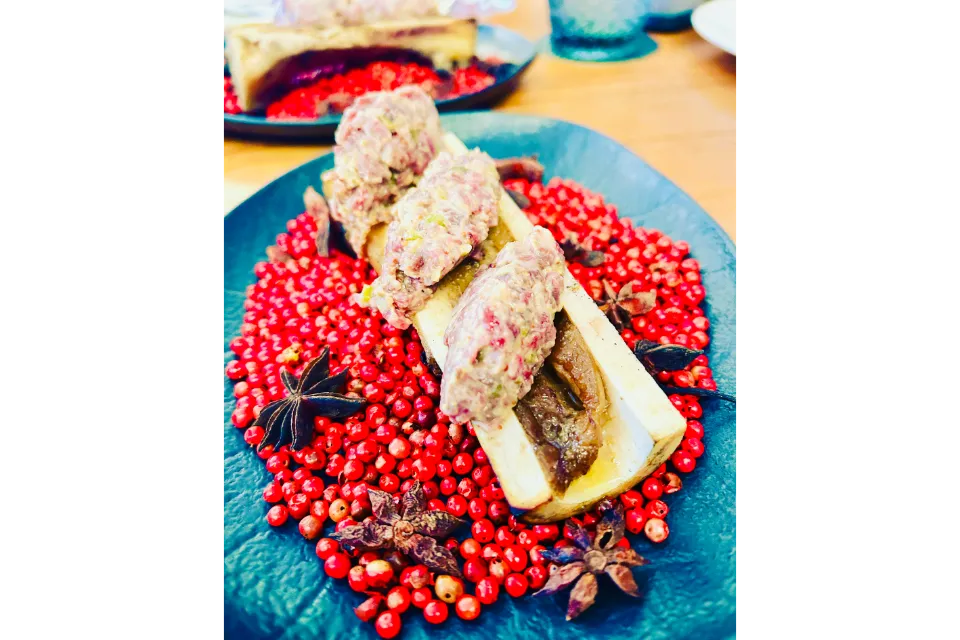 Bone Marrow, Classic Beef Tartare, Pommes Soufflé Prepared table side
That is likely the best beef tartare I have ever had on its own. But, then, add some of the unctuous fatty, savoury
bone marrow
, and man alive that bad boy goes up another level. What a dish. For this alone, I would keep coming back to Asador. Like I need an excuse though.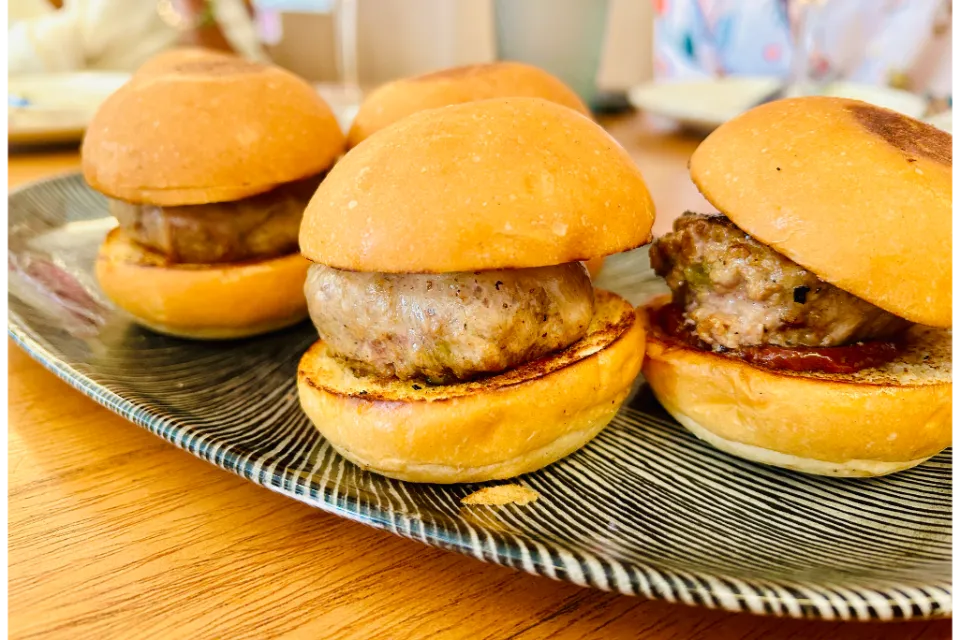 Grilled Pork 'Figatells' With San Marzano Tomatoes Jam
Figatells is a fresh Spanish sausage made of pork meat, pork liver, and kidneys. The sausage is popular in the regions of Valencia and Aragon. It is a type of hamburger that is wrapped in caul fat membrane and then fried or grilled.
Chef served these in some little toasted brioche buns. Simple and simply delicious. These were amazing sliders. So juicy and tender and taking savoury to the next plane.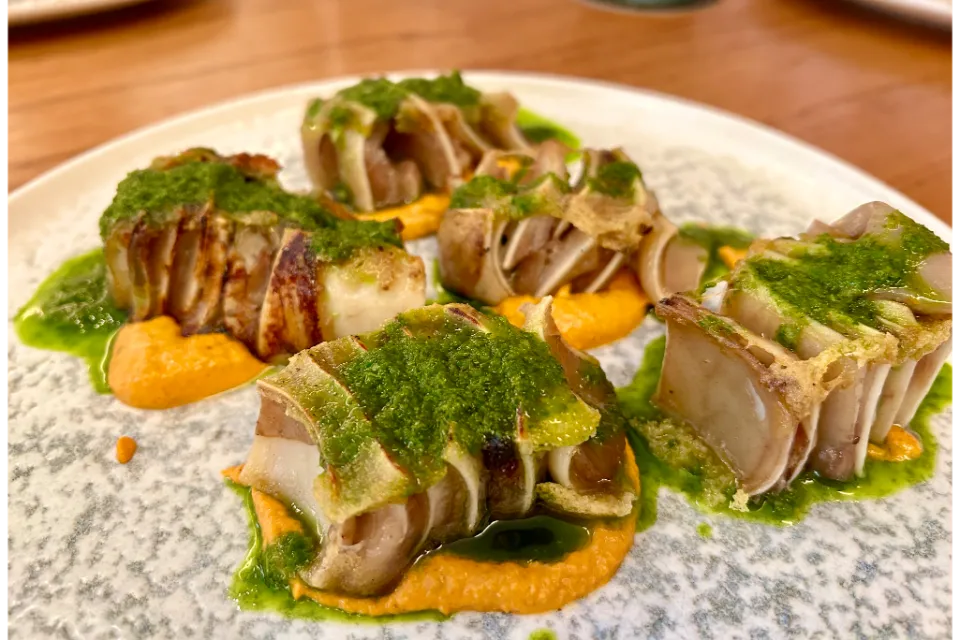 Pig Ear Terrine 'Borda Berri With Romescu & Chimichurri Sauce
Oh my goodness, my hearing is so much better now, after I devoured this dish. Off-the-charts good. Slow-cooked (I think Chef mentioned sous vide) for hours and then pressed into the terrine. This process softens the cartilage and makes the fat so soft, almost like a savoury jelly. 
That Chimi and Romescu cut through the fattiness lifting the dish, and the wine pairing was incredible with this quite powerful and fatty dish. This really was an exceptional dish, and most unexpected. I was thinking something more Sisig in nature.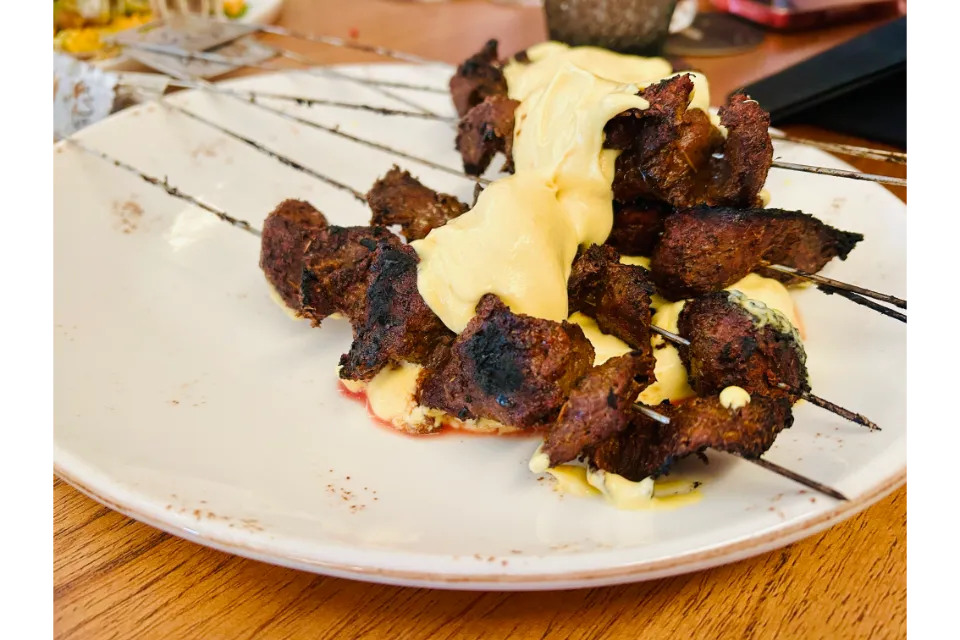 Beef Heart Grilled 'Anticuchos' With Huancaina Sauce
This was the epitome of Asador Nose to Tail. Apparently, it was the doubtful one according to Chef. Apparently, the Asador crew were all like "Are you sure Chef…?". I am so glad he stuck to his choice because this was bonkers good. 
Super tender, punching with flavour from the seasoning dry rub. The meat was almost like a flank steak, and with the cheese sauce, it was double-good. Loved it.
Asador Nose to Tail: 'Arroz al Horno' Baked Rice with Pork Ribs, Sausage, Tomato & Chickpeas
Wowser. Food coma had kicked in right about now when this beauty appeared. Oven-baked with such an incredible charred top from the wood fire. Smoky and savoury to heavenly heights. This was so very good. What amazed me was just how fluffy the rice was.
Man this was delicious, I just could not do it justice with the food coma hanging over my head. I'll order this again any day.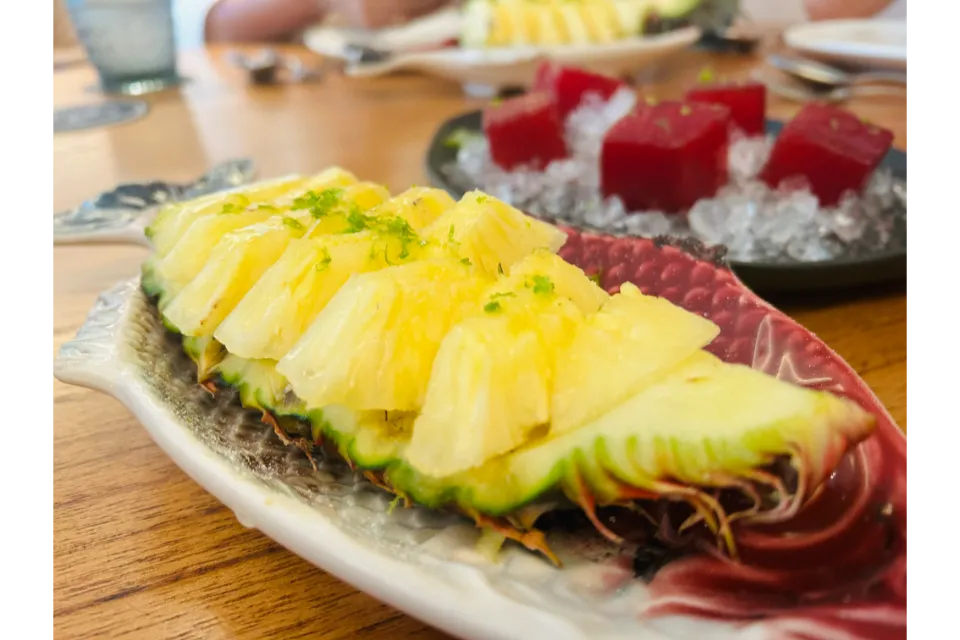 'Fruit – Detox Honey Pineapple with Lime and watermelon infused in Sangria
And then the 'detox': love that. I really needed this to cut through the intensity of the previous SIX dishes. This was a much-necessary palate clean. The first half was this sour pineapple balanced by that honey syrup but then sour again with the lime. Wowsers. Then that 'set' watermelon infused with alcohol overtones: double-wowsers!!!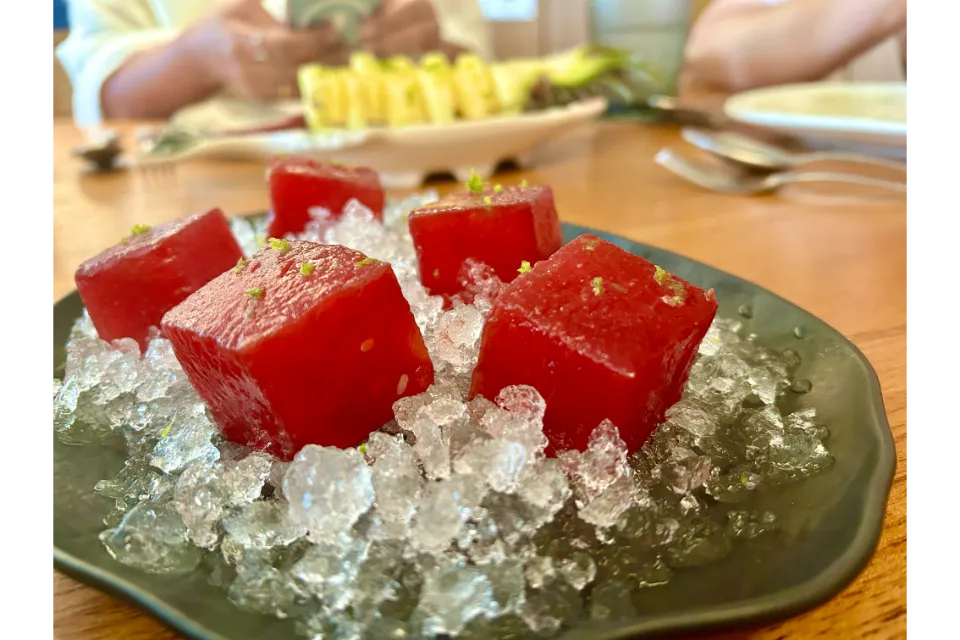 What is Nose to Tail dining?
The goal of the restaurant style known as "nose-to-tail dining" is for chefs to include as much animal product as they can in their dishes. This can occasionally require purchasing and on-site slaughtering of entire carcasses. Not every restaurant, meanwhile, will be able to support its own butchery. Some people might make plans to buy "the fifth quarter"—offal, frames, and other less marketable cuts—from their butchery suppliers.
Not every portion of the animal ends up on the dish, even if everything is used. Although offal is frequently served in this style, bones, and cartilage can also be utilized to make stocks and thick sauces. Bigger cattle bones can be roasted and the marrow—which is rich, buttery, and unmistakably meaty—served with bread, or with beef tartare as Chef Javi did.
To cook from nose to tail, one must have a solid grasp of traditional methods in order to present each cut in a visually appealing manner. And that is what Chef Javi did this day, and nailed it.
Our conclusions of Asador Nose to Tail
Asador Singapore's "Nose to Tail" dining experience offered us all an amazing journey into the world of Spanish cuisine with a sustainability twist.
Chef Javi's event, which took place on September 3rd, promised a memorable gastronomic adventure, and boy did they ever deliver on that promise. For just $68++, patrons enjoyed a carefully crafted menu that embraced the nose-to-tail cooking philosophy, ensuring that no part of the animal goes to waste. The addition of Spanish wine pairings and the option for Recaredo Terrers free flow pop for an extra $80++ enhanced the dining experience.
At Asador Singapore, the focus on Basque-style parilla grilling using different types of wood adds a unique dimension to their dishes, infusing rich and smoky flavors into every bite. This commitment to authenticity and quality is a hallmark of their culinary approach, and then add to that the Nose to Tail experience, you are transported to a foodie heaven.
Moreover, "Nose to Tail" dining aligns with the broader sustainable dining movement, making ethical and sustainable use of the whole animal—an approach that has gained recognition and appreciation in the culinary world. Asador Singapore's dedication to this ethos today not only created memorable meals but also contributed to more responsible and eco-conscious dining. Great job Chef. 
Asador Singapore's "Nose to Tail" event was a must-try. It was an opportunity to indulge in a diverse array of flavours, cuts, and textures while supporting a more ethical and eco-friendly approach to dining. The good news is that this 'pop-up' style themed dining is going to continue with a recurring frequency. Woo Hoo.
Next up is Paella Party at Next Door Spanish Cafe on 24th September, when Chef Javi is on the tools at the largest Paella pan you'll likely ever see in your life… BOOK now so you don't miss that one.
Asador Singapore, where nose-to-tail dining meets Spanish culinary excellence. See you soon Chef Javi and Asador crew – love you guys!!!
What is the address of Asador and the Asador Contact Details?
What are the opening hours of Asador Singapore?
| | |
| --- | --- |
| Saturday | 12–2 pm, 5:30 pm–12 am |
| Sunday | 12–2 pm, 5:30 pm–12 am |
| Monday | 5:30 pm–12 am |
| Tuesday | 5:30 pm–12 am |
| Wednesday | 5:30 pm–12 am |
| Thursday | 5:30 pm–12 am |
| Friday | 12–2 pm, 5:30 pm–12 am |
People also asked about Asador Singapore...
Q1: What is the specialty of Asador Singapore?
A1: Asador Singapore specializes in Spanish grill cuisine, particularly known for its use of wood-fired cooking techniques in a Spanish Castilian Oven and Basque Parilla Grill. This unique approach infuses dishes with smoky and authentic Spanish flavors.
Q2: Is Asador Singapore suitable for special events or celebrations?
A2: Yes, Asador Singapore can accommodate small to medium-sized celebrations, with the capacity to host up to 35 people. It's an excellent choice for those looking to celebrate special occasions in a Spanish grill ambiance.
Q3: What is the corkage policy at Asador Singapore?
A3: Asador Singapore has a corkage fee set at $80++ per bottle, with a maximum limit of 2 bottles per table. This policy ensures that guests can enjoy their preferred beverages while dining.
Q4: Are there vegetarian options available at Asador Singapore?
A4: While Asador Singapore is known for its grilled meats and seafood, they do offer some vegetarian options to cater to different dietary preferences. You can find a variety of dishes to suit your taste.
Q5: How can I make a reservation at Asador Singapore?
A5: To make a reservation at Asador Singapore, you can visit their official website at asadorsingapore.com or contact them directly at the provided phone number, 9836 1792. They offer dine-in, takeaway, and no-contact delivery service options.