Is Asador Singapore the best Spanish restaurant in Singapore?
Are you looking for a delicious and unique dining experience in Singapore? Look no further than Asador Singapore! This article will take you on a mouth-watering journey through the flavours and atmosphere of this exciting restaurant. From the sizzle of the grill to the warmth of the welcoming staff, Asador Singapore offers a truly unforgettable experience for food lovers. Whether you're a seasoned carnivore or just looking for a special night out, Asador's menu has something for everyone. Keep reading to find out why Asador Singapore should be your next must-visit dining destination. 
Asador Singapore is a restaurant that offers a unique and delicious dining experience in Singapore. And this week they turned two years old. Wifey and I were truly humbled and honoured to be invited to this special occasion of a private party to celebrate their 2nd anniversary. Blown away in fact. Baby-sitter sorted, glad rags on, and we're dining in style tonight. Oh yeah, baby…
What a truly wonderful dining experience we had tonight (as we always do here). New tantalizing dishes crafted by the artisans of their craft, the Basque craft… 
I remember the day when Joseba, one of the co-founders, told me they were opening. Then a few months later the blind panic of the delay of the delivery of the Spanish Castilian Oven brick by brick). Yep, that is not a pizza oven, that is for baking and cooking with fire, an essential part of artisanal cooking from the  Basque.
Asador Singapore Menu, 2nd Anniversary Dinner, 26th April 2023
It was a special and fixed menu, with accompanying wine-pairing for the 2nd year celebrations this day. An exquisite menu, truly wonderful. We ended up deep in a food coma, literally having to retire to the outdoor table so we could stand up. So much wonderful food was consumed today. Unlike Oliver, we could not ask for more. Food coma rules!!!
Sadly, you know me, I don't do fish so Chef had to meander off-piste for me. For that Chef I am forever sorry and in your debt for the bespoke creations you served up. I slap myself for being non-piscatorial. I truly annoy myself so much.
Sadly we did not get to dine on these three, due to my aversion to fish. Even my poor wifey missed out. I apologise to Chef Hussein and Joseba. I did not get pictures, therefore, but I saw the plates being served, and they looked incredible.
Anchoas
Santona's premium anchovies on toast. 
Ostras
Japanese oysters, celery and apple granita, Cava
Puntillitas
Baby Squid, Squid Ink Sauce, Egg Yolk & Sriracha
Gamba Roja de Palamos
Spanish Red Prawns, Sweet Peas & Prawn Dashi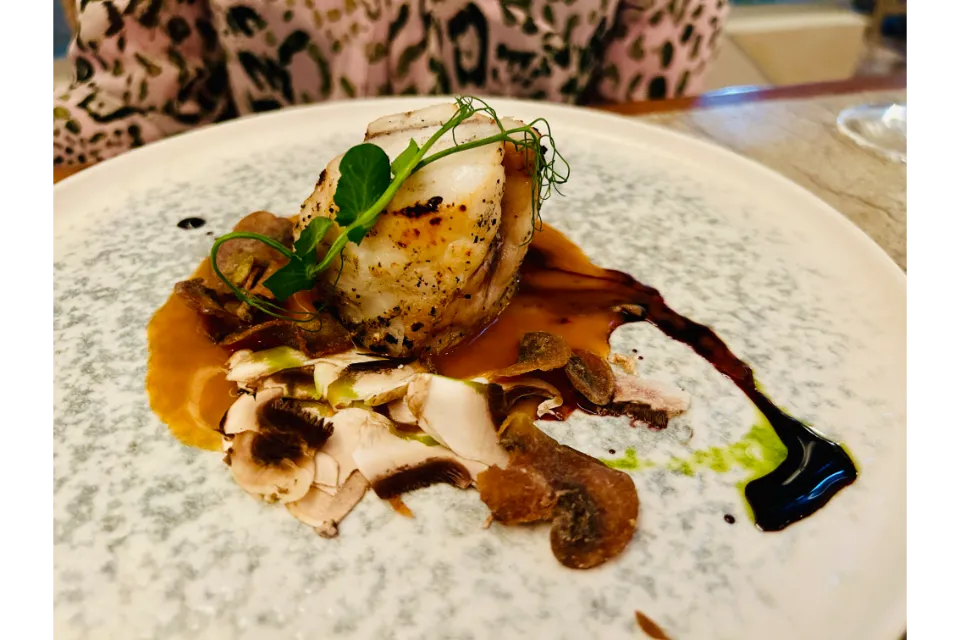 Rape con Salsa de Vino
Monkfish, Red Wine Sauce & Button Mushrooms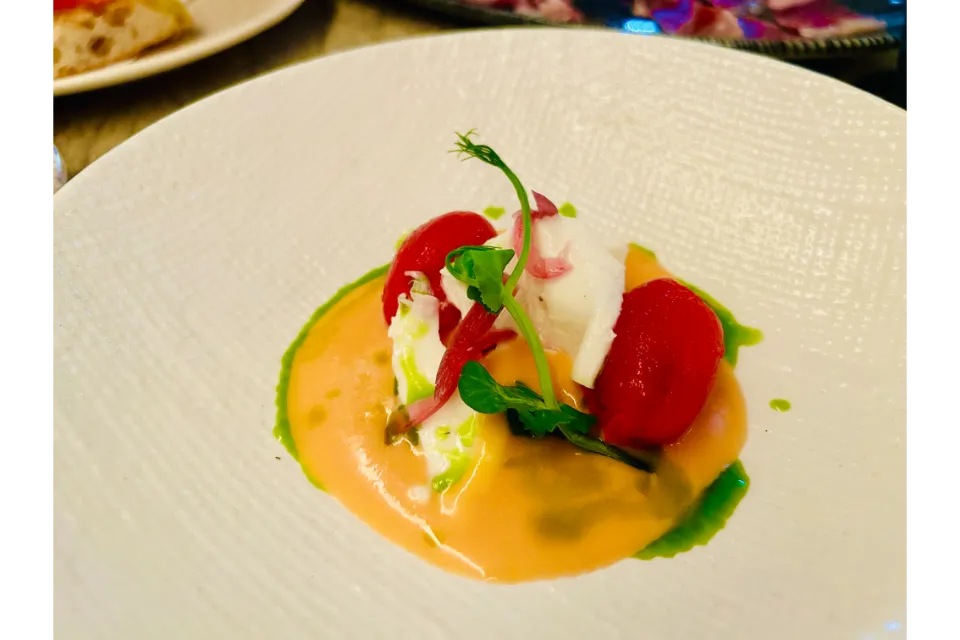 Gazpacho Asador
I have named this myself. Another off-piste because of my stoopid dislike of fish. A beautiful gazpacho-style soup offering. Those tomatoes you can see have been blanched and peeled, making them super-sweet with no skin bitterness. What a cracking off-piste meander, thank you, Chef.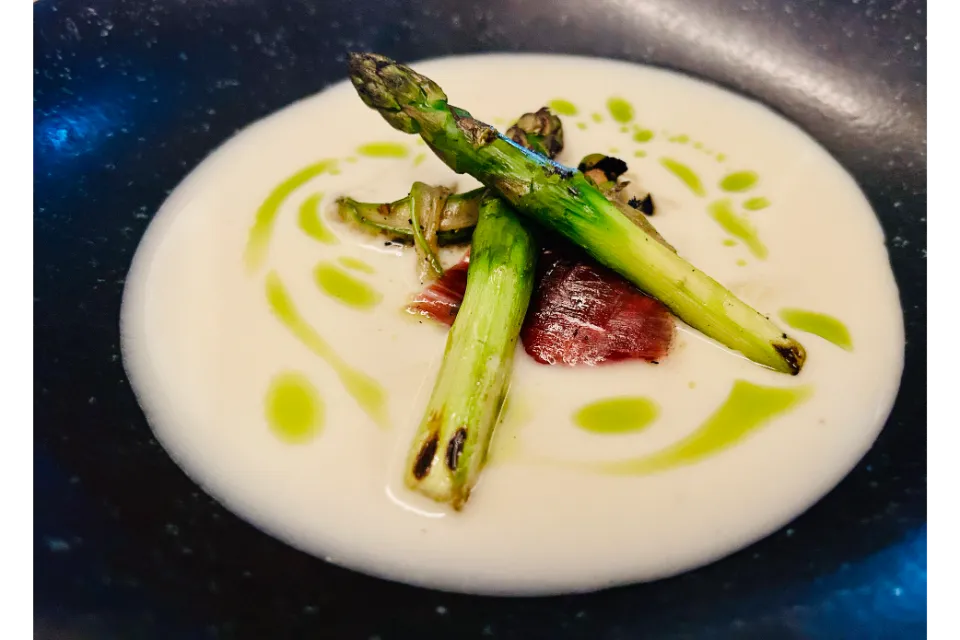 A decadent little soup this one. Potato and leek soup is an underplay of the complex flavours in here, including some roasted hazelnuts, which give you a SURPRISE… The charred asparagus gave that BBQ smoke on top. Amazing soup.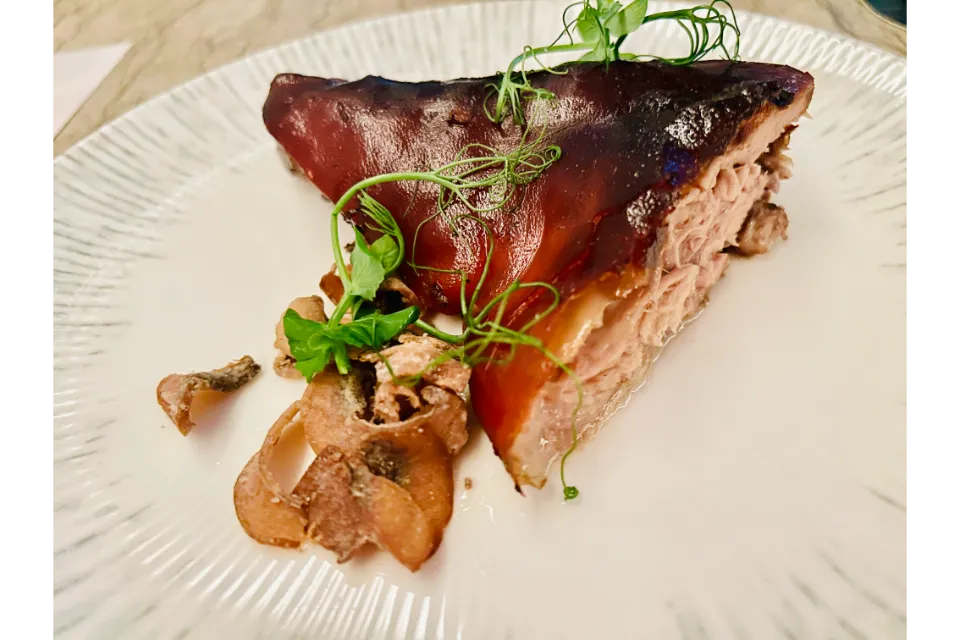 Chef Hussein, the co-Founder, is a Basque King of the barbecue. You simply have to try the Cochinillo , as that is likely to be the best pork dish you will ever eat in your life. Get yourself down to Joo Chiat Place and sample some cookery from the Basque King.
Cochinillo
Roasted Spanish suckling pig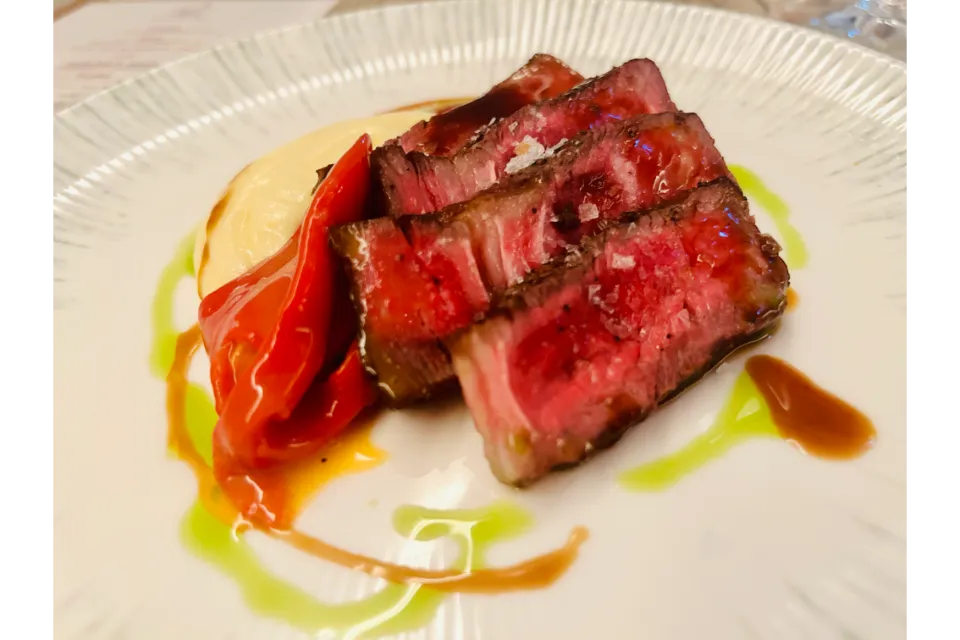 Txuleton
Grilled Aged Beef & Confit Piquillo Peppers
Woof!!! A stunner, melt-in-the-mouth steak. Smoky overtones from the Basque-style of cooking, and served with the infamous Asador smoked mashed potato. incredible.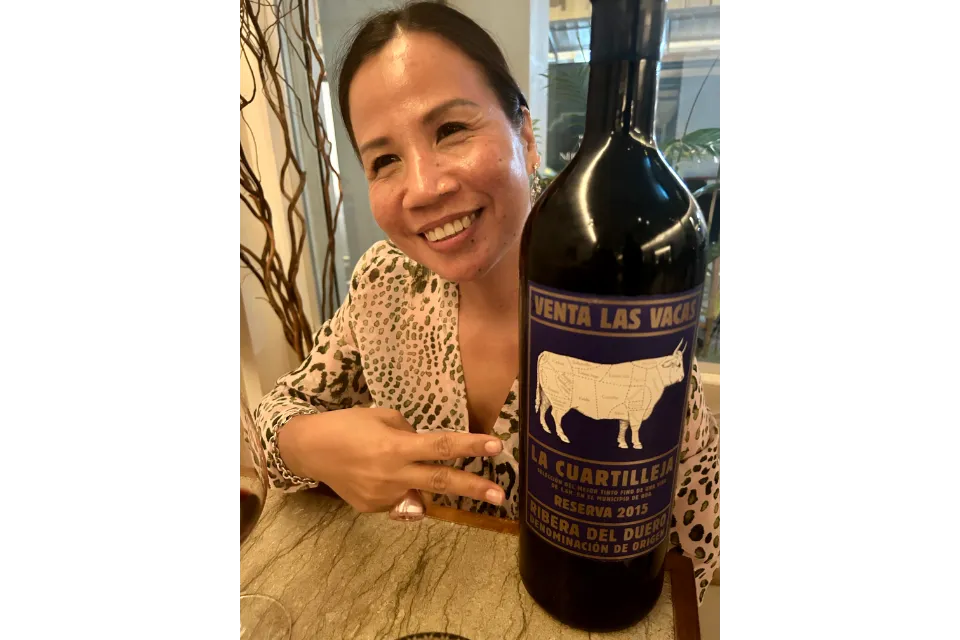 This came paired with a stunner of a red wine, that came in a bottle literally half the size of Wifey. 
Venta Las Vacas, Finca La Cuartilleja Reserve 2015, Ribera Del Duero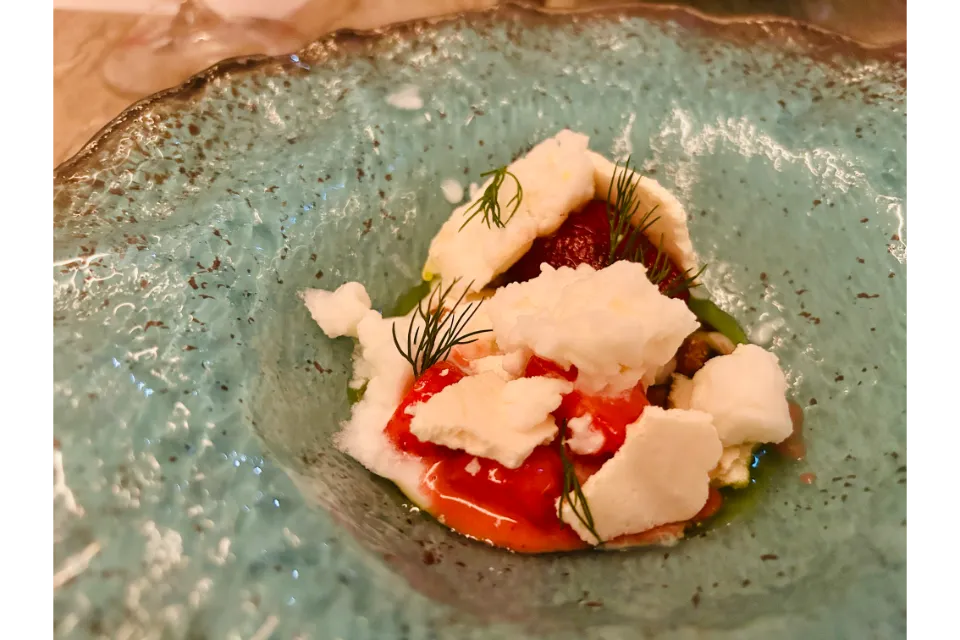 A 'mystery' dessert not even on the menu. A strawberry compote (aka jam), with dill, crunchy meringue sheets, and definitely some alcohol-soaked strawberries to boot. WOOF!!! It was awesome, like a palate cleanser.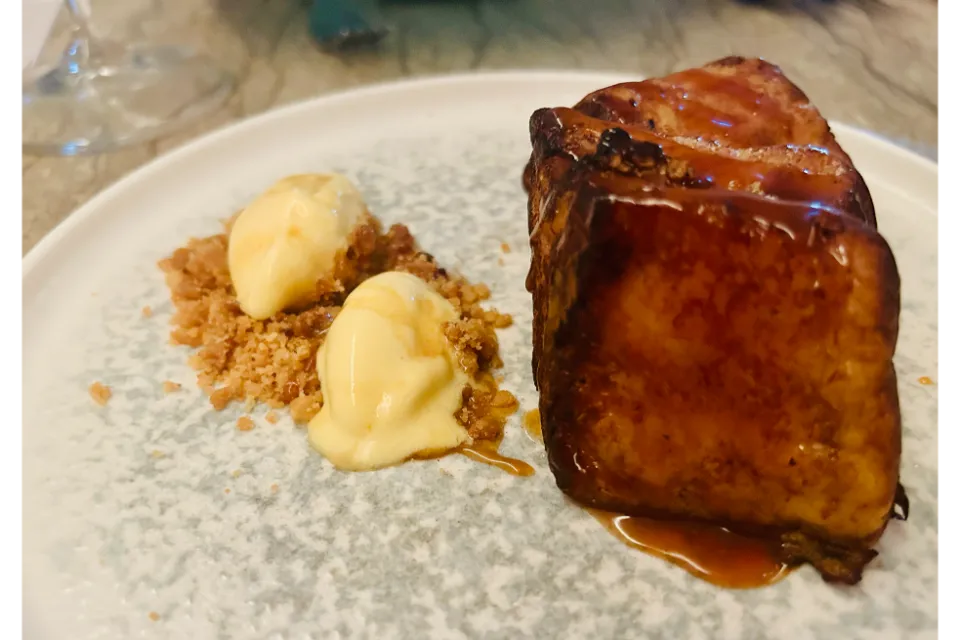 Torrija
Caramalised Brioche, Pedro Ximenez & Passion Fruit
Looks really stodgy? But, no. This was deliciously light, seasoned with cinnamon, but seriously unctuous. But, then add some of that super-sour passion fruit and crumble, and KAPOW!!! Amazing.
Asador Singapore, in the exciting Joo Chiat district, is a dining destination not to be missed. The restaurant has a wide variety of grilled meats and seafood that are inspired by Spanish, and Basque,  cuisine. Each dish is a pleasure for the palate, especially if you like your food cooked over wood, with that smoky aroma seeping throughout.
Asador Singapore is not cheap, but it is priced so very reasonably for the quality you'll eat, exquisite tasting food and super-friendly service have earned it a 5 out of 5 rating from ISLIFEARECIPE.net.
The trendy and stylish atmosphere of the restaurant makes for a great meal. Asador Singapore is an excellent restaurant that no foodie visiting Singapore should miss. Why hold off? If you're looking for some delicious Basque BBQ, and wood-fired food, stop by Asador Singapore at 51 Joo Chiat Place.
There is also the relatively new wine and cocktail bar, 60ml by Asador
Hidden behind a sliding mirror, 60ml by Asador has the feel of a Chicago jazz speakeasy. It's small but man it is cool. Jazz toons waft, as you sup on an incredible array of cocktails and a massive wine offering. It's chic and it is uber-cool. What a start to the evening.
We visit frequently as a family for the most-amazing dining experiences, and occasionally for work. That is a massive recommendation by the way. Do you want to impress a customer? Bring them here to Asador Singapore. It's the perfect ambiance for conducting business, and if there's a big group you can also book the private room for more confidential-style conversation. 
What does Asador Singapore have to say about itself?
What is the Asador Singapore Menu for 2023
The Asador Singapore menu is constantly changing depending on what is in season, or available from the Spanish markets. They also throw incredible food-choice curve balls at you with their incredible specials.
What are the opening hours of Asador Singapore?
Asador Singapore operating hours
OPEN DAILY –MON TO THURS 5:30PM – 12AM
FRI TO SUN 12:00PM – 2PM | 5:30PM – 12AM
What are the contact details for Asador Singapore?
How to make a booking at Asador Singapore?
What is the address of Asador Singapore?
In Singapore's Joo Chiat neighborhood, Asador Singapore is a dining establishment that provides a distinctive and delectable experience. In this blog, we've looked more closely at the restaurant's various facets, including its atmosphere and decor, the owners' background information, the types of wood that are used for the grill, pricing, and value for money, comments from other diners or food critics, the restaurant's second-anniversary dinner, the wine and cocktail bar, 60ml by Asador, the private room that can be reserved, and driving instructions.
Ambience and decor of the restaurant:
A superb eating experience can be had at Asador Singapore because of its trendy and sophisticated ambiance. With a contemporary twist, the decor takes its cues from the Basque area of Spain. The restaurant is the ideal setting for a memorable night out or a business supper because of its cozy and pleasant atmosphere.
Information on the restaurant's owners, including their training in the food business:
Chef Hussein and Joseba, who are enthusiastic about Basque-style cooking, launched Asador Singapore together. As the "Basque King of Barbecue," Chef Hussein is an expert in roasting the Spanish suckling pig known as "Cochinillo."
Different kinds of wood are used on the restaurant's grill:
The Basque-style parilla grill at Asador Singapore combines several types of wood to produce the savoury flavors that patrons have come to like. Apple, cherry, and hickory are some of the woods utilized in the cooking process, and they impart a smokey flavor to the cuisine.
The value of the food served at Asador Singapore:
Although Asador Singapore is not cheap, the cost is fair given the high caliber of the food and services it provides. The dishes are outstanding and have received a 5 out of 5 rating from ISLIFEARECIPE.net.
Quotes from other food reviewers or patrons who have eaten there:
Asador is a stylish addition to Joo Chiat and is similar to this independent Spanish restaurant, which I will probably visit again to try the remainder of its meats and seafood. — The Ranting Panda.
The Asador second-anniversary dinner:
A set meal that was specially created by Asador Singapore to commemorate its second anniversary was superb. The enticing alternatives included Cochinillo, grilled aged beef, and monkfish, all created by masters of their craft, the Basque craft.
The restaurant's wine and cocktail bar, 60ml by Asador:
Behind a sliding mirror, Asador Singapore offers a relatively new wine and cocktail bar called 60ml by Asador. The bar is stylish and unbelievably cool; it has a Chicago jazz speakeasy vibe. It has a wide selection of wines and an amazing variety of cocktails.
For those who are unfamiliar with the Joo Chiat neighborhood, here are some directions to the restaurant:
The address of Asador Singapore is 51 Joo Chiat Place 427775. It's directly opposite a car park on Joo Chiat Place, next door to You Kee XO Singapore, and Joo Chiat Place Fried Kway Teow.
Asador Singapore is a distinct and interesting eatery in Singapore's Joo Chiat neighborhood that serves a wide range of grilled meats and seafood that are influenced by Spanish and Basque cuisine. The founders are passionate about Basque cuisine, and the restaurant boasts a hip and fashionable ambiance. It's up there, for sure, with the best Spanish restaurants in Singapore.
Check out ISLIFEARECIPE.net for more Asador Singapore reviews and the sister restaurant Next Door Spanish Cafe