ChillaxBBQ Stay@Home Recipes #10
Mint Sauce Lamb Lollipops
One other item in the recent RedMart delivery was a very tiny French-cut rack of lamb. So I did another fridge raid to see what was in there and created today for a side-order at dinner Mint Sauce Lamb Lollipops. This was ChillaxBBQ Stay@Home Recipes #10. And it was a cracker, but a dish I had to cook in two ways for the varying desires of 'doneness' from the family in solitary. Yes, sadly, I had to cook some at 'well-done'.
Dear me, I feel dirty. Well-done = AKA cremated. So for the normal meat-eaters, I did the usual low and slow reverse-sear to medium-rare with a final char. For those that like cremation as a methodology for cooking, I took the rack from the oven, cut the cutlets into individual 'lollipops' and then pan-fried them in some butter until cooked to over-done.
But let's start at the start before we get to how it should be cooked. Here is the recipe for ChillaxBBQ Stay@Home Recipes #10 and the Mint Sauce Lamb
Lollipops
.
1x French-cut Lamb Rack – stab all over with a tenderiser or metal skewer;
Push the meat on the bone down to the meat lollipop part using the back of a knife so you have a clean bone;
Drizzle with Olive oil and give a good sprinkle with sea salt & cracked black pepper all over on all sides;
I then covered the lamb meat on all sides with mint sauce – give it a good even coverage, not too thick though so as not to overpower;
Pop that onto a baking tray and throw it in the oven at 90 degrees for 60 minutes (for medium-rare);
Out of the oven and char the meat in a dry pan until slightly blackened and charred;
Cut into individual chops and wrap the bone 'handle' with silver foil like the photo;
Plate them up on a plank as in the photo and stand well back to avoid the feeding frenzy.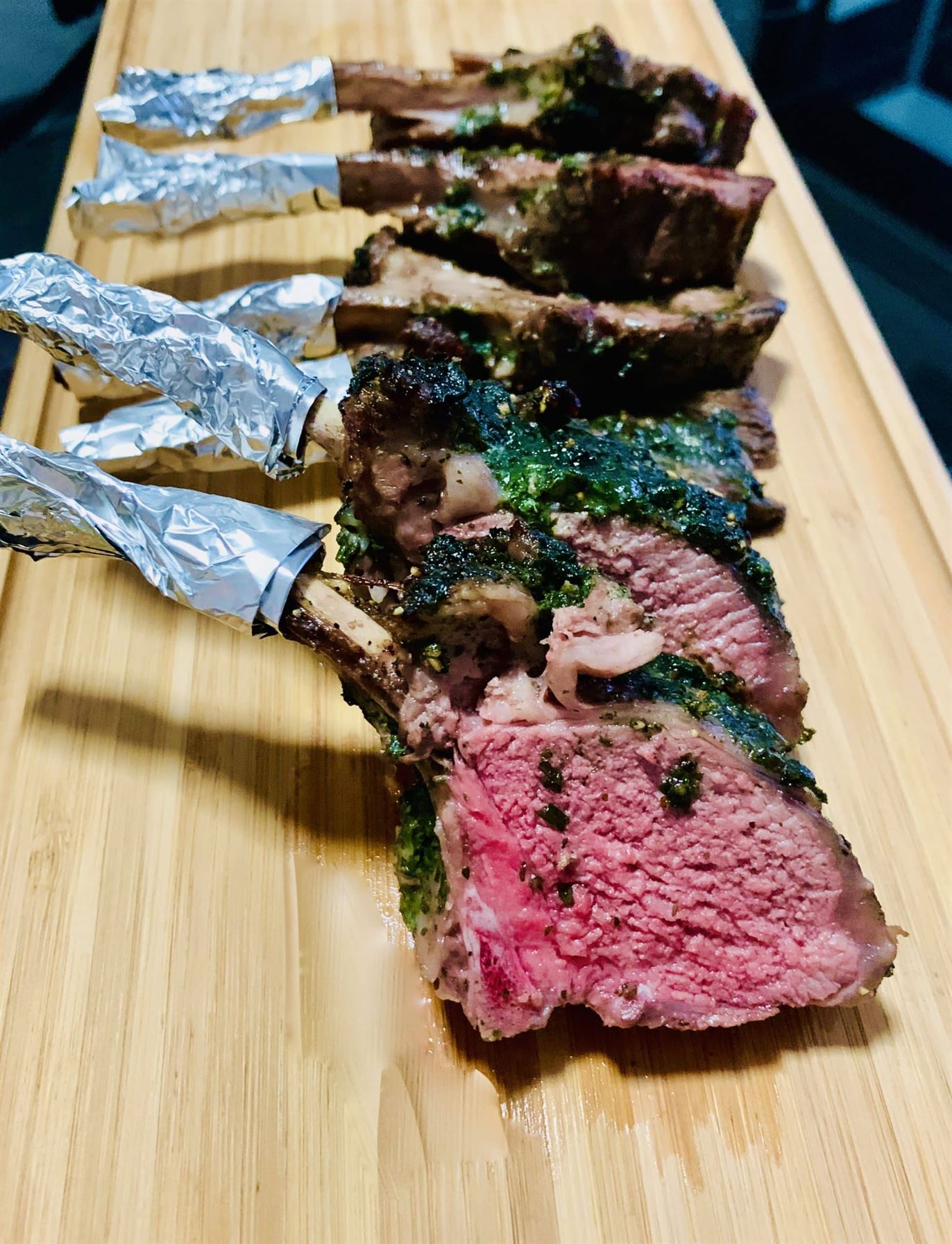 So, there is another recipe for you folks. This is ChillaxBBQ Stay@Home Recipes #10, and this is my Mint Sauce Lamb Lollipops. Bloody brilliant recipe, beautiful outcomes from a presentation and flavour perspective. I think these really do look wonderful, even if I say so myself. I'd have that any day of the week in a restaurant. But as you will see guys it is actually quite easy to prep, cook and plate. If you have some lamb get into it and have a crack. This is Bill Wallace friendly too as it was made from what was in the fridge. Go on, have a crack and – ENJOY!!!
Is Life a Recipe YouTube Channel
(Visited 106 times, 1 visits today)