Day #6 on Panglao, Henann Resort & Cafe Racer
Day #6 on Panglao, Henann Resort & Cafe Racer was another day of grazing haha. One very well known and one brand new. We drove from Bellevue to Tawala, which we found out is actually where Alona Beach is. I thought Alona was that 'town', but no it is Tawala.
Laid-back Tawala is focused on Alona Beach, known for its white sand, coral-reef diving, snorkelling, and swimming. Resorts fill the area, along with waterfront restaurants serving seafood, pizzas, and Filipino cuisine. Additional draws are beach bars with a chill vibe, as well as small stores selling souvenirs and snacks.
I agree with that. Today was sort of a shopping day to stock up as we are still thinking we're here for weeks yet due to the lock-downs. I am a little behind on writing up the blogs so actually I know of new developments which will go in Day #7 blog. Suffice to say we might not need to be shopping for food much longer. We shall see. Anyways here is Day #6 on Panglao, Henann Resort & Cafe Racer, what we did for lunch and dinner today.
Let's get Flogging shall we? CLICK HERE to watch some Apolocalytic Scenes of Henann Resort. Almost like waiting for the Zombie Hordes to come pouring down the deserted beach, with a feeling of being the last people on the planet. That's OK though, and icy cold Pilsen soon sorted out the despair!!!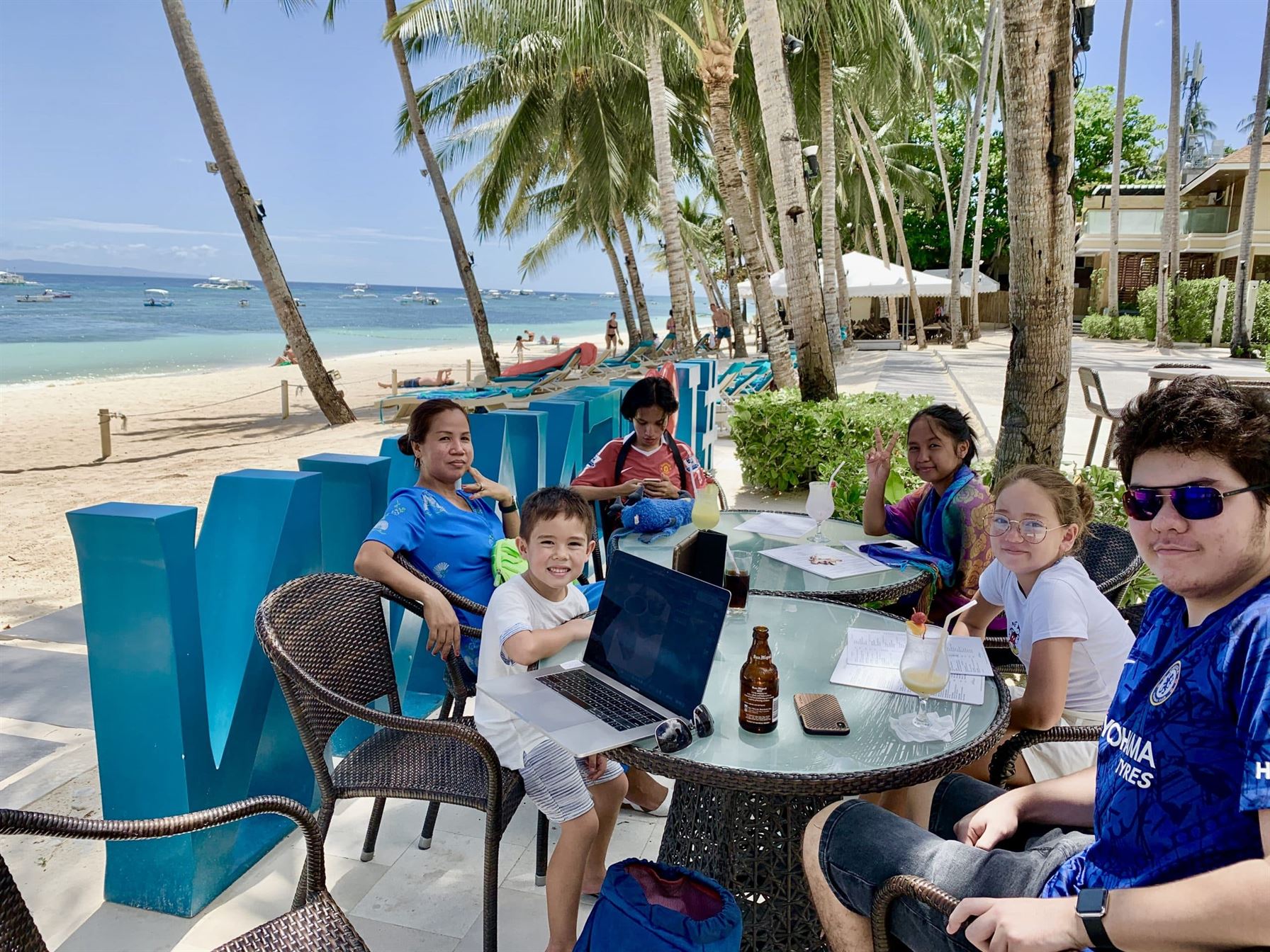 For dinner this night we tried somewhere new. Do you remember the blog back in June (I think) when we 1st visited AA BBQ, and Jude and I walked next door to have a look at all the neon we had seen from Lantaw one night across the waterway? Well, that was Cafe Racer and it is a cracker as you will see. They have taken an old petrol station and converted it to just the very coolest American-style diner with Filipina and Western cuisine. Cuisine that is top-drawer and so very reasonable. It is one of our new favourite haunts. LOVE IT!!!
Here is where you'll find them. I'd get there early to avoid any curfew crap and relax and enjoy the place.
Tel; (038) 427 4670
Just to close off how amazing value this place is. We had 7 of us eating today for dinner. It came to an equivalent total of $76 SGD which is less than hawker food cost these days. For that we got;
2 Pilsen
5 Freakshakes
Hot Calamansi drink
Shrimp Popcorn
Sizzling Beef Cartilage
Breaded PorkChop
Herb Roasted Chicken
2x The Racer Cheeseburger
Classic Chorizo Burger
2x Meatlovers Pizza (Special = 141)
See what I mean re value for money for quality. If you are on Panglao this is a MUST visit guys be you local or a stranded tourist. Come and graze here with the coolest decor and stunning natural views. BUT promise me you'll have the bloody Racer Cheeseburger. Fuck me it's sooo good!!! Come support them in these troubled times and #fuckthevirus and #eatamazingburgers.
Day #6 on Panglao, Henann Resort & Cafe Racer was an absolute cracker. So nice to go back to one of our favourites ay Henann Resort but also get the chance to try out some new friends at Cafe Racer. I have to mention that burger again, OMG. As you'll see we just love milling around the house doing 'stuff' and then having a big family chow-down or two. It's lovely. Then I get the chance to shop for breakfast and cook for all the kids. We are loving living all together in our little house, it's just a shame about our neighbour – that idiot Covid-19. Hey, we're still making this a cracking vacation.
ENJOY!!!