Fat Po Tebing Lane Punggol - New Review 2022
And here is another 2022 update for Fat Po Tebing Lane Punggol – New Review 2022 as we went back recently for a lovely lunch, prawn fish, had dinner at the restaurant containers, and even had some fun at the fun fair there. What a day, let's have a look.
Fat Po and it's sister restaurant Whisk & Paddle Punggol side-by-side at day and at night… What a cracking couple of restaurants they are.
Fat Po's Moonlight Beef Horfun – wok-fried hor fun with egg gravy, Angus beef slices, beansprouts, spring onions, shredded scallions, and sous-vide egg
@ $17.80
Nan Ru Pork Belly. A new one for us and a favourite now at Fat Po Punggol. This is crazy good. Crispy on the outside and then almost like pork jerky in the middle. Deep-fried nan ru marinated pork belly slices.
@ $10.80
Fat Po's Mini Mantou's, is deep-fried and served with sweet condensed milk. Come on!!!
@ $4.80
Deep-Fried Chicken Skin served with Belachan chili sauce. Man oh man this is beer food on steroids. You'll love this as it is so crispy and not oily. Delicious.
@ $8.80
Daddy's favourite oh yes, and also a recipe I have blatantly stolen for my own. Miso Butter Corn, fresh sweetcorn, edamame, cashew nuts, garlic & miso butter.
@ $7.80
Wifey kicks back to her favourite from the 1st visitation here as she enjoyed this rather quirky dish so much. This is Fat Po's Grilled Sambal Fresh Squid, grilled whole fresh squid with Nyonya sambal and mozzarella.
@ $13.80
Then we're off for some prawn fishing fun and games. Jude Jude was the champion catching 3 I think and I was the second place because a very fine gentleman kept giving me his for free haha, including a load of superbly grilled prawns bless him.
With the new rules from the Government the fun fair opened again and I was able to do bumper car rides with Jude, the first time in his life. How much fun was that? Just brilliant!!!
Then we go for dinner at the Punggol container restaurant village. It's like a ghost town until night time, but boy this was superb fun and absolutely rammed to the rooftops, well container tops.
Fat Po Tebing Lane Punggol – In our constant search for new prawn fishing locations in Singapore, we occasionally stumble across amazing restaurants. And today was a day like that. I researched a new prawn fishing place at Punggol, Hai Bin, which we'll get to later. When we arrived it was absolutely pouring down and we needed food as it was lunch. The guy at the counter didn't instruct us to dine in but pointed at some restaurants around the corner. Off we trotted and actually saw two likely choices Fat Po and Whisk & Paddle. We found out later that they are owned by the very same company and shared staff. I think because of the name Jude Jude chose;
Fat Po @ Tebing Lane, Punggol
He is my Sous Chef after all.
I say; "What is fat?"
Jude Jude responds; "Flavour, Dad"
Let's hear from them, through probably the most under-written personal explanation of a brilliant restaurant.
They really do not do themselves justice with this short statement. It is a jewel in the middle of
Punggol
. Some of the very best and unique styles of Asian fusion I have had in my
years on this little island
of Red Dot. The food is absolutely fantastic at Fat Po's Punggol and well worth the crazy-long drive to get here, and the horrible weather.
It is a die-die must-try restaurant if you fancy something a little different one
day for you and the family
. We'll be back for sure, with so many more things to try off that menu and we have to walk
next door
and try Whisk & Paddle too. Just a brilliant concept.
Let's have a little ISLIFEARECIPE-dia
Here we go... Fat Po Punggol Review and some pics of the food we ate today. Yummo!!!
Here we all are perusing the rather spectacular menu. This is really quite exciting. What a find!!! I messed up and didn't take a photo, but if you come here please try the Avocado Shake. OMG. Wifey had one and it was a cracker…
@ $8.80
We chose to go Alfresco. No need for air-con on this rather chilly and wet day. It was absolutely pouring, like constantly. Plus my preference is always outdoors, I just always have to convince Jude Jude that that is a good idea for him.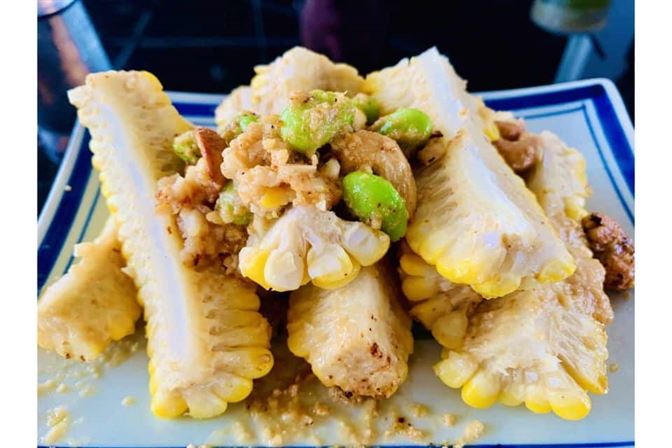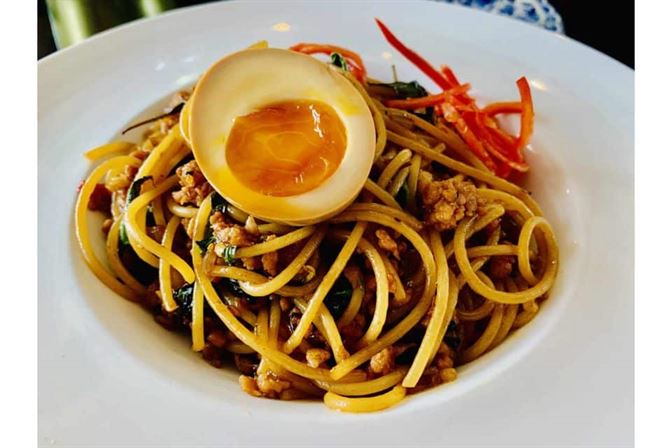 We ordered this twice it was just so very good, and I am absolutely stealing this for ChillaxBBQ. I even mentioned the V-word, yes I said vegetarian. This had my mind spinning back to Philippines Fiesta time in Bohol and the rope bridge where I ate street-food sweetcorn because this little dish is INSANE. Savory, salty, sweet, textural, and packs a superb aroma. It's so very unique. Who'd have thought of these ingredients as bed-fellows? Well here is it, my absolute favourite today at Fat Po, Miso Butter Corn; fresh sweetcorn, edamame, cashew nuts, garlic & miso butter. Absolute deliciousness.
@ $7.80
#1 gets stuck into the Thai Basil Pork Pasta; He loved it and said it was very authentic Thai style like we have had in-country. Super juicy and moist pork, punches of basil, not super-spicy and it all came together so well in the not-so-traditional spaghetti & Tangxin egg additions…Looks rather good too right?
@ $17.80
If you want to try and have a go at making Miso Sweetcorn yourself at home you can try my copycat recipe
BY CLICKING HERE…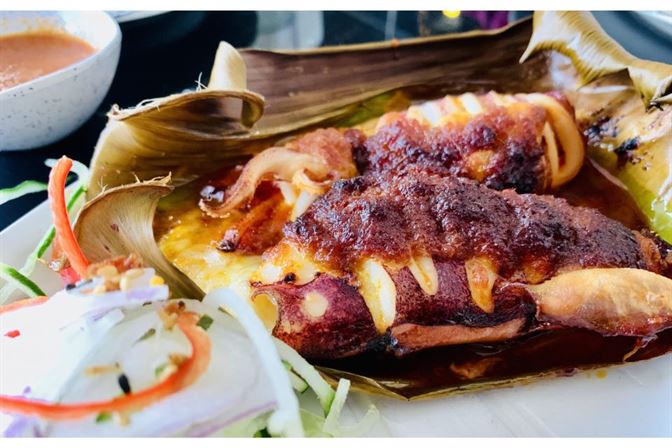 Wifey was super-happy with her choice too. Again a crazy mixed-up recipe, and I so so love that. These guys are really doing some crazy concoctions, but they all work so very well together. This is the Grilled Sambal Fresh Squid; BBQ'd in a banana leaf (or similar) are these little squids, covered in a unique sambal sauce that Wifey loved and then they were stuffed with Mozzarella. Yep, you heard me right. CRAZY, but actually the very best bed-fellows. Wifey really did love this, again the sambal was dragging her back to memories far from Singapore. You have to love it when food has that impact on you.
@ $13.80
Jude Jude and Strawberry Blonde get stuck into the Pulled Pork Quesadillas. I had a little bit of this and it was awesome. A wicked hickory BBQ sauce, but maybe a little spicy though for Strawberry Blonde, and yep I was right as 2 minutes later she could not eat anymore and started to steal my bloody sweetcorn, hence ordering a 2nd helping of that.
@ $15.80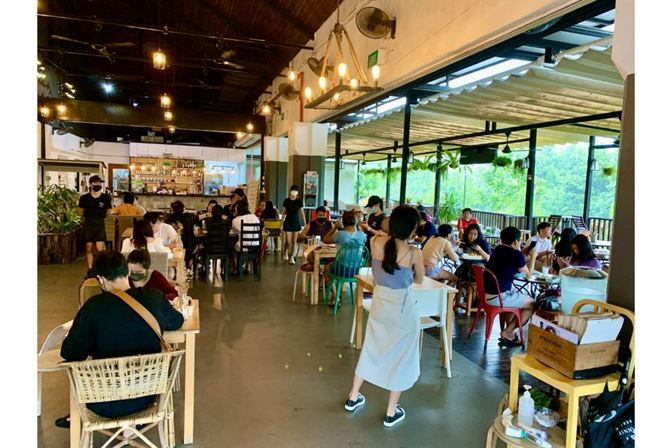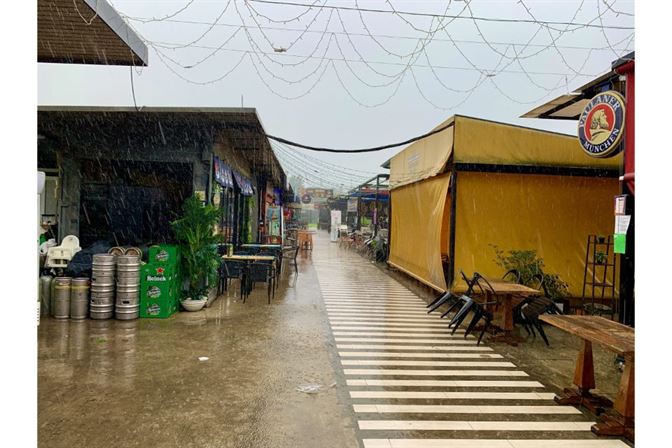 And here is its sister across the way, Whisk & Paddle. Cracking courtyard style with a massive decking area overlooking the Serangoon River just around the corner from Coney Island.
And there's all these to explore too one day. I love these container-park places because they are almost like pop-ups. We'll surely be back here soon, just hope when it is not lashing it down with rain like it was today. Horrible weather running the alfresco abilities of this amazing little F&B huddle…
Then we went fishing. Prawn fishing to be exact. This place is MASSIVE with something like 4 ponds with seawater, freshwater, and even longkang too. There is a beer garden, a small restaurant, and even some Uncles with little BBQ stalls banging out their local delicacies. It was MOBBED and this place is 24×7. What a cracker and I think my new favourite prawning place on RedDot. If you like prawn fishing you have to visit. 
Hai Bin Prawn Fishing Complex, 6 Tebing Lane, #01-04, Punggol.
It's beautiful here sat right by the Serangoon River where the trees are on the right of the photo. Also so very beautiful because my Wifey is here with me. The kids were doing electronics to start as we could only rent 2 rods due to it being packed here.
And the rain continues to fall, and fall it does directly into the prawn ponds from the open skylight. We reckon it rained solidly for 24-hours today. Nasty!
Wifey and I trying the fresh-water pond, which is also where they have yabbies / baby lobsters / crayfish.
Dabbing or describing the size of the prawn that got away?
Answers on a postcard to…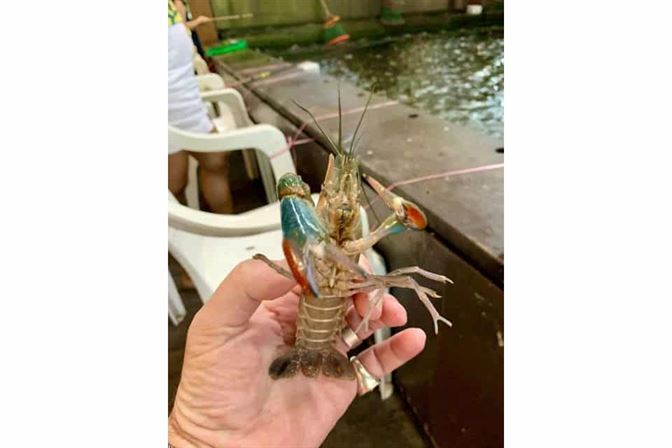 So funny I think we caught one prawn between us and I had created a $10 winner's competition, with the winner taking all for the number of prawns caught.
I won it with three yabbies and 1 prawn. What is funny is that a guy who was leaving gave me the yabbies and prawns as he couldn't take them with him.
Wifey went off to try fishing in another pond so I pretended I had caught them when she came back. Shhhh, it's a secret hahaha.
One of the beautiful little fresh-water yabbies that I caught (cough cough) today. 
Fat Po Punggol Menu - 2022
What a cracking menu and so very affordable. Dishes start from mid-single digits up to about $20 which is incredible for the quality on offer.
And we're talking $10 a pint of draft Asahi. I'll have that all-day long thanks.
Fat Po A Tebing Lan Punggol, our conclusions...
What a horrible rainy day in Singapore but what an incredible two new finds for family Kennett. A huge and superb new prawning joint, and an absolutely amazing series of new dining gems in Punggol and we only got to try one. We have so many more to be trying here and we will absolutely be back very soon so keep your eyes open for a blog or ten on the new places.
Fat Po @ Tebing Lane Punggol is up there with our favourites and we are so very fortunate today to have stumbled on this because one guy at the entrance to prawning did not have good English and did not advise of their restaurant inside. So we ended up at Fat Po by chance and Jude Jude's love of the name.
Also, Hai Bin Prawning Complex is probably the best we have ever been to in regards to the facilities on offer. It is HUGE. We had such a laugh and giggle today despite the weather, and we'll be seeing you soon Punggol because you are seriously a rocking suburb.
What else could you do in the Punggol area?
What else is there to do around Fat Po and Whisk and Paddle? What if I can't get in and it is fully seated? Well, let's see if ISLIFEARECIPE can help you there. How about…
How about a short trip to enjoy Coney Island & Punggol Settlement, a family favourite of ours?
Try some family fun and walks in the area, such as Punggol Waterway Park! 
Connect with Us on Social Media