I really really liked this one.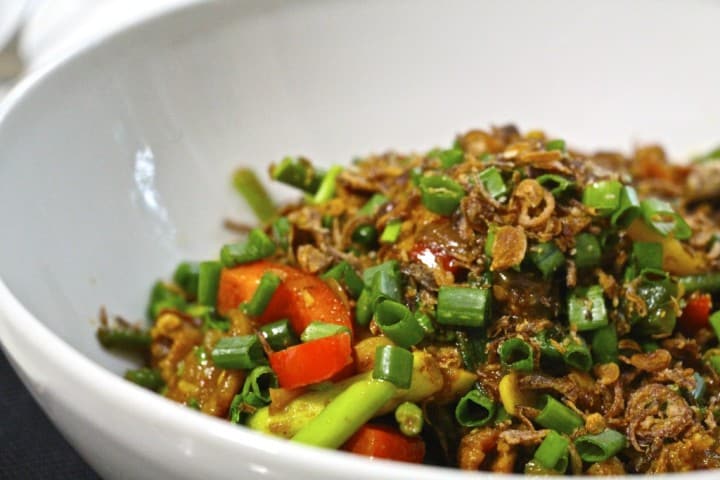 Based some Nonya ideas so a bit fusion-like, blended from across the Asia region.
Check the colours of this dish, it's beautiful.
When you cook it don't overcook the vegetables, you want them crunchy and man oh man that makes this one a blast of all the senses – it's spicy, crunchy, and you should be able to pick out the flavours of everything in there as you are devouring it.
This will make enough for 4, and simply serve with some plain white rice to balance it out.
OK off we go.
Actually STOP. Before we 'go'. A choice. You could make a Nonya curry paste which will take you about another 30 minutes or so – or just pop down Fairprice and grab a packet. Over to you. Maybe put it down to speed of execution, or how hungry the family is;
If doing the paste yourself;
1 tablespoon shrimp paste (belachan);
3 tablespoons coriander seeds;
1 teaspoon cumin seeds;
1 teaspoon fennel seeds;
15 dried chillies, deseed them and then soaked in some hot water for 30 minutes, then drain and chopped roughly (yep it's spicy);
5 roughly chopped red onions;
3 roughly chopped garlic cloves; and
2 tablespoons turmeric.
Combine all of the above in a blender and pulse until smooth – set this aside. This is your curry paste.
You'll also need the following;
300 grammes of minced pork or a packet of chopped up bacon;
A packet of trimmed (top and tailed) French beans or equivalent;
1 red and 1 yellow deseeded and chopped capsicum;
7 roughly chopped shallots;
4 roughly chopped garlic cloves;
A couple of good knobs of ghee or butter;
1 bunch of roughly chopped coriander;
5 Spring onions – trim them and then cut on an angle about 1 inch long. Stop about 2 inches from the top and finely slice the rest for garnish;
15 cherry tomatoes cubed; and
Deep fried shallots that you can buy from any supermarket.
Sweat the shallots and garlic in a little oil and the ghee (or butter), add in the capsicums and beans and again stir fry for 2-3 minutes or so. Again don't forget don't overdo this as you want the vegetables to be crunchy when finished.
Throw in the meat and curry paste along with a pinch of salt. Stir this in until it starts to bubble and the mince is cooked through. Throw in the cut on the angle Spring onion pieces, the tomatoes and stir fry again for 2-3 minutes.
Take off the heat and stir in the coriander – this will wilt easily with the heat.
Serve this up in a bowl and sprinkle on top the deep fried shallots and Spring onion green tops.
My lot had this for dinner and breakfast – oh yes!!! That's the way I like it!!!