Punggol waterside Bistro dining at its best at Whisk & Paddle
Remember our visitation to the sister restaurant? As in right next door, and I think even kitchen sharing. Well, today we hit Whisk & Paddle @ Punggol.
This one has a huge open decking area right on the river. I like that. No booking available on weekend or public holiday so we were VERY lucky to just walk-in today, as it was absolutely mobbed!!! And, rightly so, because like its sister, this place rocks in terms of the food they are serving up. It is of absolute quality at superb prices.
I'd class it as a Western/Asian Fusion Bistro style perhaps? It has a broad variety, does the Whisk & Paddle menu, from all-day breakfast and brunch, pizza and pasta, then very Western fare in the mains, but then some Asian fusion just to distract you further. It's a big menu, maybe a little too big and a tad confusing with regards to their 'identity', but is such good food, as you'll see.
And who wouldn't want to be sat here come rain or shine watching the world and the wildlife go by as you sup and chomp of the scrumptious food and drinks?
To note;
They are closed for an undisclosed time from February 15th 2022, for refurbishment
Let's hear from Whisk & Paddle - it's brief...
Frequently asked question about Whisk & Paddle Punggol, answered by ISLIFEARECIPE-dia
It's such a lovely space for dining in at this riverside cafe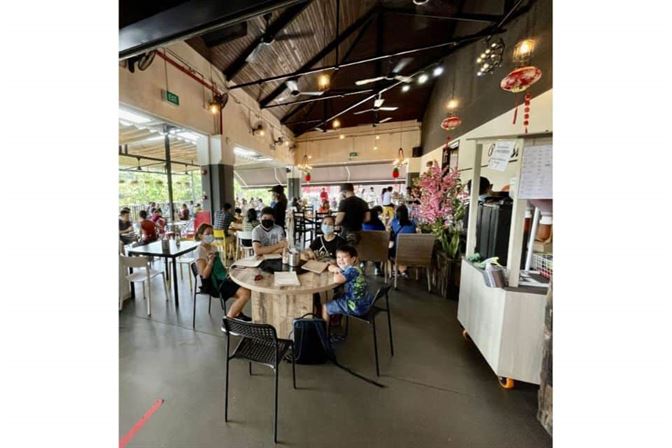 Let's have a look at the food we ordered this day at the Punggol cafe Whisk and Paddle
I had made my choice and I was excited, only to find out that the 'mains' menu is only available after 1500. Damn!!! Change of strategy to tapas-style, and then I get a variety as well.
So, one thing to note visitors. When they give you all those menus.
MAINS ONLY AFTER 15:00.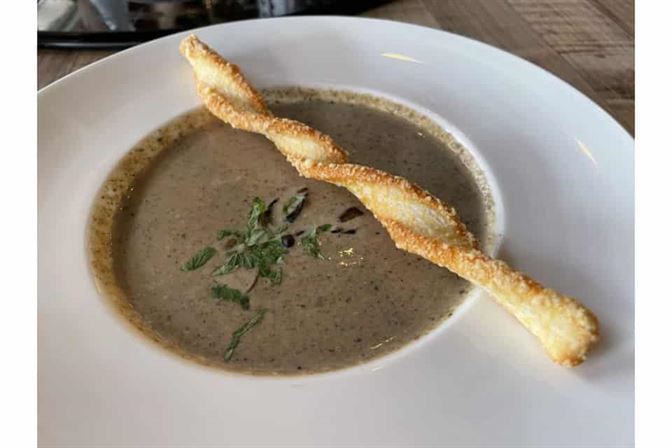 1st of 2 soup dishes for me. Simply called Mushroom Soup and served with a cheese Feuillete stick.
Simple it is not, in terms of flavour though. This is a mushroom soup on steroids. So fresh tasting and damned intense mushroom with some beautiful black pepper overtones in there. Yeah, this is GOOD… up there with the best I have ever had, easily.
@ $8.80
But, soup #2 was the overall winner. My God, I could have bathed in this it was so good. I needed to season it a tad with some salt though, but then this thing was Angelic in flavour.
Creamy with hints of potato and smoky bacon and Spring onion. This is a superb soup. This I will have every single time I dine here. This is surely a die, die must try soup. Again, simply known on the menu as Bacon Potato Soup.
@ $8.80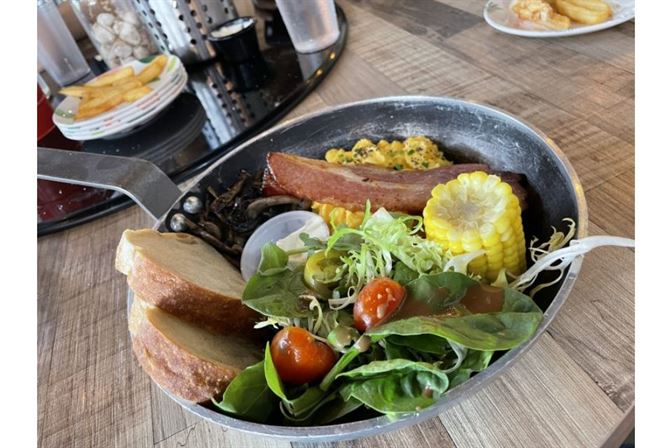 This was number two on my choice list and #1 got in there for his main. I love the concept of breakfast served in a pan. Genius.
It looks superb and he agreed with that with a squeaky clean pan at the end of lunch. This is Whisk Breakfast Pan. 2 eggs of your choice, smoked pork sausage, thick-cut bacon, sauteed mushrooms, corn on the cob, green salad, artisan bread and sea salt butter. Wow! Superb brekkie platter indeed!!!
@ $20.80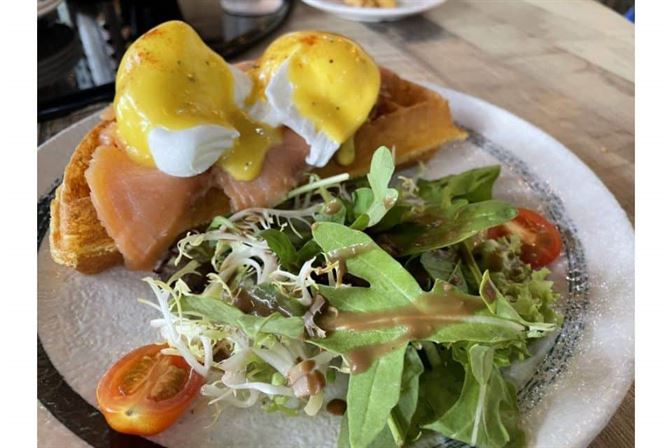 Wifey gets stuck into this beauty. Massive waffles, like massive, but wifey said they were so light and fluffy that she was able to devour the lot. So she did.
Again. check out the food because it is just no-frills, great bistro food. This is their Eggs Benedict. Wifey had hers with Smoked Salmon as you can see. She was even commenting on how good the salad dressing was.
@ $19.30
My last little food foray today was this. Remember the miso corn with edamame I raved about at Fat Po? Well, folks here is Whisk & Paddle's version. And she is a bloody beauty. I could have just eaten this over and over again. Mexican Corn. Grilled corn on the cob, cheese, paprika and Cayenne mayonnaise. Holy cow this is sooo good.
@ $6.80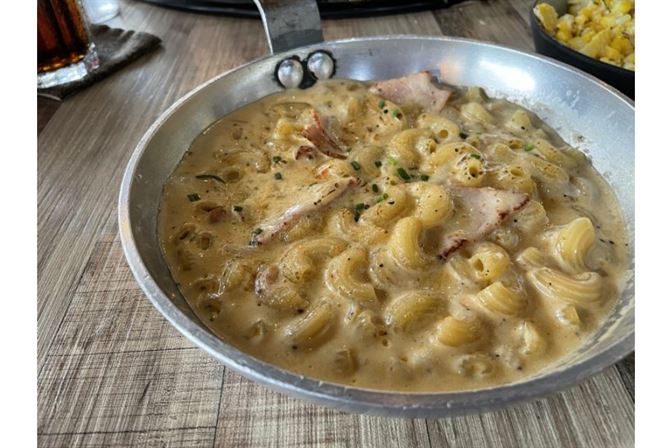 And next up is the kidlets, who decided it was in a pan for them too. Have a look at that beauty. I had a little taste of forkful and yes this is such a great version. I'd have this as an adult and not worry at all re my choice. Spanking!!! This is Macaroni & Cheese. Macaroni, honey-baked ham, pink sauce & mozzarella cheese. Woof!!!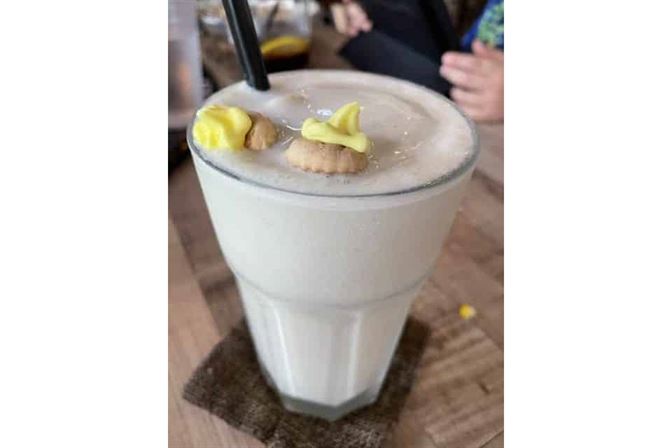 To pass the time of day I even had one of their fresh banana milkshakes. Oh, yes. Yummo…
Awwww, it even comes with Iced Gems, sweets from when I was a kid. One for me and one for Jude Jude.
@ 9.90
Whisk and Paddle Cocktails (you beauties...)
What else could you do in the area?
What else is there to do around Whisk and Paddle? What if I can't get in and it is fully seated? Well, let's see if ISLIFEARECIPE can help you there. How about…
Whisk and Paddle Punggol Menu 2022
We love Tebing Lane and we love Punggol. We really love it here. It is an awesome part of Singapore to explore if you have not been before. We have also done prawn fishing here, with neighbours of Fat Po & Whisk & Paddle in fact. Plus we have yet to enjoy the delights of the container park, which is a hitch potch of containers arranged in an avenue that is about another 5-10 restaurants and bars alongside the river. More blogs to come it seems. For now, though this was Whisk & Paddle @ Punggol, and what a cracking lunch it was.
ENJOY!!!