Middle Eastern style Pork Chops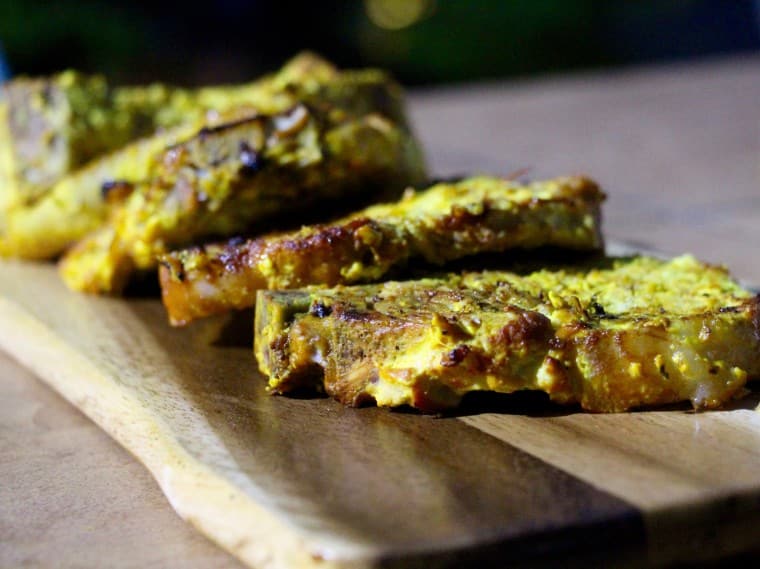 I was inspired my Middle East here with this one, the spice markets, the colours and tastes. So here we go folks, my BBQ pork chops in the style of the Middle East. These turn out absolutely bloody wonderful.
Get the zip lock bag out and throw in;
6 pork chops – I had given these a wee bash with the tenderising hammer, and yes they were so so tender;
2 packs of chopped mint leaves;
1 carton of plain yoghurt – no flavour, just natural yoghurt;
2 finely chopped chili padis;
5 oranges, peeled, de-pithed and cut in to small segments;
3 teaspoons of turmeric to give that nice yellow colour;
3 tablespoons of lime juice; and
A good pinch of salt and cracked black pepper.
It really doesn't get much easier – does it?
That truly is it. Just zip up the bag, give him a little massage and let it sit to marinade for 2 hours or so. If you have not got that long you can also stab the meat with a sharp knife so the marinade gets in the quicker.
When you are ready and the coals are nice and white and hot – slam the pork chops on. No turning and prodding please. Just leave until nicely charred, then flip and do the same. Maybe a little slice open at a thick point to check there is no blood ooze, if not you are done. Take the pork chops off the heat, let them rest a while with some foil and tea towels atop, as this will also finish off the cooking from the heat of the meat.
Serve.
And watch these bad boys fly off the plate – YUMMY indeed!!!
Pork chops – Middle Eastern style – Enjoy!!!