Did you read my family blog? The one re Tioman Island, Malaysia?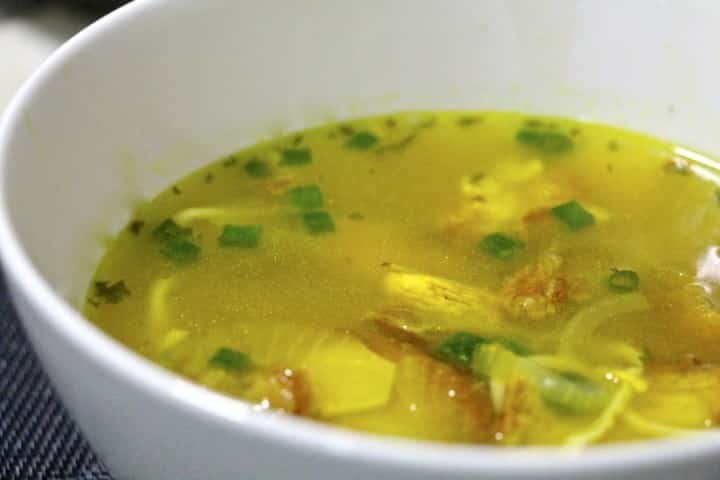 Remember me mentioning a couple of dishes – one of those being a soup – well read on if you want to be able to create just a superb chicken soup, Malay stylee. This is an absolute belter!
So welcome to my version of Soto Ayam – a soup that I ate sat overlooking a beach, topaz sea, warm sea breezes, crashing waves, cold beer, my family and sand between my toes – it really does not get much better and neither could the soup.
I hope you enjoy this, this version of what I ate is truly was not far from that experience I recently had.
I think Mary had 3 bowls of this – either she's trying to squeeze Jude out early or it really was because it tasted so good – hoping it was indeed the latter.
To serve 6 people you will need;
Marinade
First up – let's get marinating the chicken breasts, you'll need two breasts. For the marinade you will need;
1 inch knob of finely sliced ginger
4 cloves of garlic
1 cup of roughly chopped coriander
1 tablespoon of cumin
1 tablespoon of turmeric
t tablespoon of white pepper corns
Get out your pestle and mortar and bash the crap out of this mixture until it forms a paste – have a sniff, how divine is that.
Rub this in to the chicken breasts until fully coated and set aside in a bowl to allow the flavours to soak in.
Soup
I cooked this in my Korean soup pot. Simply add all of the ingredients below in the pot, bring to a boil and then simmer for an hour or so.
Whilst that is simmering I fried the chicken breasts in some olive oil until cooked through, and then sliced finely for adding to the soup later on.
1 roasted pork belly (I got from the supermarket rotisserie) – chopped in to bite sized pieces
2 litres of chicken stock
2 cups of coconut milk
1 litre of water
2 finely chopped red onions
1 finely chopped chili padi
6 cloves
3 cinnamon sticks
3 star anise
2 lemon grass stalks bashed to release the flavour
2 teaspoons of salt
Once it has simmered for the hour or so, add in the cooked marinated chicken, and a packet of egg noodles. Bring to the boil and again reduce to a simmer for 5-10 minutes to allow all the flavours to muddle and the noodles to cook through.
You have very nearly finished now.
Simply add in some fried shallots and some chopped Spring onions (the green parts) and serve away.
It is just delicious – I know you are going to love this one, my Asian food friends! Enjoy!